by Dakota Parks | Photos by Garrett Hallbauer
In the last year, markets have sprung up across the entire city of Pensacola— from Uptown Pensacola Market, to 200 South Outdoor Market, Palafox Market, Pensacola Positivity Market and a myriad of other pop-up markets at breweries and restaurants.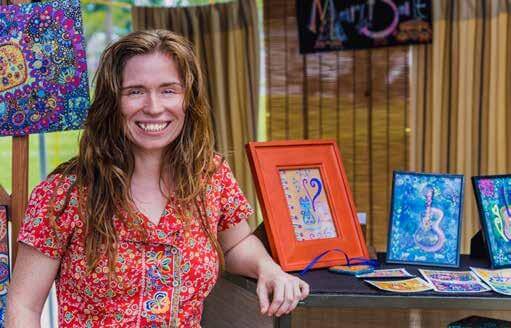 In the wake of the pandemic, these outdoor markets allow people to shop in the open air, support local artisans and businesses and add a little social routine back into their weekends. One newbie in the bustling market community is the Pensacola Arts Market, organized by local artist and vintage clothing connoisseur, Marri Salt. As the owner of Funky Yet Groovy, a traveling and budget-friendly vintage boutique, Salt wanted to create a market focused on uplifting and supporting local artists. She hosted her first market in November 2020 and has since outgrown her original location at New Market Antique Mall. Although the market will rotate through various venues in Pensacola, The Pensacola Arts Market is currently located at Cordova Square, 1101 N. 12th Avenue, and is open from 10 am to 3 pm every second and fourth Saturday of the month.
"I really love showcasing local artisans and connecting with people," Salt said. "I'm passionate about art because it provides so much for the community—dancing, music, joy, happiness. Artists provide most of our entertainment, and I think the pandemic showcased that. It makes me really happy to see busy markets all over Pensacola. I just wanted to create a nice, safe and affordable space to show everyone that we have some really cool people and things happening in Pensacola."
As a single mom with two kids, Salt explained that the pandemic allowed her to slow down and focus on her own artwork and business. She has hosted art markets in the past and planned to launch the Pensacola Arts Market before the state-wide lockdowns postponed her plans. Since opening, the market regularly hosts around 15 artisans with a sprawling variety of goods: potted plants, microgreens, crocheted art, handmade bags, beauty products, baked goods, candles and diverse artistic mediums including digital art, painted canvases, drawings and sculptures. Most of the vendors are recruited by Salt herself through the network of artists she has built in Pensacola. Each month, the vendors rotate with new artists who are constantly brought in to keep the market offerings diverse and avoid multiple artists selling the same thing. Salt also spends a great deal of time marketing and showcasing each individual vendor online.
"As an artist, I know how the world works, so I don't want to charge a lot for setting up at the market," Salt explained. "I spend a lot of time advertising and building this network for artists to connect with each other. I start out each month on Instagram with a flyer for the event, then each post after that is welcoming the artists you can expect to see at the upcoming market. I post a photo of them with some of the goods they sell and tag their business in the post to build up the excitement for the market. My goal is to regularly move the market around Pensacola and have this traveling band of artisans."
For Christina Johns, a regular vendor at the Pensacola Arts Market and owner of @lifesnaturalbeat, the market lets her tap into the artistic energy of the space and constantly meet new people. She sells handpainted, planted pots with intuitive words and messages inscribed inside and also makes jewelry and prayer beads with hemp and crystals.
For artists and power couple Sean Bush and Lindsey Hampton, art markets across Pensacola provide a space for them to support each other's artwork and make money doing what they love. Although they are new vendors at the Pensacola Arts Market, they have been setting up together at different markets around Pensacola for eight months now. Bush, found online @BitKnight_Designs, creates bright-colored, high-quality fan art illustrations inspired by nerd culture, and Hampton, found online @a_sunflowerdaze, focuses on fine art style figure paintings.
"We've had a great experience setting up at markets together," Bush explained. "I'd much rather do business in person, any day of the week, than pretend to be some persona online, where no one knows my face or how I really feel about things. It's a better experience to interact in person with someone interested in my artwork. Plus, we attract a variety of crowds with our different art styles. I keep the nerds in the tent with my art and she attracts a lot of women embracing body empowerment."
Hampton explained that her nude figure art can initially shock some people browsing at the markets, but it has allowed her to test the waters with creating more geometric-style art. "The markets can be inspiring and give me room to experiment with my art. Some people tell us, 'I could never work with my partner!' But I think it's exciting, and I get to be hype for him when he makes a sale and vice versa. The markets are like a family and a community to us," Hampton said.
The Pensacola Arts Market is currently located at Cordova Square, 1101 N. 12th Avenue, and is held from 10 am to 3 pm on alternating Saturdays. To stay updated on the market schedule or inquire about becoming a new art vendor, follow @pensacolaartsmarket on Facebook or Instagram.