The city of Pensacola: our communal home and garden. But, just like any home and garden, it takes more than one person to keep everything running smoothly. By definition, sustainability is the capacity to endure—for ecological, social and economic systems to coexist peacefully in order to benefit all aspects of the community and, on an even larger scale, ensure our planet continues to support its ever-growing population. On the smaller, individual level, the first step toward building a sustainable community means taking an interest in supporting the local environment and economy. Visiting your neighborhood farmers market is perhaps the best way to start showing your support for Pensacola's environment and economy, especially if you do not want to commit to volunteer hours or membership fees. Thank your local farmer by visiting any one of the farmers markets popping up across Pensacola from Downtown Pensacola and Perdido to Pensacola Beach and Gulf Breeze.
But shopping at the farmer's market isn't the only way you can support a sustainable Pensacola. For those who don't mind committing to a membership, several farms near Pensacola offer Community Supported Agriculture (CSA) memberships in which members invest in the farm by purchasing seasonal or weekly subscriptions that grant members a bountiful box of the farm's harvest. Be aware that CSA boxes are only as plentiful as the harvest for that week, so there are likely to be slow seasons. Many CSA farms are outside of city limits, which is why the farms either deliver to your home or pick up locations at businesses in town. If you don't mind getting your hands dirty, then community gardens, such as Innisfree's From the Ground Up Community Garden and UWF Community Garden, are where you can go to plant seeds and watch them grow. They are teaching gardens that operate by community involvement and volunteers who reap what they sow, taking home not only the "fruits" of their labor but knowledge of how to build a better, sustainable Pensacola from the ground up.
At the forefront of sustainability in Pensacola, Ever'man Cooperative Grocery & Cafe has been promoting healthy and sustainable living since 1973. Pensacola's only cooperative grocery, Ever'man offers a wide variety of healthy, local and organic products. There's also a new cooperative buying club called Pensacola Co-op that features organic produce at affordable prices in return for volunteer services.
So, whether it's going to farmers markets, or signing up for CSAs, community gardens, buying clubs and co-ops, all it takes is one step in the right direction to start doing your part to support a sustainable Pensacola.
Aliff Acres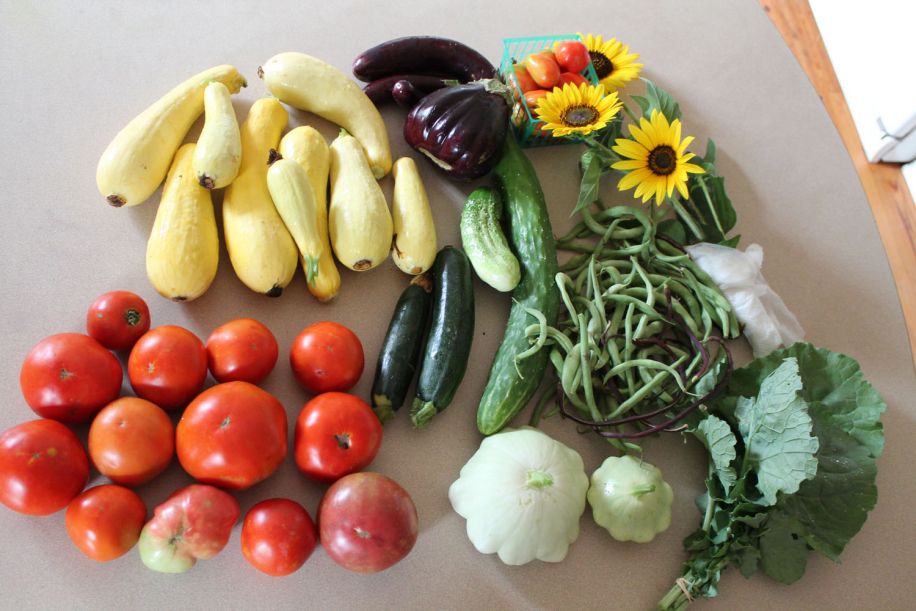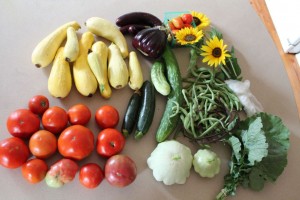 Drop-off location: Old Thyme Remedies, 2475 E. 9 Mile Rd.
Cost: $30 per box ($25 for box, $5 delivery)
Season: Year-round
Contact: [email protected]
850-777-4668 facebook.com/AliffAcres
"When you get a tomato from California it was picked green, gassed, and had to travel 2,000 miles to get here," said Thomas Aliff. "Not only are you missing out on the full flavor, but you lose out on the nutritional value. We can grow so much in the Pensacola area with the climate we have, so if you keep by the seasons, you can eat well all year long even in the winter months. And you're supporting local; that's a big thing. You realize the people around you—these are your neighbors, your friends, and you want to support them."
Aliff Acres is a family-owned and operated small farm of five acres located about 70 miles outside of Pensacola in Walnut Hill, Fla. Wendy and Thomas Aliff started the Aliff Acres CSA in 2014 with the help of their three sons: Thomas Jr., Jared and Adam. Wendy also teaches at a one-room schoolhouse on a local, organic poultry farm called Green Acres. All of the Aliffs work hard to provide quality, healthy produce to locals that is free of pesticides and herbicides. To become a member, the Aliffs ask for a 10-week subscription, which means you'll commit to buying 10 weeks worth of CSA boxes. From flowers to free-range eggs, homemade breads and baked goods, you'll be pleasantly surprised by the goodies you find in your CSA basket. The Aliffs use non-GMO seeds and natural fertilizers to keep all their products as close to organic as possible. As an added bonus, membership also comes with access to a blog where there are updates on what the Aliffs are growing, CSA information, recipes, gardening tips, and more.
Ever'Man Cooperative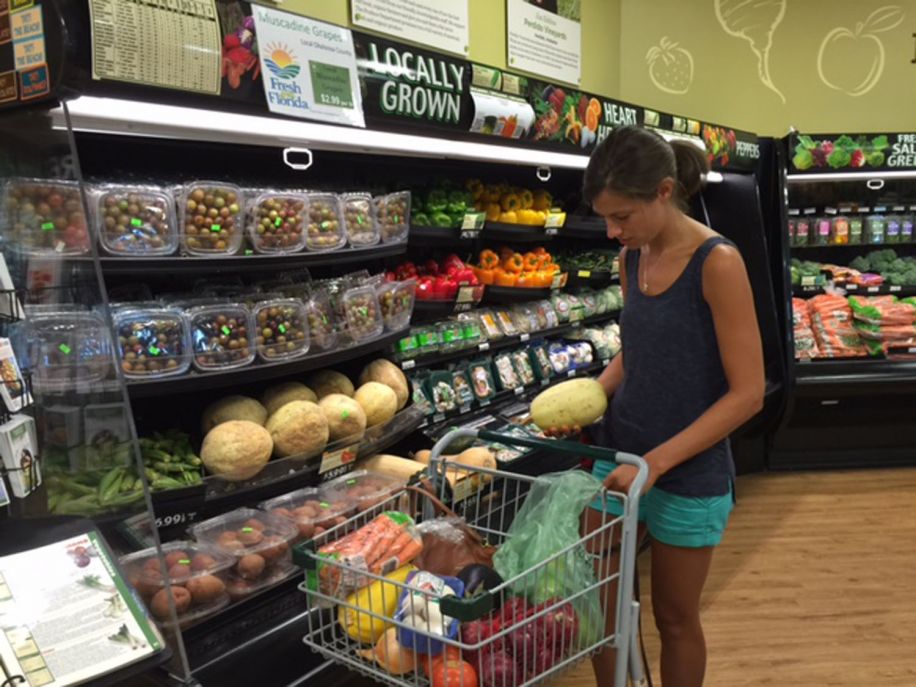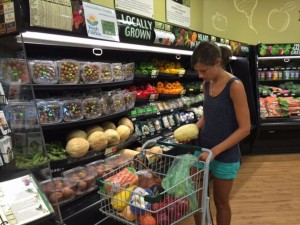 Where/When: 315 W. Garden St.,
Mon-Sat. 7 am – 9 pm, Sun. 9 am – 8 pm
Cost: (Annual Membership fees)
$12 per household, $5 for seniors 65+
[email protected]
850-438-0402 everman.org
"Local food travels a shorter distance reducing our carbon footprint, and local food is picked at its peak of freshness so it tastes delicious and keeps you healthy," said William Rolfs, general manager at Ever'man. "We support local and regional family-owned farms, as well as independent farms and cooperatives across the USA producing items such as honey, blueberries, herbs and other produce to milk, chicken, grass-fed beef and sustainable seafood."
Ever'man Cooperative Grocery & Cafe was established in 1973 as a local not-for-profit community natural food grocery in 1973. Today, Ever'man operates as a local food cooperative with a strong economic impact on the Pensacola community through its support of local food systems, sustainable foods, and environment stewardship. Ever'man has over 10,000 members and it has the region's largest selection of local, natural and organic products. In addition to being a natural food grocery, meals are served daily in the Ever'man cafe, where you can choose from buffet-style meals or ready-to-heat prepared foods. Thanks to Ever'man, the community will gain education on health, nutrition and environmental issues along with access to healthy, natural foods and products at the lowest possible price. Ever'man also offers itself as an example of green business practices and supports response, local agriculture and small businesses. The seven cooperative principles Ever'man adheres to are as follows: voluntary and open membership, democratic member control, member economic participation, autonomy and independence, education and training, cooperation among cooperatives, and concern for the community. On that note, Ever'man is proud to be the first cooperative in the area to roll out a Charity Eco-Friendly Bag Program, which makes it easy for members and customers to contribute to community charities. For every eco-friendly bag purchased, Ever'man will donate five cents to a charity of the shopper's choice. If you're interested in joining the Ever'man community, ask to complete a membership agreement at the Customer Service desk.
From The Ground Up Community Garden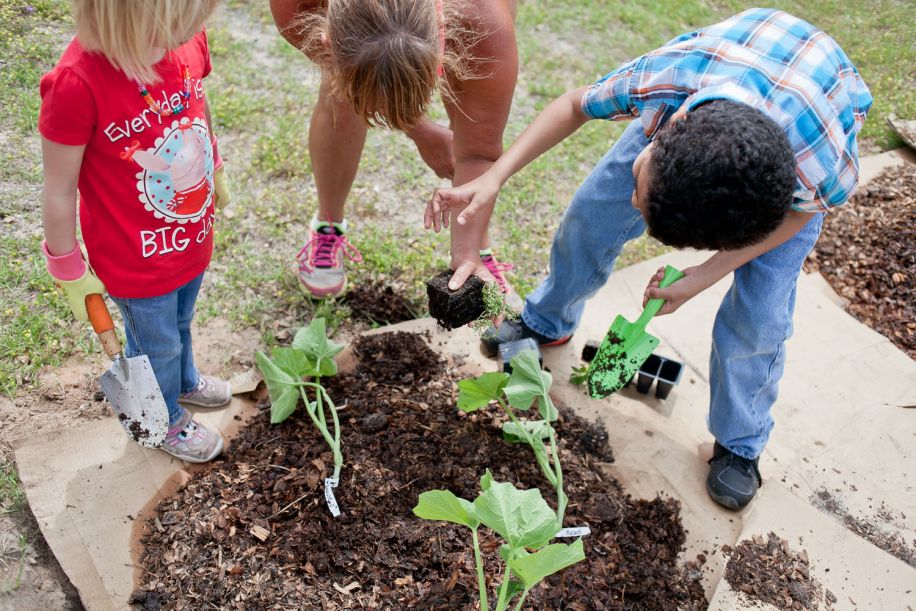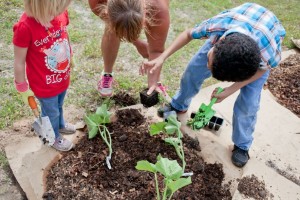 Where/When: 711 N. Hayne St., Wed. & Thurs. 4 – 7 pm, Fri. 9 – 11 am
Contact: [email protected]
innisfre.com/blog
"We call ourselves a triple-bottom line company," said Julian MacQueen, founder of Innisfree. "So we focus on people, the planet, and profit. That's how we measure our success. It's bringing the social consciousness of corporations so number one they get credit for doing good things, but number two bringing sustainability to the consciousness of corporate leaders. Most corporations and CEOs are not as demonized as the media makes them out to be. They understand the interrelatedness of people and the planet and if they take care of those things then profit will follow."
From the Ground Up Community Garden began thanks to the combined efforts of several of Pensacola's finest locals: The City's neighborhood revitalization coordinator Helen Gibson, expert gardener Catherine McCreery, H20's executive chef Dan Dunn, and Innisfree's chief marketing officer Jill Thomas along with Julian MacQueen, CEO and founder of Innisfree Hotels. The City of Pensacola was a major partner in Innisfree's project, as Mayor Ashton Hayward and Julian MacQueen picked out a piece of real estate for the garden together, which was an abandoned community garden adjacent to the Downtown Pensacola Police Station that they decided to rejuvenate by restoring 36 garden beds and constructing 26 trellises.  In November, From the Ground Up will launch a CSA program in which volunteers can receive a veggie box for every two hours of volunteer time they put into the garden. The community garden has collaborated and fostered partnerships with Ever'man, Pathways to Change, Slow Food Gulf Coast and Manna Food Bank. In addition, Dixon's School of the Arts will be adding the garden to their curriculum with the goal of getting the community around the garden involved. There will be additional farm-to-table dinners and proceeds raised from garden events will go to sustain and expand the From the Ground Up project.
Market On the Beach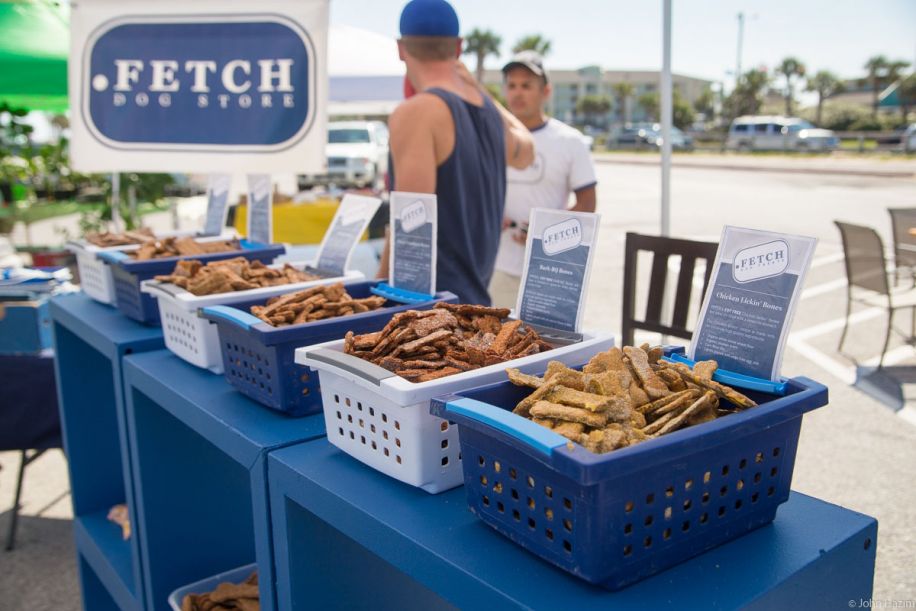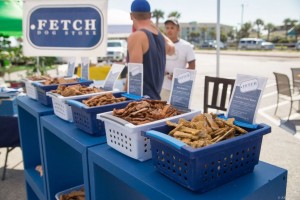 Where/When: Casino Beach parking lot, Thurs. 4 – 8 pm
Season: Year-round
Contact: [email protected]
marketonthebeach.com
"We want to create a market-friendly area in Pensacola," said Daniel Dugan. "The goal is to get rid of the competitive mindset in the market community and instead come together to create a market network so we can help out those who are struggling. This all ties back to a self-sustainable Pensacola, where entrepreneurial minds can start a market, keep money here, and make our city a better place to live."
Market on the Beach was started this summer by Daniel Dugan and Coleman Charles, who wanted to accommodate those living on or near Pensacola Beach by setting up a market to offer fresh produce in the beach neighborhood. Daniel not only runs another farmers market in Gulf Breeze but he owns Fetch Dog Stores in Pensacola, too. Market on the Beach is set up every week in the Casino Beach parking lot where you'll find at least 150 vendors. Although sometimes it's hard to convince farmers to cross the Pensacola Bay Bridge connecting downtown Pensacola to the beach community, a dozen farmers set up booths including those from Ballard Farms, as well as J and K Farms.
Market In the Breeze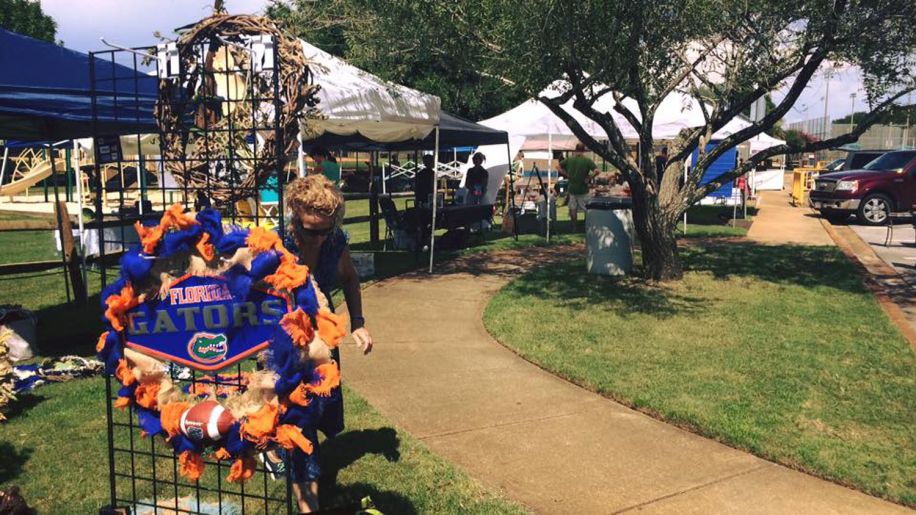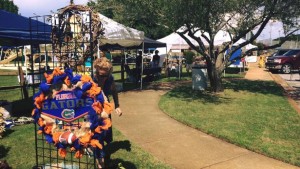 Where/When: Gulf Breeze Community Center, Tues. 4 – 8 pm
Season: Year-round
Contact: 850-490-3729 marketinthebreeze.com
"We want to create a market-friendly area in Pensacola," said Daniel Dugan. "The goal is to get rid of the competitive mindset in the market community and instead come together to create a market network so we can help out those who are struggling. This all ties back to a self-sustainable Pensacola, where entrepreneurial minds can start a market, keep money here, and make our city a better place to live."
Market in the Breeze has celebrated its fifth week of operation as another market project started by Daniel Dugan, and the market was well received by the Gulf Breeze community. The community of Gulf Breeze had wanted a farmers market, and Daniel was happy to oblige. You can find the market at the Gulf Breeze Community Center, where at least 12 farmers offer fresh produce. With the mayor and city council on his side, as well as group called "Healthy Moms," who support local business, as well as buying locally and healthily, Daniel predicts continued success for Market in the Breeze.
Palafox Market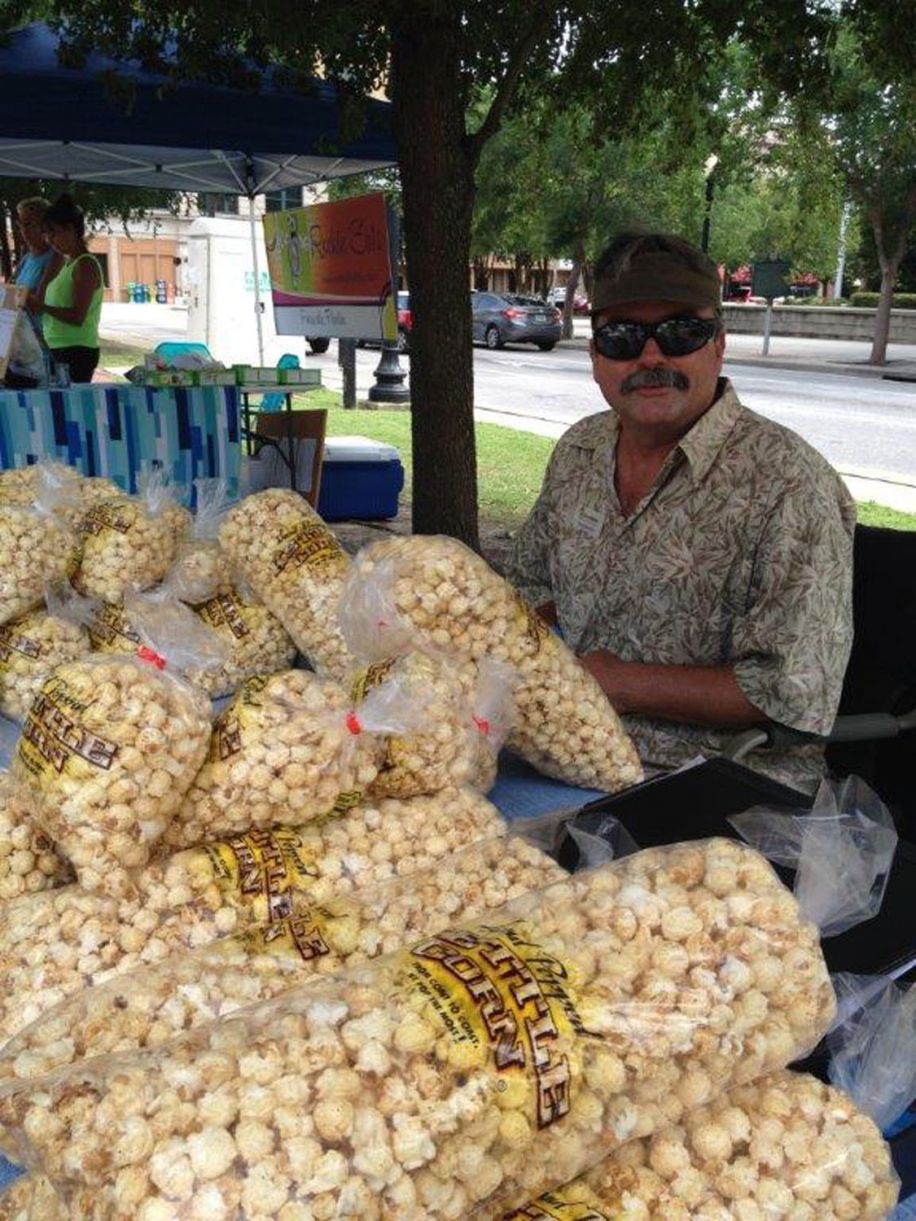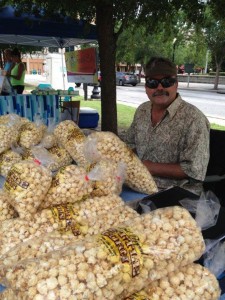 Where/When:  Martin Luther King, Jr. Plaza, Sat. 9 am – 2 pm
Season: Year-round
Contact: [email protected]
850-434-5471 • palafoxmarket.com
"Supporting people in the community means supporting your local family," said Teresa Duffey, marketing manager of Palafox Market. "That's what we really are at the market—a family. When the economy and money grows here in Pensacola, it  stays here and benefits everyone locally. As a result, people are happier and more likely to stay in Pensacola."
Palafox Market has already celebrated its eighth year of operation, run by market manager Teresa Duffey. With booths stationed along Martin Luther King, Jr. Plaza, Pensacola's downtown market has been known to draw a crowd of 5,000 each Saturday. Every Saturday from 9 am to 2 pm, rain or shine, you can browse the booths of at least seven local farmers representing Stewart, Po'Man, Forland, Jetta, Millers, Aquaponics, and Ballard farms. There's also various goods from Coldwater Gardens with the help of Nick Phoenix. From free-range eggs to honey from local beekeepers, and jams to other homemade foods fresh from Pensacola, there's plenty to choose from at Palafox Market. Plants, seedlings and herbs can also be found at the market for those who want to dabble in creating their own sustainable home gardens. Local chefs even visit the market to buy at least a basket of food from vendors, so their food is prepared fresh—within 48 hours it goes from farm to table. Carmen's Restaurant offers a different signature dish every week with ingredients from the market. Tin Cow and Iron are other restaurants who buy fresh, local produce. Thanks to funding granted by Fresh From Florida, Palafox Market has been able to offer SNAP and WIC, so it isn't necessary to travel to the grocery store to get the most out of your EBT benefits.
Pensacola Co-Op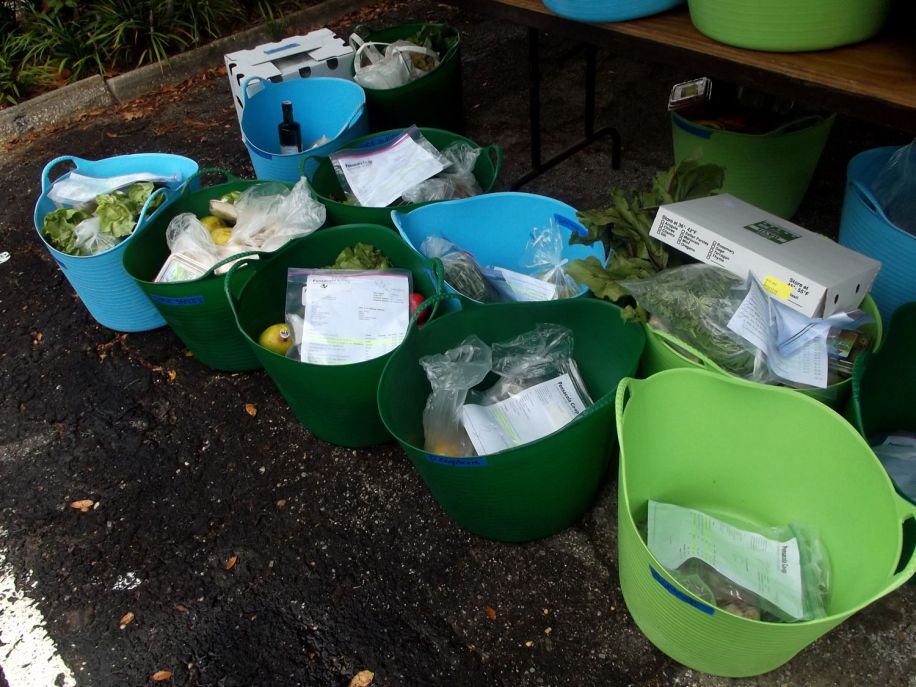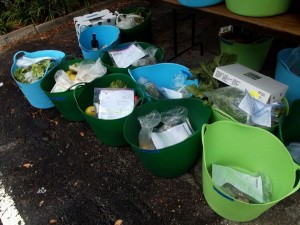 Where/When: 1060 N. Guillemard St. (Behind First City Art Center), every other Friday
Cost: $10 per membership, $5 per order
Contact: [email protected]
850-207-2524 • pensacolacoop.com
"It's not easy but I'm proud of what we do," said Tori Rutland. "We are certified organic, which is hard to find in this area, and it's very important to be able to trust where your food comes from. No one should have to risk their health by choosing processed food because it's less expensive. That's where our cooperative buying club comes in to make organic food more affordable in the Pensacola area."
Pensacola Co-op started this year as a cooperative buying club, powered by Tori Rutland and a dedicated group of volunteers. Although a non-traditional cooperative, since there is no formal government involved, Pensacola Co-op has over 200 members who can place orders easily online. Unlike many CSAs, where baskets are prepared for you, you get to select what organic items you'd like to add to your basket. Aside from fees, requirements for membership include making at least one order and volunteering for at least two hours every month. Every other Friday from 8 am to 5 pm, Pensacola Co-op delivers orders and sets up a special market for members behind First City Art Center in downtown Pensacola. Offerings at the special member's market includes local farm goods from Primal Acres, locally-made goat's milk soaps, salves and lotions from Udder Chaos, produce and honey from Watchtower Farms, guidance and services from Pensacola Permaculture, vegetable and herb plants from Easy Hill Edible Gardening, more local produce from Country Hill's Farm and Nursery, organic raw chocolate, snacks and desserts from Sweet and Simple Raw Treats, organic baked bread from Rising to the Occasion, as well as natural sunscreens, bug sprays and an entire line of skin care products from LuLu's Organically-Sourced Skin Care.
Perdido Key Farmer's Market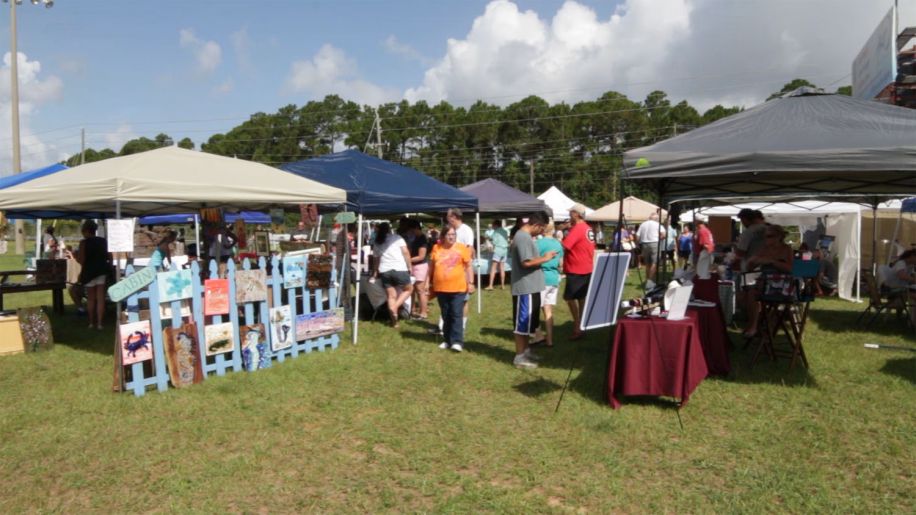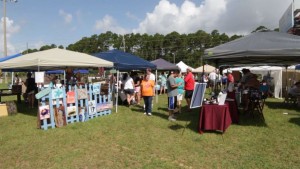 Where/When: 13190 Gulf Beach Hwy.  (Near Winn Dixie), Sat. 8 am – 1 pm
Season: March – October
Contact: perdidofarmersmarket.com
[email protected]
"Our motto is coastal meets country at our market," said market coordinators Amanda Castillo and Kathleen Leidner. "We're on the coast but we're still a very rural community—we offer homemade baked and jarred goods. The goal is not only to promote community involvement but a healthier way of eating, which leads to a healthier way of living and a healthier Pensacola."
Perdido Farmer's Market celebrated its grand opening this year on June 20, thanks to the combined efforts of Amanda Castillo and Kathleen Leidner, the two-woman team who organize the weekly market every Saturday from 8 am to 1 pm. Currently, the market is situated by Winn-Dixie on Sorrento Road and caters to a large military community. In fact, the market has received help from the military, especially from Jeremy Russell along with SAT NATTC and Naval Aviation volunteers. Additional funding and advertising for the market has been contributed by Tina Morrison and the Perdido Chamber of Commerce, who helped Kathleen and Amanda rent the eight acres of land needed for the collection of market booths so locals can display their wares. While the market is looking for more vendor participation, there are three farms who bring their produce every weekend: Jetta Farms, Jack Creek Produce, and Alcott Farms. Get involved and help out a local market by visiting the community garage sale on Oct. 17 and, while the sale is to promote community involvement, there's no telling what type of hidden treasures you might find.
Seasons In the Sun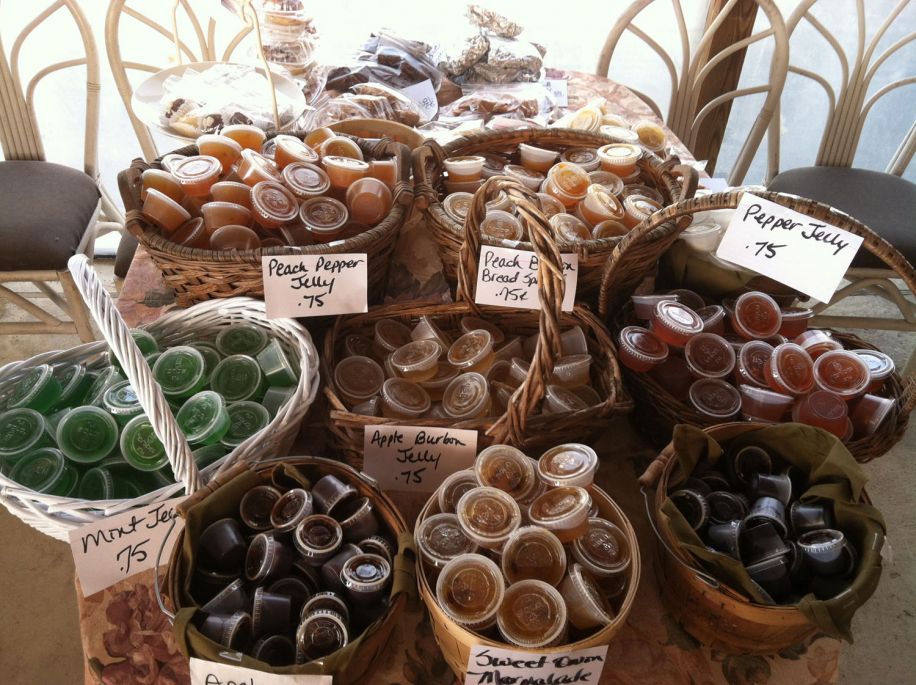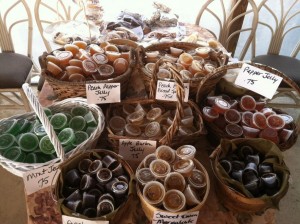 Drop-off location (Pensacola): Farm & Nursery Mart (7460 Pine Forest Rd.) $12/month
Home delivery (Pensacola): $7/week, $28/month
Cost: $25 – $29 (small), $37.50 (medium), $49 (large)
Season: spring/summer March – August,  fall/winter September – February
Contact: [email protected]
251-423-4381 • seasonsinthesun.com
"Most people know nothing of how foods get to the stores and where they come from," said D'Lee Reeves. "So many foods are processed and sprayed with chemicals, or gassed, to promote longer shelf life. Whereas if you know your farmer, you know your food."
Seasons in the Sun started with D'Lee Reeves and has been operating as a CSA for five years. The farm grows a little bit of everything with both field and hydroponic farming. Although the farm is located in Spanish Fort, Ala., if you don't feel like travelling out to pick up your CSA basket every Friday, then choose from one of several drop-off locations at local small businesses, or sign up for home delivery. Although members do not get to choose what produce is included in a CSA basket, Seasons in the Sun is starting a buying club in October for those who want to pick and choose what goes into their basket. In addition to vegetables and fruits, there's meat, honey and fresh-cut flowers at the farm. At Seasons in the Sun, you get more than produce—there's also homemade bath products from soaps to facial scrubs, bath salt soaks, and more. The evening before Halloween, on Oct. 30, there will be a Farm to Table event at Seasons in the Sun, which will include a farm tour, a silent auction, and the event will feature celebrity chef Simon Majumdar from Food Network and he will prepare a six-course meal with wines paired for each course.
UWF Community Garden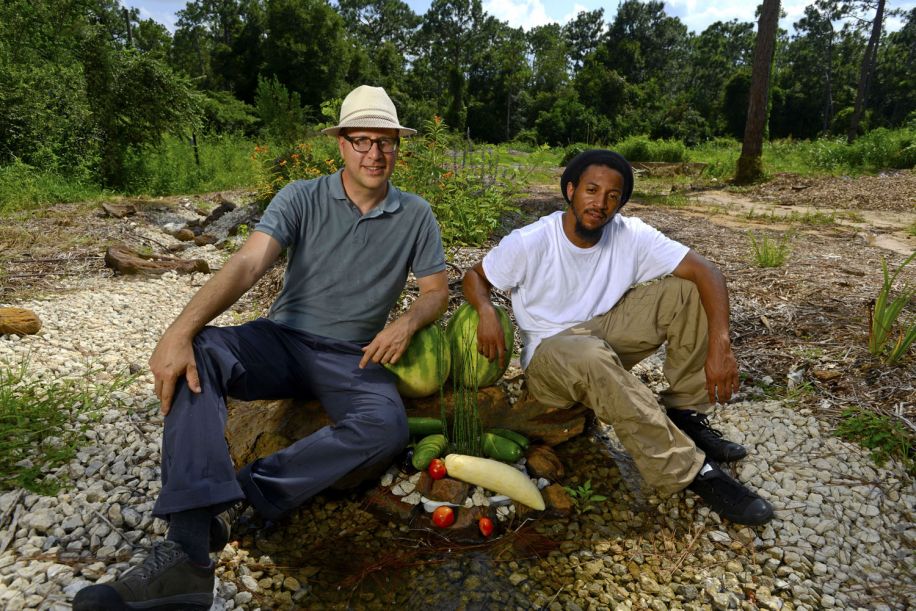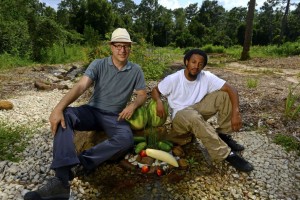 Where/When: UWF water tower (adjacent to parking lot B)
Contact: [email protected]
uwf.edu/uwfgarden
"There are two especially good reasons to eat locally," said Dr. Tomso, UWF Community Garden coordinator. "The vitamin content of our food is higher the closer it is from the vine, or tree, otherwise it becomes less nutritious. Then it's very important to know the origin of your food, as well, so you can understand the condition under which its been grown. I'm not just talking about whether there's been pesticides or harmful chemicals, but the labor practices that went into the growth and harvesting of that food."
UWF Community Garden was started by UWF students of the on-campus gardening club in 2009. A year later, they asked Dr. Tomso to come onboard as official advisor and in 2011 Chasidy Hobbs joined the cause as co-director of the garden. Located behind the UWF water tower, the garden is not just a place where local gardeners grow food and raise awareness about healthy eating, but it's also a place where students come to apply what they're learning in the classroom to a real-world setting. While Chasidy is integrating the garden into her environmental studies curriculum, Dr. Tomso has integrated the garden into his honor seminar called Politics of Food. All food gets taken home by those working during the growing season, and extra food is donated to local organizations such as Manna Food Bank. Future plans include adding a teaching area under a shaded pavilion, as well as a botanical and pollinator gardens.  If you're interested in doing some communal gardening, contact Dr. Tomso to be added to the mailing list for regular updates and access to a community board.