by Nicole Willis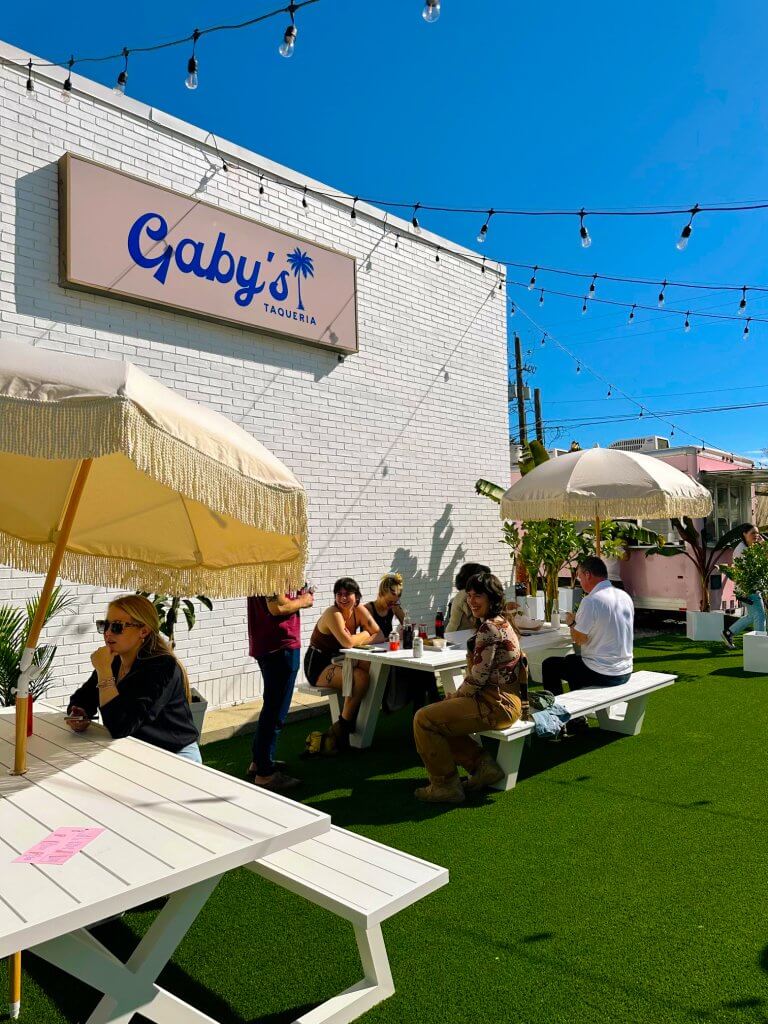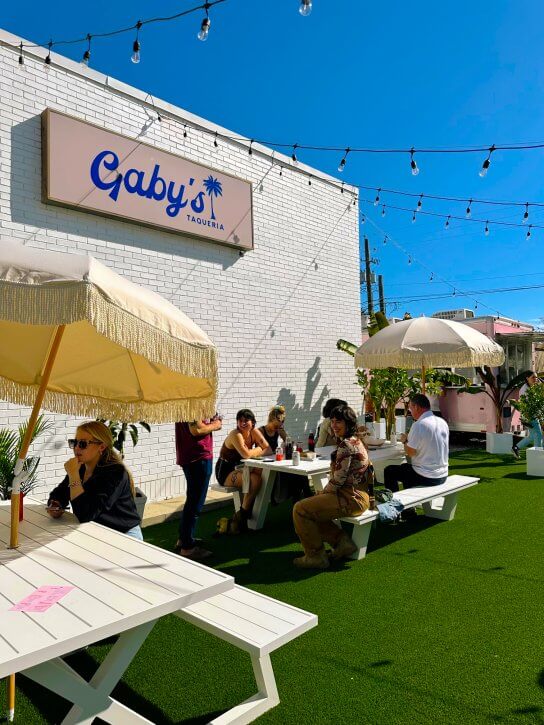 The owners of one of Pensacola's most beloved taco spots, Tacos Mexicanos, have worked their culinary magic launching yet another restaurant in downtown Pensacola—Gaby's Taqueria.
Husband and wife duo Gabriel Hernandez and Gabriela Ramirez are the creatives and chefs behind the new white and baby pink establishment located at 104 E Gregory Street. If you have been on that side of town recently, you have likely seen the spot's fun retro signage and bright patio decor, as well as caught a whiff of the freshly grilled meats, veggies and spices wafting through the air.
This duo of seasoned restaurateurs officially opened Gaby's in late November and the location has been bustling ever since. When starting up a new restaurant, the couple sought the help of local entrepreneur Rafael "Raf" Simpson. They partnered with Simpson to create Artisan Restaurant Group (ARG), a new Pensacola-based restaurant company.
"We came together with a new strategic partner, Rafael "Raf" Simpson, to create ARG. The intent with ARG is to bring fresh new things to the area, meaning that we'll be testing new concepts with different brands right here. Raf and I, along with other co-owners, want to be part of Pensacola's future; we see big potential here," Hernandez said.
ARG is a family-office backed restaurant company that is actively investing in exciting restaurant themes and locations throughout the Gulf Coast of Florida. The group currently includes restaurants such as Tacos Mexicanos, Gaby's and a not-yet-opened pizza restaurant, whose location has not been disclosed, called Saturday's Pizza.
ARG is fronted by Simpson and Hernandez, both of whom have years of management experience. "ARG is the coming together of two visions: Raf bringing in a lot of design-oriented concept development, and myself bringing in the operational know-how and team to make it all happen," Hernandez explained.
The restaurant group has been able to provide Pensacola with a fresh new experience. Though there are several restaurants in the city that dish up delicious tacos, none have quite the same vibe as Gaby's. Gaby's is even far different from Tacos Mexicanos, despite the two restaurants serving a similar style of cuisine and being owned and operated by the same people.
"Gaby's definitely brings a very fresh feel both in ambiance and food. The best move was definitely to go with something fresh and not messing with what already works well at Tacos Mexicanos. In the end, Gaby's and Tacos Mexicanos should be great neighbors," Hernandez said.
With an authentic yet modern menu and a bright, clean environment, Gaby's offers a more elevated dining experience than what you would expect from a typical taqueria. "Gaby's as a concept was always intended to be a place that would exceed expectations for a taco shop," Hernandez explained. "Raf and I always agreed that everything from the style of music to the way you are greeted, execution of food, lighting and so on should all be details that we hold closely because that's what'll set us apart, it's the investment in a full circle experience."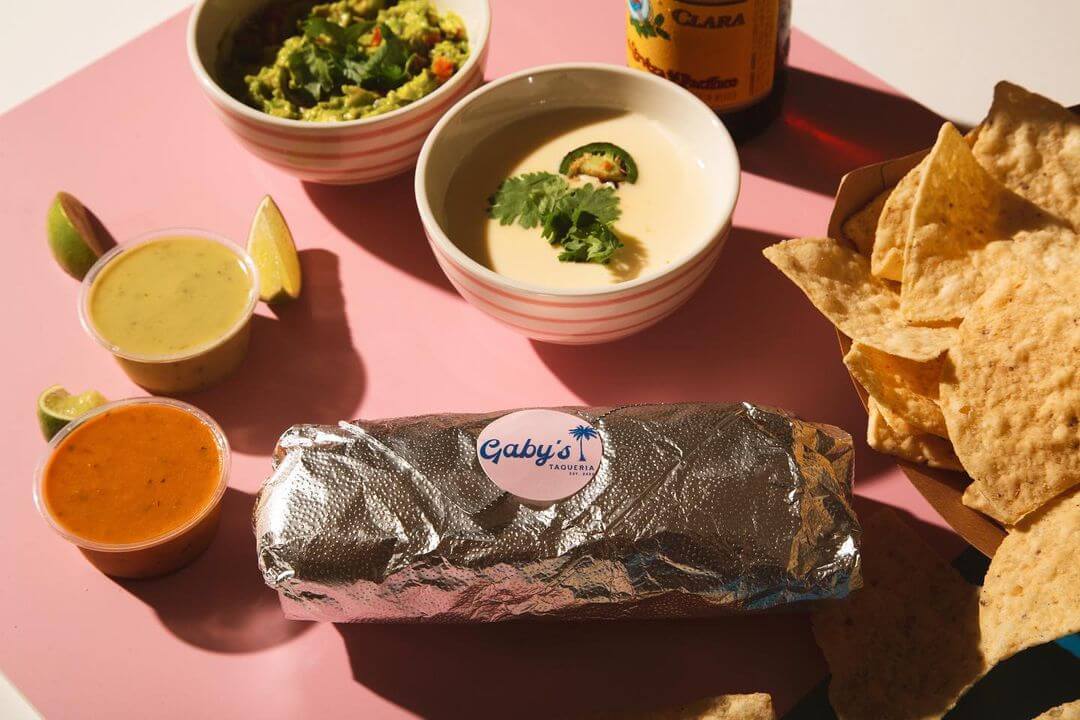 It is not everyday that you find authentic tacos being served out of a bright white and baby pink building. The eatery's ambience and atmosphere is cute and clean, with string lights above the bright green turf of the outdoor dining area scattered with fun bright-white lawn furniture and oversized tasseled umbrellas giving it a retro summery vibe. The fun South beach-style ambiance of Gaby's is carried through all the way to its creative branding and signage featuring a bright blue logo in a retro font with that same popping shade of baby pink. These design elements were envisioned and brought to life by Simpson's wife and Pensacola-native, Lauren Bakarian.
The menu at Gaby's features a variety of California-style Mexican food. They serve tacos featuring a variety of meats, burritos, bowls, and sides including a tasty Mexican corn salad called esquite, queso, freshly-made guacamole and more. The restaurant also serves breakfast all day long for those craving a bit of breakfast for dinner.
When it comes to dining at Gaby's, there are multiple ways for customers to get their hands on some of their tasty tacos: Gaby's offers the option to order online through their website at gabystaqueria.com, via their drive-thru or in-person at the restaurant.
As for the restaurant's name, Hernandez warmly explained that Gaby's is named after his wife, "Gabriela is my wife and the place is named after her. She's provided me unwavering support all these years developing our Tacos Mexicanos business and we all felt that our new baby [Gaby's] should have some connection reminding us what got us here and what we're all about— family," he said.
Hernandez has strong ties to Pensacola and wants to bring unique and interesting businesses to the community. "Pensacola is in a great position for growth and it's time we bring in more world class experiences. As locals, we should be able to enjoy more cool places with that big city feel right here at home and we're excited to be a part of that. We owe everything to our locals," Hernandez emphasized.
Even though this new spot just opened up, a second Gaby's location is already slated to open at the new City Food Hall in Destin in 2023. The new food hall will feature a variety of restaurants with unique culinary offerings, including Gaby's.
You can try out Gaby's for yourself at 104 E Gregory Street in downtown Pensacola. Check out @gabystaqueria on Instagram for daily specials, details on the new location and more. For more information on Gaby's and to view the menu, visit gabystaqueria.com.