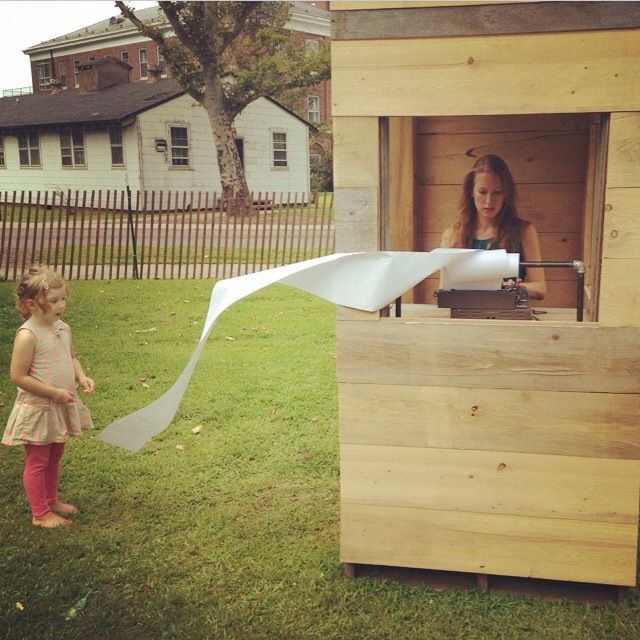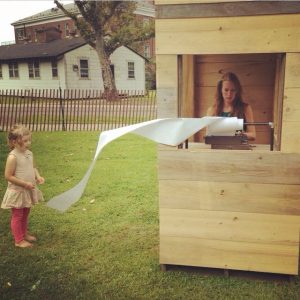 By Hana Frenette—
The subconscious of a city is a complex and ever-evolving thing. Millions of thoughts, ideas, workplaces, streetscapes and community gatherings come together daily to form an intricate and expansive psyche of a city.
In 2014, Stephanie Berger and Nicholas Adamski made an attempt to capture a glimpse of that psyche. The two launched The Typewriter Project: The Subconscious of a City on Governor's Island during the New York City Poetry Festival. In January, that project will come to Pensacola.
The project consists of a wooden booth, housing a typewriter, a seat for the participant, an open window and 100-foot long spool of paper. The booth creates a collaborative opportunity for passers by within the city to stop and share their thoughts, poetry or feelings. The writings can be anonymous or signed, and on any topic the writer chooses.
Berger and Adamski, also co-founders of the New York Poetry Society, cited several reasons for creating this project, with the first simply being one of curiosity.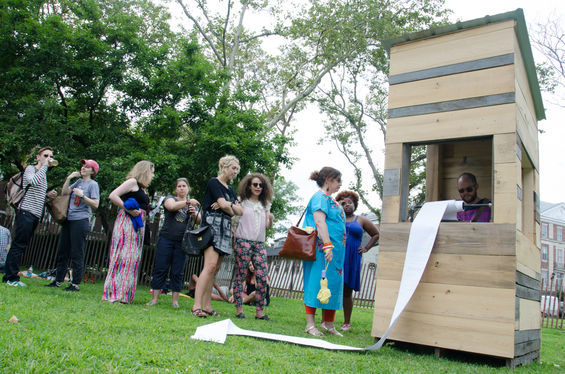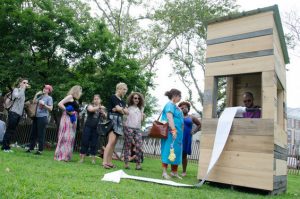 "I think first and foremost, we were really curious about what New Yorkers were thinking in different parts of the city at different times. ​We wanted to hear what their internal dialogue sounded like at particular times in a particular places. That's why we subtitled the project 'The Subconscious of the City,'" Berger said.
The two also really wanted to give people the opportunity to sit and reflect on their day or their thoughts. Berger noted our modern lives can often be quite hectic, especially for those living in a bigger city, and creating time and space for a little mindfulness and tangible creativity was something they thought people could benefit from.
"Writing on a typewriter helps in causing one to slow down and deeply consider what one is about to type because it feels more permanent. And the clickety-clacking of the keys provides an oddly calming effect," she said. "Lastly, we wanted to give people the opportunity to write poetry! Bringing poetry to people in innovative ways is a big part of The Poetry Society of New York's mission. Poetry has such a dull reputation amongst the general public. The Typewriter Project makes writing poetry fun, collaborative, and inclusive."
Since it's launch in 2014 the project has been installed 13 times in Brooklyn, NY; Manhattan, NY; Hamilton, NJ; and Raleigh, NC.
Berger said the public response to the project has been overwhelmingly positive since the first installation on Governor's Island.
"There was a line to use it that was five to 10 people long throughout the New York City Poetry Festival that year. I'm glad we launched it in a place where there were already tons of poets roaming around," Berger said. "The first person to write on it was actually Paul Muldoon, poetry editor of The New Yorker magazine. It was really nice to launch the installation with a bang!"
Because the project is completely dependent on the individual people who encounter and contribute to it, Berger noted that every installation so far has been really different and totally distinct.
Some of Berger's favorite moments include the day same-sex marriage was legalized throughout the country and the project was set up in New York.
"The Typewriter Project was installed in Tompkins Square Park, a historic site of political activism and resistance, and there were just so many celebratory remarks that day and beautiful stories and poems of peoples' love," she said. "It made me really happy that that moment in time had been documented in that particular way."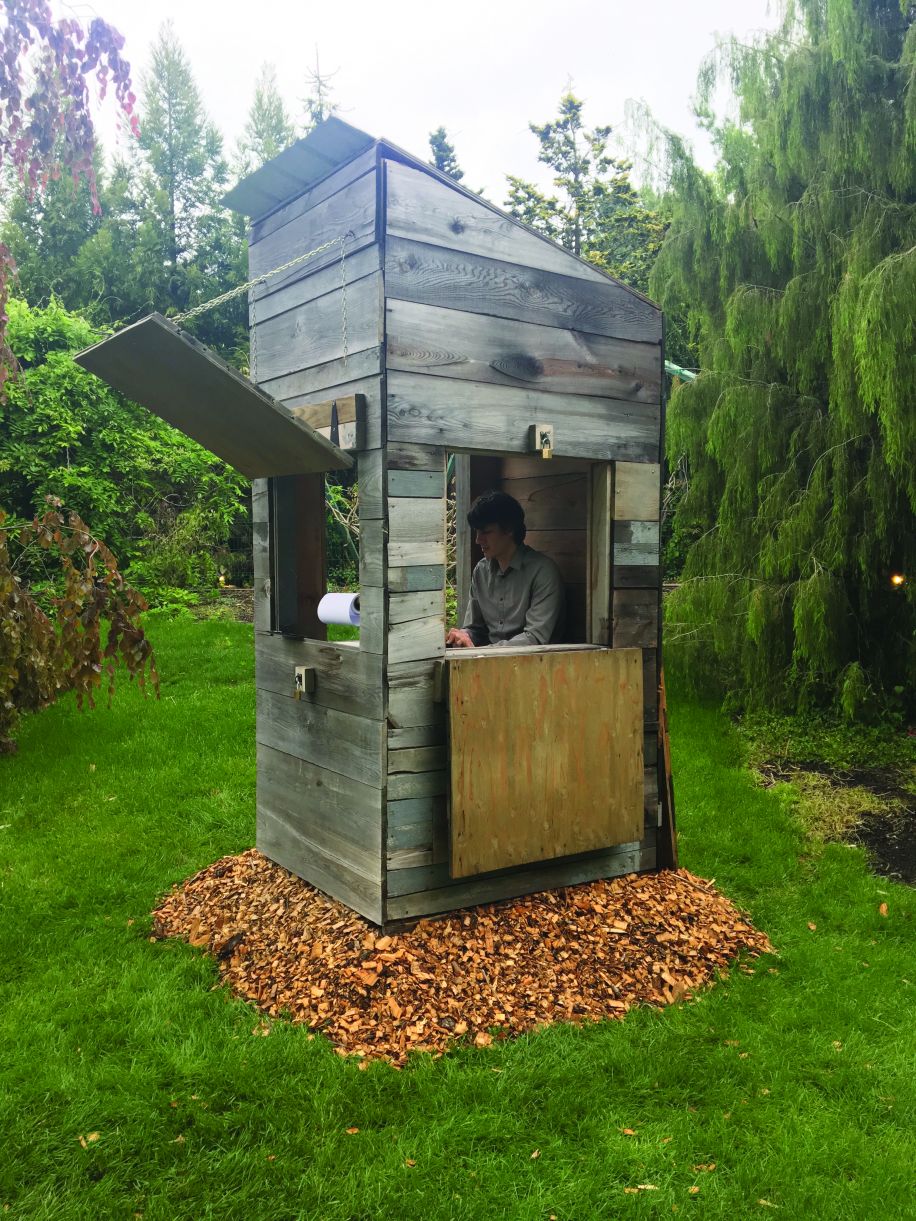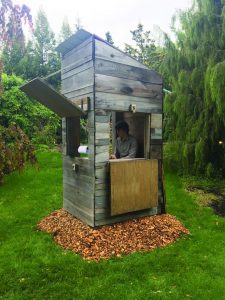 The newest installation will be set up in Pensacola at three different public locations during January: The Museum of Commerce; The West Florida Public Library Downtown Branch, and The University of West Florida's John C. Pace Library.
Dr. Robin Blyn, a faculty member from the English Department at UWF had read about the Typewriter Project and invited Berger to be an artist-in-residence for a few days in addition to giving a public lecture on the project.
"We figured it would only make sense for the students and faculty at UWF to get to experience the installation," Berger said.
Once the public installation ends, the scrolls will be taken off the typewriter and then shown at the Pensacola Museum of Art in April. Once the exhibit at the PMA ends, the scrolls will then be housed in airtight containers ​in Berger's storage unit in Queens.
"We've had several exhibits that featured them, and we are always open to finding new and interesting ways to display and use them," Berger said.
If you're out and about in January and see a modest wooden booth with a spool of paper rolling through the open window, take a moment to reflect on your day and add your own voice to the chorus of thoughts within the city.
Stay tuned to subconsciousofthecity.com for information about upcoming installations.
Installation Locations:
Jan. 17, Experience UWF Downtown
Museum of Commerce
201 E. Zaragoza St., Pensacola
5:30 to 7 p.m.
Jan. 18 – 26
West Florida Public Library, Pensacola Library
239 N. Spring St., Pensacola
Jan. 27 – Feb. 16
University of West Florida, John C. Pace Library
11,000 University Pkwy., Bldg. 32, Pensacola