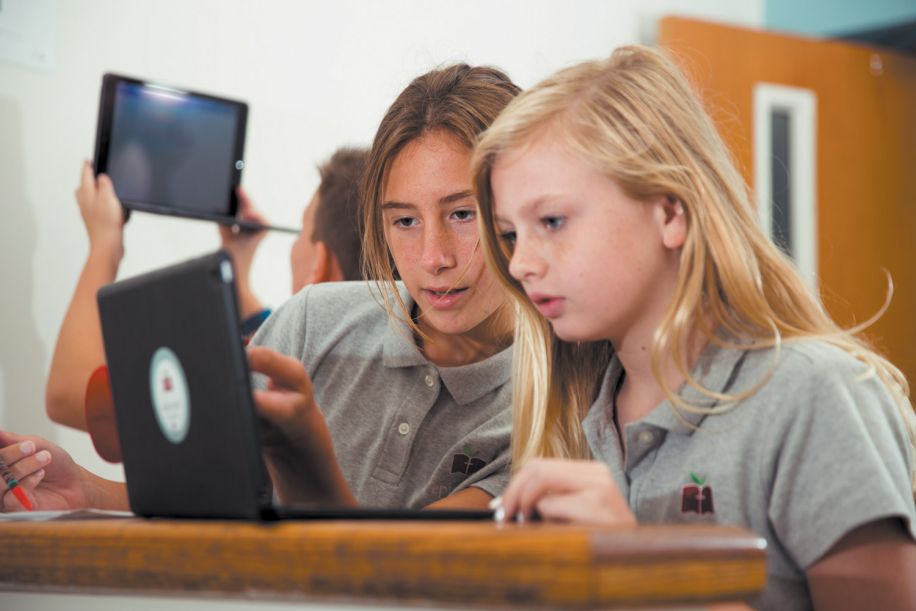 Children under 25 likely see the world very differently than you did growing up. These kids, often termed digital natives, have not known a world in which computers and other advanced technologies have not been a part of their everyday lives. They are all native speakers of the digital language. Computers, digital music players, videogames—and for the younger ones, tablets and smart phones—have been a part of their daily routines as far back as they can remember. Many have never used a rotary dial telephone, or even a phone book for that matter. The very idea that their parents once had to remain connected to a wall while talking on the phone is at once hilarious and horrifying to these kids with their mobile, fast-paced lives.
When considering this brave new world of children and students, it is helpful to remember that often the parents and teachers of these natives were born into a primarily analog world and they have had to learn the digital language as adults. For this reason, they are referred to as digital immigrants. Early on, this digital divide was quite wide with parents and teachers struggling to keep up with both the gains in technology and the mental processing skills of their kids and students, but the divide between natives and immigrants seems to be narrowing as digital natives grow older and become parents and teachers themselves, and as parents and teachers become more immersed and fluent in digital language and skills.
Most educators believe that today's students think and process information fundamentally differently from their predecessors. According to Marc Prensky, a writer and education consultant who coined the term, digital natives are "used to receiving information really fast. They like to parallel process and multi-task. They prefer their graphics before their text rather than the opposite. They prefer random access (like hypertext). They function best when networked. They thrive on instant gratification and frequent rewards. They prefer games to 'serious' work. They are used to the instantaneity of hypertext, downloaded music, phones in their pockets, a library on their laptops, beamed messages and instant messaging. They've been networked most or all of their lives. They have little patience for lectures, step-by-step logic, and 'tell-test' instruction."
Since these digital natives process information differently than earlier generations, researchers and educators generally agree that a student-centered approach is most beneficial to this generation of learners. What does student centered mean? This type of learning shifts the focus from the teacher (think lectures and textbooks) to the student (think research, hands on projects, simulations, and collaboration) and often gives the student a choice in terms of how they want to approach a learning objective and eventually display their mastery of the topic.
While there are debates surrounding the issue of technology and kids—too much, too little, and too soon being the biggest conflicts, most educators agree on one thing: technology should be used as an educational tool to engage and facilitate students to achieve a variety of learning outcomes including critical thinking, problem solving, experiential learning, practical application and much more. When used in this manner, technology has the potential to connect students to content in ways never imaginable in our old rote memorization days of school.
Here's a look at what schools are doing locally to teach these digital natives by individualizing instruction, advancing technology and science skills and promoting critical thinking.
Escambia County School District
The Escambia County School District (ECSD) is in the first year of its Vision 2020 goal. Superintendent Malcolm Thomas recently signed the Future Ready Pledge to ensure that the district is taking the necessary steps to inspire and educate digital natives in a variety of ways. The cornerstone of Vision 2020 is personalized learning.
"Personalized learning empowers students with voice and choice in the learning process," says Instructional Technology teacher Lauren Thurman.  "It is a student-centered approach that is facilitated by the teacher based on each learner's mastery of the standards. A personalized approach will take into account each learner's unique learning style, abilities, and interests. It is built on the premise that learning happens anywhere, anytime, and in flexible learning spaces."
To this point, the district has already implemented a number of unique teaching approaches and methods in its four pilot sites C.A. Weis Elementary, West Pensacola Elementary, Bellview Middle, and Woodham Middle (eight more sites will be added in the 2016-2017 school year). All students in these pilot schools are issued Chromebooks. These laptops are checked out at the beginning of the year and the students may take them home each day. "This ensures each student has access to the technology they need to be successful in school," says Thurman. "The goal of ECDS is that all students in grades 3 through 12 will have individual Chromebooks by the year 2020."
Additionally, the district has transformed the role of the media center to that of innovation labs. One of the most dynamic offerings in the new labs is called Makerspace. Here, students can come experiment, explore, create and tinker with a variety of tech driven kits or activities. This open-ended, hands-on learning style engages and inspires students in ways that traditional lectures just can't.  Another curriculum addition, Genius Hour, allows students to explore specific topics and real world problems that are important to them. Students enrich their understanding of the topic via a variety of research methods and keep detailed logs of their research. Eventually, they develop ideas for or solutions to the problems they chose to explore.
Episcopal Day School
Episcopal Day School (EDS) has long understood that this generation of digital natives approaches learning in ways that are significantly different from traditional modes of instruction. Because of this, they recognize alternative methods of learning, particularly those that address the fact that students' patterns of literacy are changing– they are coming of age in the digital age– and they read and absorb information in multiple ways that we are only beginning to understand.
At EDS, tech integration begins early with pre-K students using iPads for skill building and assessments. "We believe it's a part of who they are already, so let's capitalize on that," says Becky Share, head of the EDS lower school. "We don't ever stick an iPad or a computer in front of a student without a purpose. It's always used for an end game result. Sometimes that result is tech related and sometimes it's not."
With a focus on 21st century learning skills, the curriculum at EDS engages students in exploratory learning and collaborative groups. Teachers encourage critical thinking skills and creativity. Technology integration is seamless through the use of iPads, laptops, video cameras, a 3D printer, and more. Students develop the ability to use these devices as tools for learning, and they apply these skills in their research and productivity.
"Teachers now are doing a lot more hands-on and integrated teaching than before," says Share. "Long gone are the days when a teacher was a stationary fixture in the classroom. Now they are facilitators of instruction. So instead of just sitting and reading from a book about invertebrates, second grade teachers recently brought in actual worms and then they wrote about the worms and they looked at worm videos and used the web for research. It's a very integrated, project-based way of learning and applying knowledge."
The use of technology as a learning tool becomes increasingly interesting in the middle school program at EDS where the focus is on critical thinking, communication, collaboration, and creativity. Middle school students have their own school-issued Chromebooks and participate in a project-based, hands-on, style of learning. Projects range from research heavy simulations, collaborating via Google Docs; conceiving, designing and printing objects via a 3D printer, and video production and editing. At EDS, middle school students also use desks with attached seating that swivels and rocks. The idea being that kids are naturally squirmy and if you give them an outlet for that energy, they can better concentrate on their work.
In the 2016–17 school year, EDS will unveil the Kugelman Innovation Lab, which will be a dedicated space where students can be dreamers, inventors, and designers. Students will be urged to take risks and to make, invent, program and design. These skills will be reinforced with the study of science, technology, engineering, the arts and math (STEaM). The intent is that exposure to these subjects will lead students to become inventors, entrepreneurs, collaborators, and problem solvers. Sample themes for instruction include: robotics, 3D printing, design and fabrication, coding, computer programming, wearable tech – sewing with electronics, molecular gastronomy, and stop-motion animation.
"Life is different and so education has to be different," says Share. "We can't teach the same way we taught 30 years ago. We say all the time that we are teaching kids for jobs that we don't even know what they are because they don't exist yet. So we have to do our best to stay current. And really make sure that we are, as a society, moving along together in terms of technology."
Creative Learning Academy
Creative Learning Academy's (CLA) mission is to nurture and strengthen each child's foundation of academic excellence, creativity, independence, and integrity in a culturally enriched community. To this end, CLA takes a very balanced approach to the technology component of teaching digital natives. "We want curriculum to drive technology, not the other way around," says Dana DeYoung, head of school. The school's curriculum is advanced, comprehensive, and enriched with music, art, technology, library science, physical education, and Spanish. There are additional courses in middle school, such as geometry, health, creative writing, research skills, and yearbook. CLA's pre-primary is Montessori based, so technology use is minimal. As students rise up, technology becomes more and more integrated. Middle school students do use computers often for projects and the school is currently working on a school provided laptop program for next year. CLA has two computer labs and a state-of-the-art science lab.
"One of our goals is not only for us to use technology as a tool to enhance and enrich what we do, but we want to make sure we are always thinking of the balance, too," says De Young. "That's an important part of our philosophy—maintaining balance."
That said, DeYoung knows that technology does and will continue to play an integral role in the lives of her students, saying, "I've seen education evolve from the acquisition of information to a much more sophisticated system of thinking and communication.  CLA also recognizes that each student learns in his or her own way and Dana sees technology as a great help in terms of differentiated learning.  "To me, the greatest gift that technology has to give is differentiated learning. So if you have a group that is really strong, you can use iPads to get them doing something a little more challenging. It allows you to address more kids at a variety of levels at one time," says DeYoung.
Vicky Wonders, IT director at CLA, says that while middle schools students often enjoy using technology for projects, it's really the collaborative environment that they most enjoy. "We had a really interesting conversation with the 8th grade and they said that they don't want to do a Google hangout or a Skype chat. They want to be together in a room and collaborate and work on their projects together. I thought that was really interesting."
And while technology can be a useful and it is certainly not going anywhere, DeYoung acknowledges that it comes with its own challenges, "I think that the access to technology does give students the immediacy that they want. But, not having that pause or that time for reflection is an area that I worry about sometimes," she says. "But at the same time, there are lots of positives, too. They are thinking in different ways and viewing the world in different ways and that's really the reality of it. So, the question is, how do we manage the good and the bad?"
Montessori School of Pensacola
On the other end of the spectrum is Montessori School of Pensacola. Montessori has been teaching kids via the same methods for over a hundred years and although they do integrate technology in the higher grades, it's a very measured and conscientious approach. Montessori schools are based on the educational philosophy and methodology developed by Dr. Maria Montessori in the early 1900s.  Montessori education emphasizes internal (self) motivation.  Specially designed Montessori materials are used to maximize children's time in the classroom and teachers present carefully demonstrated lessons.  Introduction of new lessons is tailored to the individual needs and interests of children. One unique aspect of Montessori is the mixed age group classrooms. Classrooms cover three year spreads—Pre K through Kindergarten, 1st through 3rd grades, 4th through 5th grades and the middle school program for 6th through 8th grades. Additionally, they have recently implemented a transitions classroom for students in 1 through 6 grades who may need a little extra one on one time with a teacher.
The Montessori philosophy understands that digital literacy is an important component of modern education, but they also believe that children in the two to six year age group do not need to be using computers. Rather, they need to have extensive manual and other direct sensorial activities because children in this age group learn best by working with materials and manipulating them with their hands.
"We do very little with computers in the 3 through 6 age groups," says Maria Mitkevicius, head of elementary and middle schools. "The kids might go on the computer on occasion to look at the weather or something specific, but all of the learning is done with materials. In order for a child to be able to understand math, for example, they need to be able to see, touch and compare differences. The Montessori materials provide a sensorial experience that shows the kids the difference between one and 10 or 100. All the materials connect with the brain in a different way than screen time would."
At higher levels, Montessori sees technology as a way to enhance student research through the ability to access and exchange information in global learning communities. In middle school, much of the students work is done on school supplied computers because the Montessori system sees this as a developmentally appropriate time for the use of technology. The American Montessori's official position on technology states that, "It is important to remember that technology and its applications, such as computers and software, evolve and change rapidly from year to year. The needs of the youngest children however do not change with the changes in society. As they grow and become socialized, responsible use of technology will be a part of their classrooms and their lives."
At Montessori the focus is also on respect and responsibility. Students are expected to take responsibility for their own education and the curriculum is a mix of brief lessons, independent work and group projects. At the higher levels, 25 hours of community service is required of students each year both within the school community and the community at large.
Digital Citizenship
Any discussion of digital learning should at least touch on the concept of digital citizenship. It would be remiss of educators and parents alike to send these young minds out into the digital landscape without a good map and a solid rulebook. The Internet is scary place and kids need to know both the risks involved and the strategies to keep them safe. All of these schools place digital citizenship instruction as a top priority. Whether integrated into the curriculum or taught as a special unit, it's imperative that these digital natives understand how to navigate the web, apps and social media safely whether for academic or personal reasons. Each school also stressed the importance of parental involvement in the digital lives of their children. Parents should speak candidly with their kids about the dangers of the Internet, cyberbullying, and appropriate posting. They should also know all of their children's passwords and email addresses and consider parental controls for computer networks.