By Tanner Yea
There are a few sounds that really define New York City—the honking of cabs, the calling of orders at bodegas and delis and the dull roar of the crowds. Another sound that stands out are the musical acts performing in subway stations across the city. Lucky Chops started as one such act, and now they will be opening for Gogol Bordello Oct. 20 at Vinyl Music Hall.
Lucky Chops, formed in 2006, describe themselves as a brass funk band. The band features Daro Behroozi on saxophone, Joshua Gawel on trumpet, Raphael Buyo on sousaphone, Charles Sams on drums and Josh Holcomb on trombone.
"In horn instruments, your chops are your lips. We play our stuff pretty aggressively, so we always need lucky chops," said Holcomb, who has played with most of his band mates since they attended LaGuardia High School—a performing and visual arts high school in Manhattan that gained notoriety from the movie 1980 movie, Fame.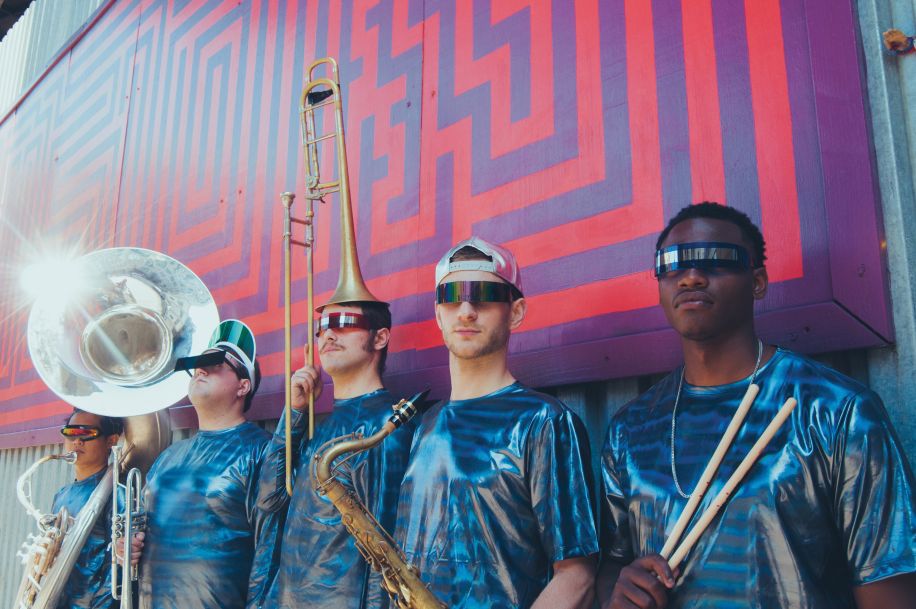 Members of Lucky Chops played throughout high school together, and after graduating they played in the streets and parks of New York City to make money and hone their skills. It wasn't until a few years later that they actually started playing in the city's subways.
"You actually can't just play in the subway," said Holcomb. "You need to have a permit to play there, and you have to do an application and an audition for the permit."
Since then, Lucky Chops have headlined concerts and festivals around the world, taking influences from genres such as soul, funk, classical, jazz, soca, pop, dance and more. Holcomb attests this to the multiculturalism of New York, as well as the diverse backgrounds they all come from.
"This new generation likes how the music makes them feel. Brass music is seeing a renaissance, and you can see its popularity in different countries," said Holcomb. "This music has a place in every culture in the world. Our songs don't have any lyrics, so everyone can digest them no matter what language they speak."
In April of this year, Lucky Chops released their first EP called "Walter E.P." Though the band has singles, demos and live recordings, this is the first time they've put out a studio release. Holcomb said when they started recording, they had just come off extensive touring and had developed a high intensity set that they thought worked well together.
"The name Walter has kind of a funny story. Raphael loves the name Walter, and that's what he calls his sousaphone. Since then, he's given Walter his own personality­—he's like the sixth member of the band," said Holcomb.
Lucky Chop's repertoire ranges from composed pieces to jams to brass covers of popular songs like The Beatles' Helter Skelter. Holcomb said there is no book on how to write songs for a band like Lucky Chops, so they keep experimenting and approaching the process from every angle possible.
"We think music should be really fun, and our energy is important to that," said Holcomb. "So many other bands are super serious, and we say 'let's just be sincere and genuine'."
Lucky Chops is currently touring with Gogol Bordello across the US and Europe to promote Gogol Bordello's new album, Seekers and Finders. Holcomb said the band has been fans of Gogol Bordello since seventh grade, and that their different style and musical approach was a big influence on Lucky Chops.
In addition to touring, Holcomb has said that Lucky Chops has big plans for the future.
"We're working on the LP now, and it'll be released in the next six months," he said. "We also have a live CD and DVD that was recorded in Poland, and we have new music videos and singles throughout the next couple of months. It's a pretty exciting time."
Lucky Chops will be performing at Vinyl Music Hall on October 20 in support of Gogol Bordello. The show starts at 7 pm, with tickets being $30 ($35 for under 21). For more information and to purchase tickets, visit vinylmusichall.com. For more information on Lucky Chops and Gogol Bordello, visit luckychops.com and gogolbordello.com.