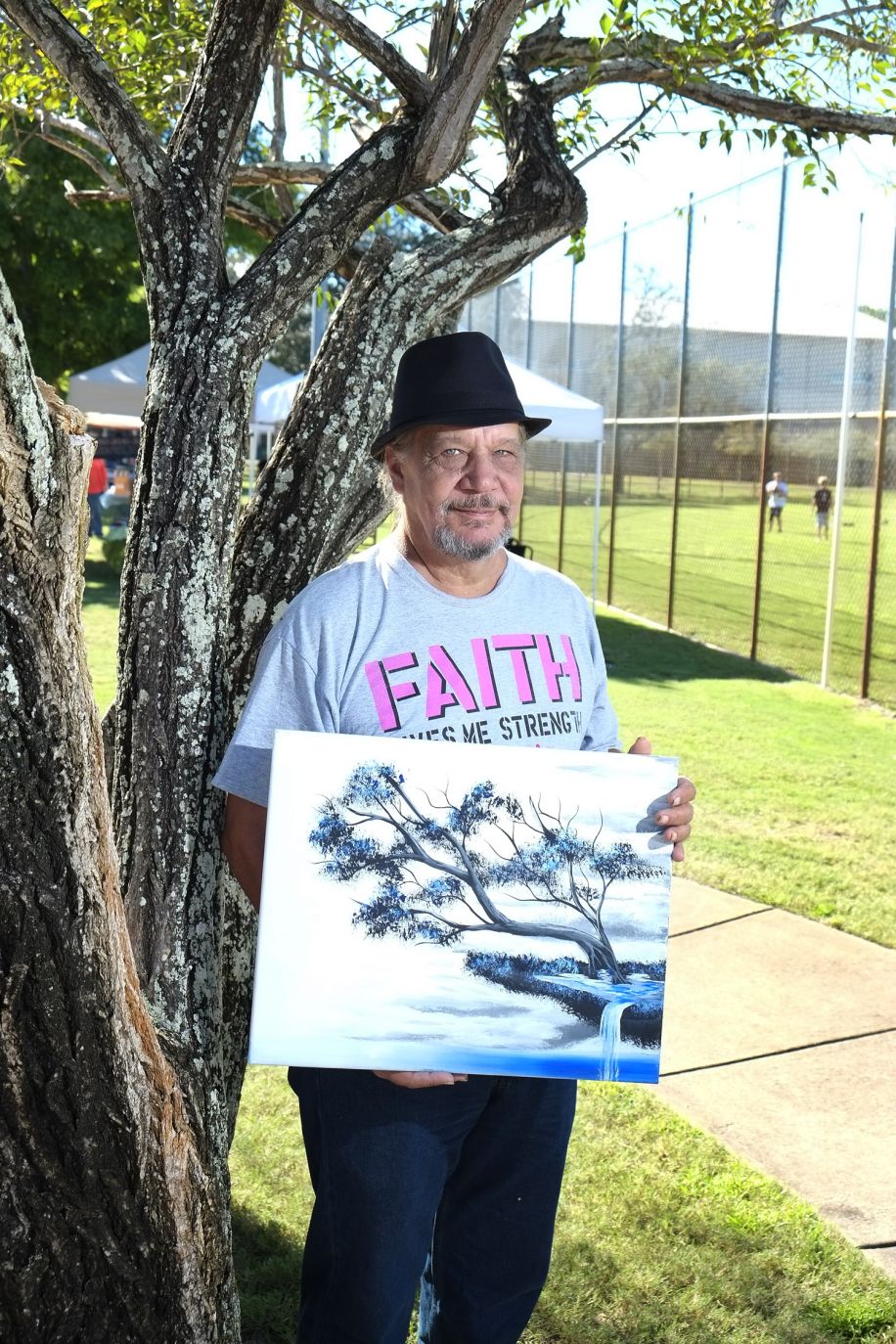 There's a new artist in town and chances are you've already spotted his work on the streets of Pensacola and Gulf Breeze. The 56-year-old painter Jon Masters has been making waves in our area since he started selling his work on Pensacola Beach, Navy Boulevard, and the farmers market in Gulf Breeze.
Originally from the French Quarter of New Orleans, Masters started out as a Jackson Square artist.
Here enters Sheba: Jon's trusted assistant and muse. After Jon suffered from a non-epileptic seizure in Jackson Square, a service animal trainer who witnessed the attack offered Jon a feist pup (Sheba) who was trained to be a seizure dog. Since then, Sheba and Jon have been the closest of friends.
Although Masters has become known as "The Homeless Artist," he is only without a home because his "house," a 31-foot Far East Mariner Ketch, sunk by the Boardwalk at Pensacola Beach back in August this year. Before the sinking of his ship, Masters had planned to travel on from Pensacola to Key West for the Sunset Celebration festival in Mallory Square.
Masters was in the Warrington area when he made a sign, asking for help to buy art supplies. In five days he raised $40, which he used to purchase black and white acrylic paint and two 16 x 20 canvases. After Masters sold his first two paintings with the help of a $40 kick start, demand for his paintings progressively increased as locals wanted to see more work from The Homeless Artist.
Daniel Dugan, who runs the Gulf Breeze farmers market, has really been a helping hand to Jon and was generous enough to offer the artist a spot at his Gulf Breeze market, so Jon could showcase his work for sale. Daniel has also spearheaded operations to help Jon find a permanent home in Pensacola.
Masters sells his artworks about as quickly as he can produce them, averaging about three to four paintings sold per day. From sun up to sun down, Masters paints to build up his portfolio—viewable on his either his Facebook page "Jon Masters – The Homeless Artist," or website at thehomelessartist.com.
When Jon arrived in Pensacola he had roughly 150 followers on Facebook. Today he has over 3,000.
As far as influences on the style of his artwork, Masters cites American painter and television host Bob Ross. By watching Ross, Masters began to formulate his own ideas about how to create landscapes.
Masters decided he was going to focus on creating landscapes, taking a special interest in painting trees and clouds.
Without any formal training, Masters watched as many Youtube videos he could find that showed him the basic techniques for designing trees.
His signature trees vary from vibrant, lush leaves to trees that are dark and bare. According to Masters, his paintings are not just made to be visually pleasing but they are open to interpretation by the viewer.
"My style, or what I like to do, is simplistic, surreal art with a lot of detail," said Masters. "The bark on the tree, the sky, and even the grass may look very real. But, in reality, a tree wouldn't be floating, which is the surreal part. I like to make paintings that have a lot of meaning behind them, as well, although some I create for the sheer beauty, for the aesthetic value."
Although Masters began painting using a taklon brush, it was by accident that he discovered polyester brushes were much more effective for creating realistic strokes, such as those that define the tree bark and cloud curvatures in his paintings.
"The best part of making a mistake on a painting is learning something new," explained Masters. "I keep learning from the way I move the brush to the type of brush I use. Because when you make a mistake you've got to figure out how to make it work, especially since you don't want to have to redo the piece. Some of my best inspirations have come from mistakes on paintings."
Masters favors vibrant colors and uses special cadmium paints to achieve bright yellows, reds, purples. Sometimes, he utilizes titanium-based white paints for highlighting.
Perhaps an unconscious influence on Masters' work is his experience as a teacher of Tai Chi and Chi Gung, because on more than one occasion he's received comments on his work's Asian flair.
Although Masters fell on hard times while in Pensacola, he's certainly made the most out of his time here, and he continues to gain recognition and renown within our community. In fact, Masters has decided to stay in our city and find a permanent home here.
The best part is Masters has decided to pay it forward.
He has already donated a 20 x 24 piece called "A Midnight Stroll" to the Epilepsy Foundation for a fundraising silent auction event to be held on Nov. 6.
As someone who was considered a member of the homeless community, Masters has reached out to other homeless people, who prefer the term "urban campers," to offer them an opportunity to get involved in constructive activities, such as making art or crafts.
Masters is planning to set up Saturday barbecues on Navy Boulevard, where he intends to hold classes for those who are willing to learn a new craft. The idea is to build confidence in the homeless community and, hopefully, help many acquire the skills necessary to put their work up for sale at local flea markets and eventually farmers markets.
For the Saturday barbecue program, Masters has collaborated with Jen Koble, who brings sandwiches to the homeless, and Kevin Green, who owns The Butcher Shoppe on Fairfield. Green is a vendor at the Gulf Breeze farmers market who has agreed to provide meat for the weekly barbecues. Masters is also working with Lucy Jones from First City Art Center to find out the best teaching techniques to use in a beginners class on arts and crafts.
Look for Masters and his simple but surreal artwork on Saturdays at Palafox Market and Tuesdays at Market in the Breeze. He'll also be making art in the streets of Downtown Pensacola at upcoming Gallery Nights this fall.
From Nov. 6 through Nov. 8, Re-Entry Alliance of Pensacola (REAP) is hosting an Inmate Art Show at the Pensacola Interstate Fair, where the art of local inmates will be auctioned off and the proceeds will go toward keeping the inmate art program alive. Masters will be donating his own work to the auction for REAP's cause.
"I'm a firm believer in making a decision and sticking by it to make it a reality," said Masters. "When I started in Jackson Square everybody was saying, 'Oh no, you can't be an artist. These artists have been doing it for years and they went to college for it.' I told them I was going to be an artist and here I am."