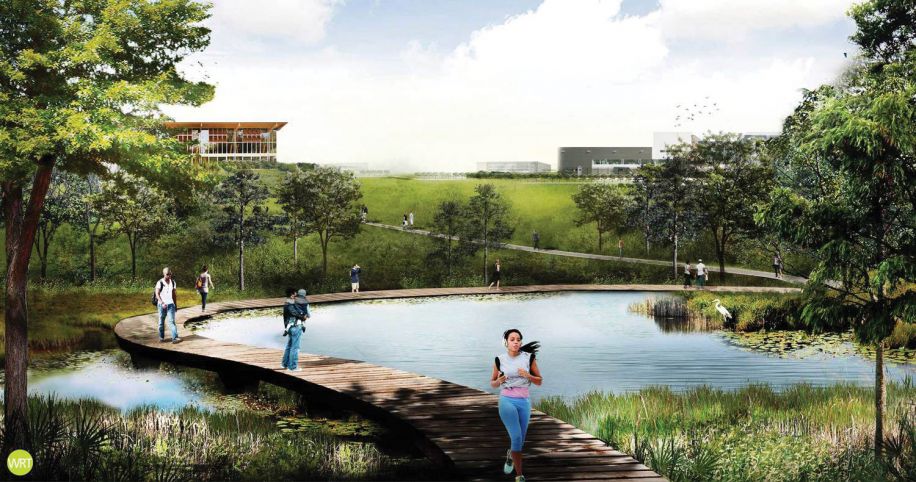 North of Pensacola, sandwiched between the University of West Florida and Gulf Power, is some of the state's most beautiful land that may soon play host to 15,000 new manufacturing jobs that pay between $70,000 and $80,000. This public-private partnership, known colloquially as The Bluffs, is an exciting venture that features a 25-year strategic plan for increasing industrial diversity and manufacturing in the area.
It all started in 2011 after the adoption of the Greater Pensacola Chamber's Vision 2015 plan to recruit 3,000 new jobs. Part of the plan's success rested on the development and availability of shovel-ready sites that could serve the needs of attractive, high-paying employers. An Existing Sites subcommittee was charged with finding land that may be available for future development. Public organizations like the Emerald Coast Utilities Authority (ECUA) and the University of West Florida (UWF), as well as private companies like Gulf Power and Ascend Performance Materials, slowly came forward, volunteering their extra property for a combined future greater than what the individual parties could accomplish alone.
Soon thereafter, the Pensacola-Escambia Development Commission (PEDC) and the Chamber's economic development office put in a request to the Florida Department of Economic Opportunity for a $2.7 million feasibility study that would examine the 6,349 acres and develop a measurable plan moving forward.
The study's results showed a huge amount of land uniquely positioned to be the next big thing in Northwest Florida. With a power plant and wastewater treatment plant nearby, as well as water access to barge terminals, closeness to Interstate 10, and an enviable proximity to the Port of Pensacola and the airport, people started wondering why no one had thought increasing diverse manufacturing here.
"We have the resources and the infrastructure in place to make this land the envy of the state," said Scott Luth, CEO of FloridaWest, whom the PEDC has contracted with to market the land. "It's difficult to replicate what's already here anywhere in the state. The infrastructure backbone is there."
Additionally, the 60- to 120-feet elevation offers very little threat of flooding while still providing quick access to waterways.
Some of that infrastructure is intangible, too, but just as important. By partnering with UWF, the PEDC is ensuring that the workforce will be ready to service these customers in a few years when the locations are built out.
"We're working with career academies and the Gulf Power academy, too," said Luth. "It's vital that as we continue forward we strengthen our partnership with educational institutions. This is the definition of a public-private partnership."
The retired military population is also a big workforce target, as these individuals are already highly skilled and motivated to perform in the private sector. Florida's workforce continues to be among the most attractive in the nation with average employee earnings less than the national average but a higher-than-average percentage of residents with post-secondary degrees. Plus, with no state income tax, no property tax on business inventories, no sales and use tax on goods manufactured in Florida for export outside the state, and no sales tax on raw materials, our state is full of sunshine for prospective outside employers. Low unionization rates also make Northwest Florida attractive from an employment standpoint.
In the strategic plan, various parcels and locations are already outlined. Referred to as Bluffs, each corridor features varying amount of acreage and square-footage for the up to 60 tenants. Live Oak has 210 upland acres, Longleaf has 340, Magnolia has between 24 and 55, and Cypress has about 225. With all these options Donnie McMahon, one of the plan's leads, is already getting excited about some specific possibilities.
"With all the manufacturing moving into Mobile with AirBus, I could see some of the Bluffs being used for tier-1 supplies to those plants, making parts for them," said McMahon. "This land is really suitable for any size customer."
It is that versatility of application that promises 15,000 direct jobs and up to 75,000 indirect jobs from construction and maintenance of the facilities, for a combined wages total of $1.8 billion. After 25 years, that figure balloons to $3.9 billion. The revenue from the land sale—as much as $8 million—would go to ECUA and Ascend. This forecast, coupled with pledged partnership from state and local governments regarding incentives and attraction initiatives, make the whole prospect quite promising. As with any great plan, though, there are some potential roadblocks.
"Funding is always a concern," said McMahon.
A lot of the potential funding for this is tied to the BP oil spill settlement, the exact distribution of which has been decided by the Florida Legislature, but could change up until allocation. As much as 75 percent of those funds has been promised to Northwest Florida, but legislators from south and central Florida may attempt to rewrite the law to give themselves a larger share of the BP dollars flowing from the state's economic damages claim.
"It was important to have a viable option for that money on the table to keep others from taking that money away," said McMahon. "With this project, we have to convince the legislators that this would help the economy of the whole state. We are home to the world's largest credit union (Navy Federal) and the world's largest nylon producer (Ascend). We also have a huge wind turbine-production plant, so we've proven that we can be a great host to these companies."
Neither Luth nor McMahon is too worried about this funding obstacle, though, and are confident that the money will come from somewhere. Besides, that is still a long way off. Before construction begins, FloridaWest will continue to work to market this asset to other companies, especially those in the four-state area. Other next steps include deciding how to connect the existing infrastructure with the new locations.
"Those last-mile items are not in place, but we do need to decide how to put those in and who is best positioned to pay for it," said Luth. "The good thing is, this land is already zones for what we're talking about, so we'll be able to bypass some of the approval process that would be in place elsewhere."
That next leg will be funded on an ongoing basis as grants and other funding resources are made available.
Not one to simply look at economic outcomes, FloridaWest has also included plans to make the campus an "environmental showcase" ensuring that the natural beauty of The Bluffs is preserved by building natural trails and encouraging green features for new tenants.
"It's important that this happens," said McMahon. "Right now, we have tourism and the military that really support our economy. It was be great if our local economy could also be propped up by manufacturing for long-term diversity and sustainability."