By Haley Weaver
It's hard to imagine anything cuter than a bunch of dogs with their owners, dallying down Palafox on a breezy May day. Taking pictures in a photobooth, donning costumes, tongues flapping as they prance down the street – it sounds almost irresistible.
The third annual Paws on Palafox 3K dog walk will be held May 6, and it'll contain all the aforementioned cuteness. Walkers and their dogs will follow the parade route, starting in Plaza de Luna Park near the south end of Palafox. The walk will kick-off at 9 am.
In prior years, the average turnout has been around 550 walkers and 600 dogs, but this year organizers expect 750 walkers. Registration is $25 and includes a t-shirt and a bandana, and the first 200 walkers will be given a free pair of sunglasses courtesy of Pure Pilates. Registration is only $10 for ages 6 through 12, and free for ages 5 and under.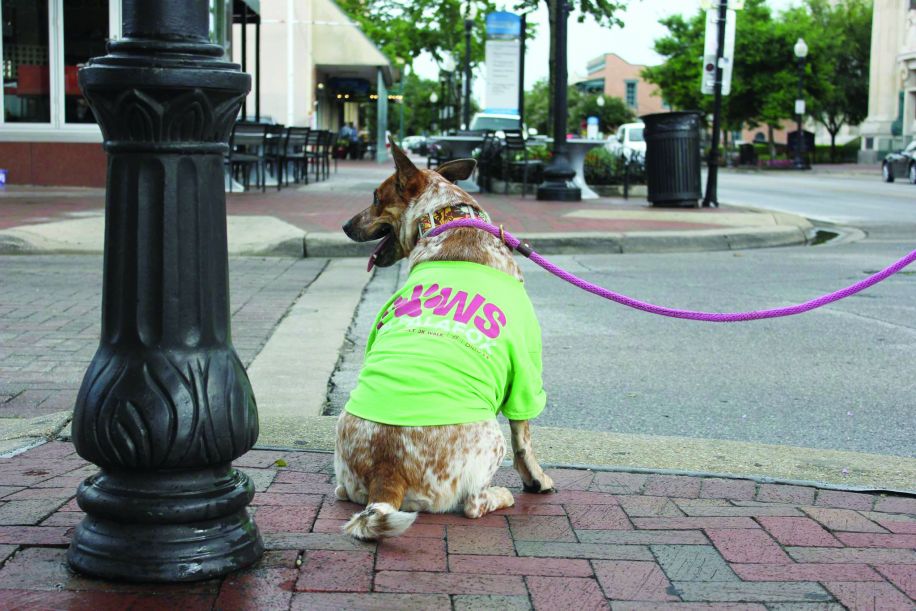 If you worry about your dog overheating on the walk, there's a fix; every three blocks along the route there are cool-down pools for the dogs (and, of course, water for their walkers) to keep them hydrated and cool. Walkers are asked to keep their dogs on leashes, but the walk still provides an outlet for the dogs to get out their energy. Paws on Palafox boasts itself as the area's most dog-friendly event.
Paws on Palafox helps to raise money for the Pensacola Humane Society (PHS), specifically their low-cost Spay & Neuter Clinic. Spaying and neutering your pets contributes to reducing the overpopulation of pets in the area, according to event spokesman Jeff Keener. Last year, approximately $14,000 was raised and allocated to the Low Cost Spay & Neuter Clinic and the shelter. This year, their goal is to raise $30,000 and they're already more than halfway there.
This year's sponsors include PenAir Federal Credit Union, who will be providing a pet selfie station; Bob Tyler Toyota, who will provide the LEAD car at the head of the walk; American Legion Post 240, who will be underwriting the event; and Mainstay Financial Group, who has generously funded Paws on Palafox since its initial event in 2015. Entertainment will be provided by the John Hart Band courtesy of A Door Properties, and Krispy Kreme will provide donuts and coffee prior to the event's starting time.
PHS's goal is to establish Pensacola as a No Kill Community, as currently approximately 9,000 pets are euthanized per year through the Escambia and Santa Rosa Animal Shelters. "We also help pets remain in their current home by passing out over eight tons of dog and cat food to those in financial crisis," said Keener. "We proudly serve as the leading advocate for dogs and cats that lack the ability to speak for themselves."
The Low Cost Spay & Neuter Clinic has performed more than 10,000 surgeries in the year and a half since its opening, and finished 2016 with over 6,000 surgeries. Keener estimates this has "prevented over 8,000 unwanted animals from accidental litters." The Shelter is also coming off a successful year, with 1,052 adoptions taking place in 2016.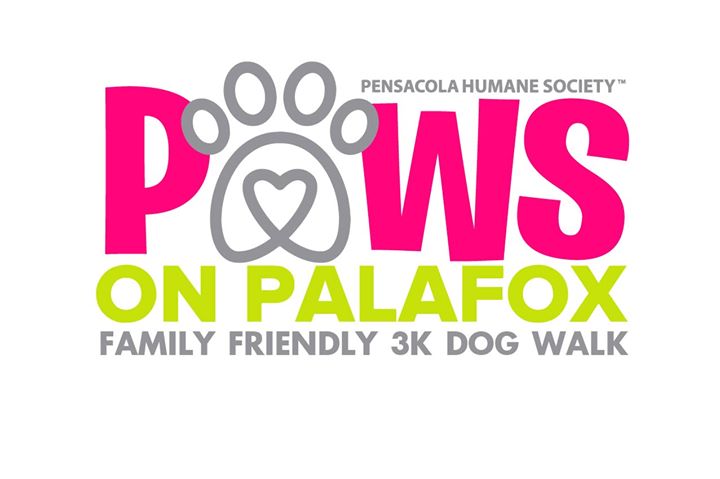 Paws on Palafox is a great opportunity for dog owners and lovers to come together with their pets and enjoy Pensacola's beautiful historic and business districts, according to Keener. "We love that people can enjoy our wonderful downtown environment with their pets, and we love that this is a really enriching and social event for pets," he said.
Walkers looking to participate in the event can attend one of two packet pick-ups on Tuesday, May 2 and Thursday, May 4 at Old Hickory Whiskey Bar, located on Palafox and are also a proud sponsor of Paws on Palafox. Dogs are encouraged to attend this pre-event!
To find out more information about Paws on Palafox or to donate to the cause, visit secure.qgiv.com/event/902258. To learn more about the Pensacola Humane Society and local animal shelters, visit pensacolahumane.org.