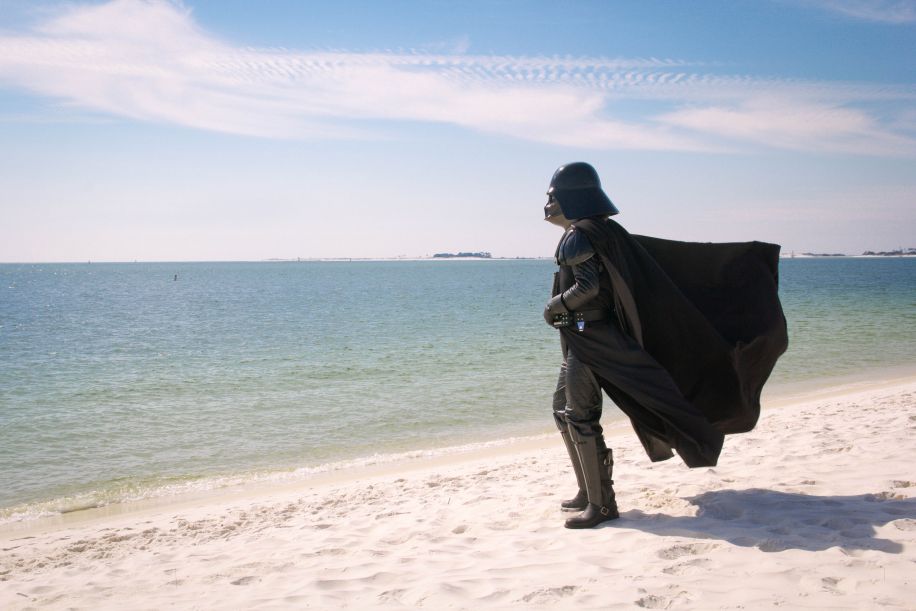 Now in its third year, Pensacon continues to dominate Pensacola's fan, nerd and entertainment landscape each February with celebrity panels and guests, gaming tournaments, out-of-this-world vendors and partnering events happening across the city. Each year, lawyers, doctors, waiters and writers shake off the confines and limitations of their day jobs to become the Jedi, superheroes, wizards and walkers that they truly are.
The event is Feb. 19 through 21 and promises to build on the established momentum of previous years. As thousands of Dr. Whos and Targaryens shuffle through the doors, ready to meet future best friends and vanquish enemies in games of Super Smash Bros. or Magic: The Gathering, behind-the-scenes staff and volunteers are working hard to make sure you can debate fan theories and pick up limited-edition swag in a fun and safe environment.
The team that is responsible for putting the event on must ensure the safety of 17,000 visitors; scheduling and arrival of nearly a hundred celebrity guests; facilitation for dozens of panels, events, competitions; and more. And they must do all that with a smaller staff and bigger expectations. So how do they do it all?
"We rely heavily on 350 to 400 volunteers," said Kat Bishop, director of marketing and communications. "We have volunteers assigned to tickets, celebrities, vendors and more."
They began planning 2016's big event before 2015's Pensacon was even over. They quickly realized that visitor and vendor interaction of concern, as last year saw an impromptu holding area for overflow when the vendor floor became overcrowded and a fire hazard.
"We have a brain dump after each convention where we discuss what worked and what didn't," said Bishop. "The vendor floor was definitely something we talked about. We'd like people to know that there are many things happening all weekend, both at the Bay Center and in the general downtown area. By spreading the crowd out, hopefully we can avoid another bottleneck, especially during the busiest hours of 11 am to 2 pm Saturday."
Bishop is right that there is a lot happening in Pensacola that weekend as part of the convention. This year, the staff has taken a campus approach to the celebrations. Instead of the Bay Center and Crowne Plaza being the epicenter of the action, visitors will find participating businesses and satellite events throughout the square miles surrounding the Bay Center. There's a lip-sync battle at the Rex Theater, a silent auction to benefit Manna Food Bank, Star Wars – and Star Trek-themed parties at the Fish House and Atlas Oyster Bar, a Rocky Horror Picture Show celebration at Vinyl with some surprise celebrity guests, and more.
"With the continuing growth of the event and the lack of space we face with current facilities, we've really had to take a 'campus' approach to Pensacon," said Mike Ensley, Pensacon Chairman. "We added the Saenger Theater as a venue in 2015 and are also adding the Rex Theater and Palafox House this year. Hopefully, this will help not only keep the crowds at a reasonable level at the Pensacola Bay Center, but also encourage attendees to visit downtown Pensacola's restaurants, bars and shops."
These changes underscore Pensacon's commitment to the betterment of Pensacola as a whole, not just their own event. With all of Pensacola in mind and the increasing popularity has come an enlarged sense of corporate social responsibility, as the team partners with more and more non-profits to spread the nerd love to as many organizations as possible.
Businesses are wise to get into the spirit, too. The Tin Cow had the best single sales night of its existence during the first year of Pensacon, surpassed only by the second year when it hosted all manner of zombie-themed goodies in its The Walking Dead-inspired burger-serving safe haven. All this goodwill adds up to about $1.4 million worth of economic stimulus over the three-day weekend.
"It's very important to us that everyone feels the positive effects of this convention," said Bishop.
Pensacon keeps the spirit of the event alive throughout the year with a number of events, like the Pop Expo. Although there was not one in 2015, Bishop said they plan to revisit the idea for 2016. In addition, they were at the Pensacola Pelican Drop in the children's area, raising awareness and helping kids ring in the new year as only their favorite movie and comic book characters can.
Inside the Bay Center part of the convention, fans will notice a lot of logistical and administrative changes to make their experience even better. The Pensacon team has contracted with a new ticket management software company to make the check-in process easier. They're also implanting early VIP badge pick-up on the Thursday before the con and day-of will call outside the Bay Center.
"The bones of the convention will remain intact, because the heart of the event really works," said Bishop. "We're just making minor tweaks to make it all better."
There will be more informational signs this time, too, as well as a Pensacon 2016 app with live updates and an interactive GoPro-filmed video demonstrating the best ways to get from one end of things to the other. There will be trolleys running downtown for visitor convenience, though Bishop wanted to stress that the downtown area is very walkable and those who feel up to it should take advantage of the crisp winter air.
The celebrity experience has also changed slightly, as the staff has focused less on the number of guests and more on the quality. That means that people like Michael Rooker (The Walking Dead, Guardians of the Galaxy), Michael Dorn (Star Trek), Jason Mewes (Clerks, Dogma, Mallrats), and Peter Mayhew (Star Wars) will be on hand to sign autographs, take pictures, and discuss all your favorite character moments.
Fans will also be treated to some surprise guests and people from previous years and had a great experience and wanted to come back.
"For the first year, we really had to work to get celebrities, artists and authors to come," said Bishop. "But now we've established a reputation of great care, transportation, hospitality and dining, and people want to come."
There is so much more to conventions like these than just events, celebrities and spacing it all out, as if that wasn't enough. Safety is also a huge concern, and Bishop has worked to once again institute "safe spaces" at the Bay Center where cosplayers who feel harassed or follow can go to get away from it all, feel safe, and voice complaints.
"Luckily, no one had to use one last year, but we are still very much believers that cosplay is not consent," said Bishop. "Just like we want to offer everybody an experience that speaks to them, we want to be sure they are safe in that experience."
It is for that reason that visitors are encouraged to respect security forces and the volunteers who work hard to make this a fun event for everyone. And what fun it will be, with three days jam-packed with celebration and reverence for the best fictional universes the creative minds of today have to offer.
   With that kind of consistent experience, it's no surprise that tickets are going quick. The first batch of VIP tickets were gone in just five hours, but some weekend passes are still on sale for $75. If you haven't snatched up early 2016's hottest party ticket, you'll want to do so soon at pensacon.com.