Creating a business model centered on community and fresh produce came naturally to the owners of The Farm Produce Market on Mobile Highway. In 2012, Sandy Veilleux, a former pastry chef and local good food advocate, teamed up with former produce company owners Barbara and Barrie Williams to take over the beloved west side market. Originally established in 1987 by the D'amico family, the trio came together to carry on the tradition after the D'amico family retired.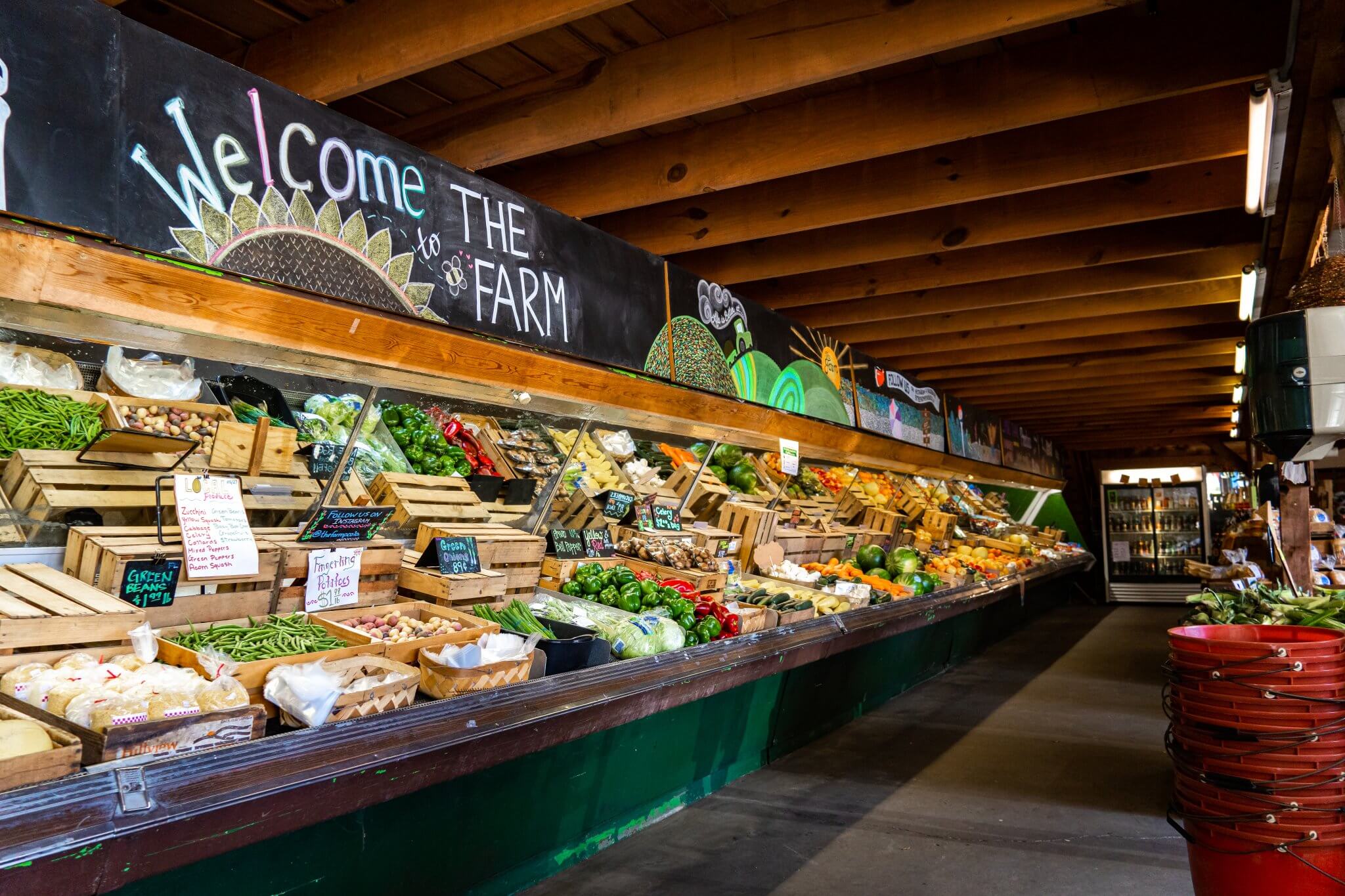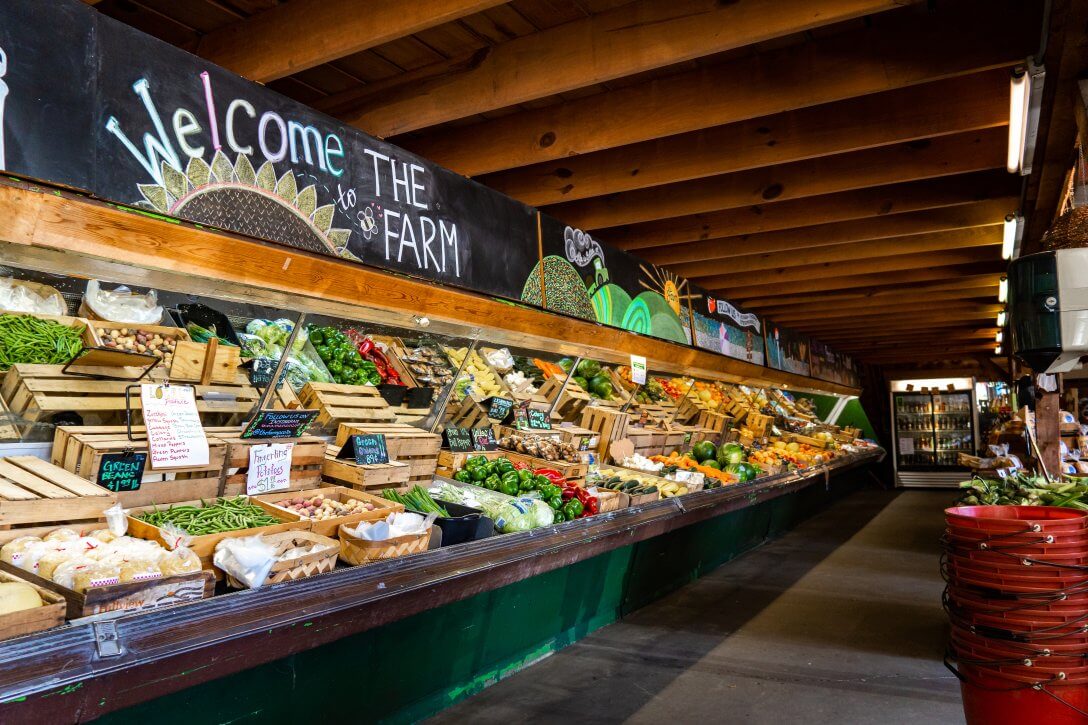 They set out to create a space that not only supported local farmers and cottage food industries, but also served as a gathering space for the neighborhood—a place to socialize, learn about healthy food and maybe even meet a farmer or two.
"I remember putting the keys in the door with Barbara and Barrie. I was just blown away and they completely lit up,' Veilleux recalled. "I feel like, after that, it's a blur. Now, all of a sudden it's been 10 years. We've sold retail out of here. We've had more than 200 chefs buy wholesale out of here. We've helped open restaurants. We've worked with local farmers. I just know that we keep building on the idea of being in this crazy building and honoring a family relationship with produce, whether it's with our farmers or with our community."
Since 2012, the Farm has expanded rapidly. Perhaps a little too rapidly. Last year, The Farm handed over its wholesale operations to their friends at City Produce.
"We just got too big, too fast," Veilleux said. "We had a waiting list of chefs. I wasn't popular going out to dinner, let me tell you. So we scaled back and it's our first full year just being the farmers market."
One of the reasons for the scaling back was the desire to become more involved at the community level. Along with Manna Food Pantries, The Farm is working with The American Heart Association on their Produce RX project. Produce RX boxes are filled with heart-healthy produce and recipes that are distributed to chronically ill and food insecure community members.
"To be on the ground floor of this is incredible," Veilleux said. "We started with 50 boxes, which was pretty cool. And then overnight, we moved up to 100 boxes. We completely reconfigured everything in here. We do it on Tuesdays, which is normally our setup day. So we just created an assembly line. It's a fabulous adventure. It really is. We've created a little Ziploc bag where we put recipe cards and stickers or anything else someone wants to donate to us. It's definitely a little pouch of love. We're hoping to get more community involvement in that. I'm trying to talk to my coffee people to get some coffee in there. We were so lucky to score some Meyer lemons from one of our farmers, so we snuck those into the boxes. We try to put something close to our hearts in every box."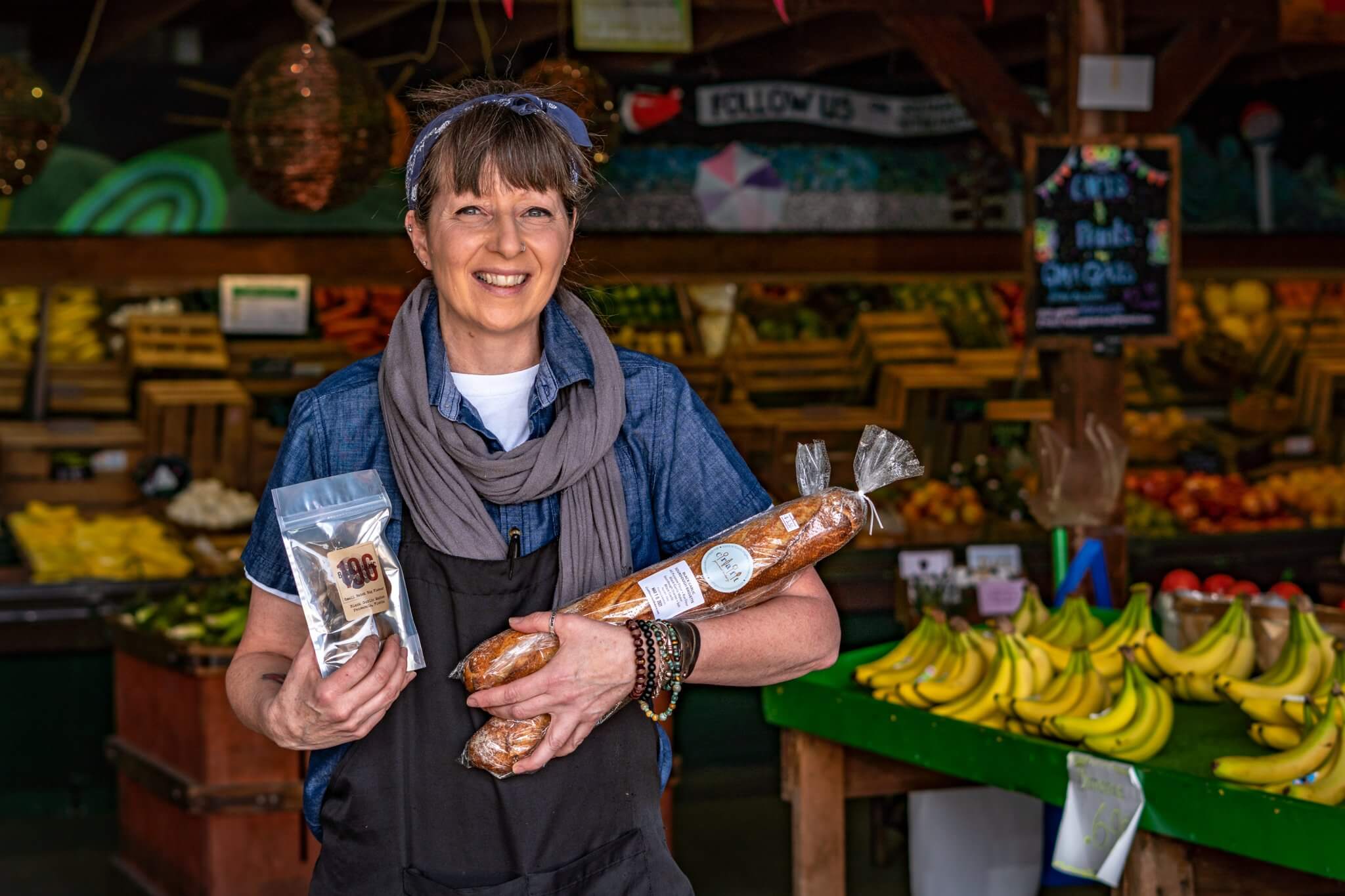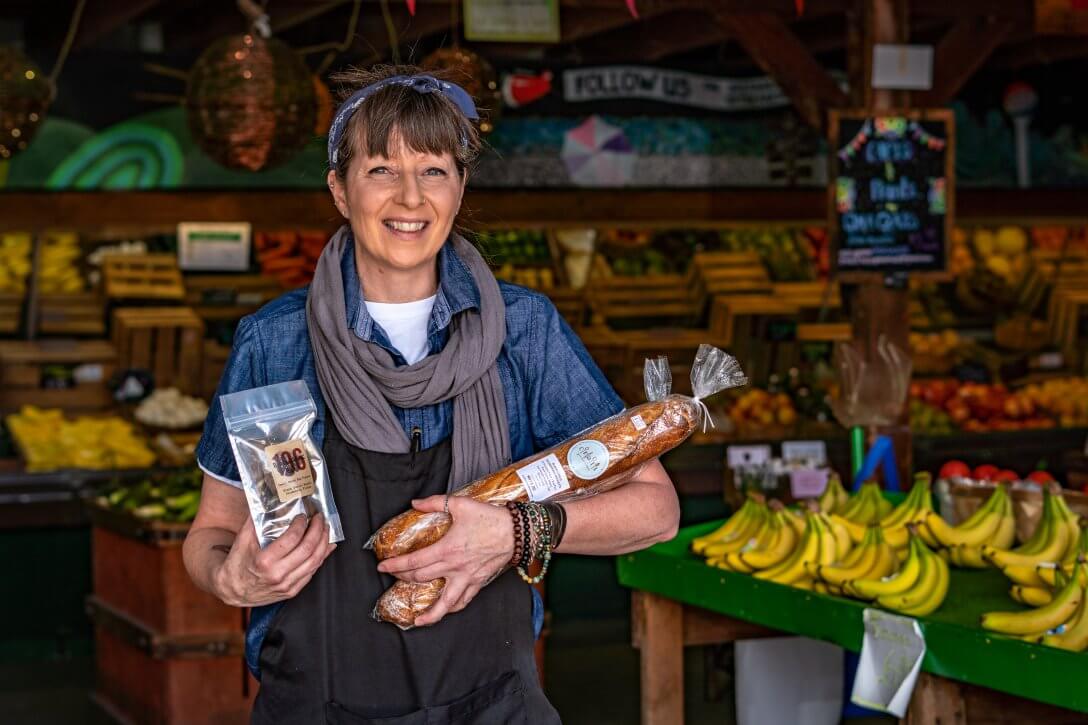 Helping members of our community to have access to fresh affordable produce is a priority for The Farm. They accept Supplemental Nutrition and Assistance Program (SNAP) and Women, Infants and Children (WIC) benefits and are also a part of the Fresh Access Program, which matches SNAP dollars at Farmer's Markets up to $40—essentially doubling SNAP spending power. Specially curated Community Supported Agriculture (CSA) boxes are also available in a variety of sizes and at special savings. Each Sunday, The Farm hosts Sunday Bucket Day where shoppers can fill a large green bucket with up to four pounds of produce for just $5.
"Bucket Day is the coolest project ever," Veilleux said. "They've become quite the event and we feel like our whole week is in training for Sunday. It's like a homecoming. Everybody comes to see us. I love it—every walk of life, every age group comes to us. It's a workout. It's a marathon from 10 am to 5 pm. We open the doors and they're waiting for us. Hailea does this cool thing where she invites the food trucks to come and join us. We even have Wyatt with 3 Sprouts Farm doing pop-ups with microgreens. It's a lot of fun."
The Farm has also grown into a bit of a business incubator as well. Under the umbrella of Black Garlic Market, the first product, Black Garlic, has become a huge success both locally and worldwide. The fermented garlic is the brainchild of Veilleux and The Farm's in-house chef, Matthew Brown. Veilleux said she remembers the excitement when they finally got the recipe right.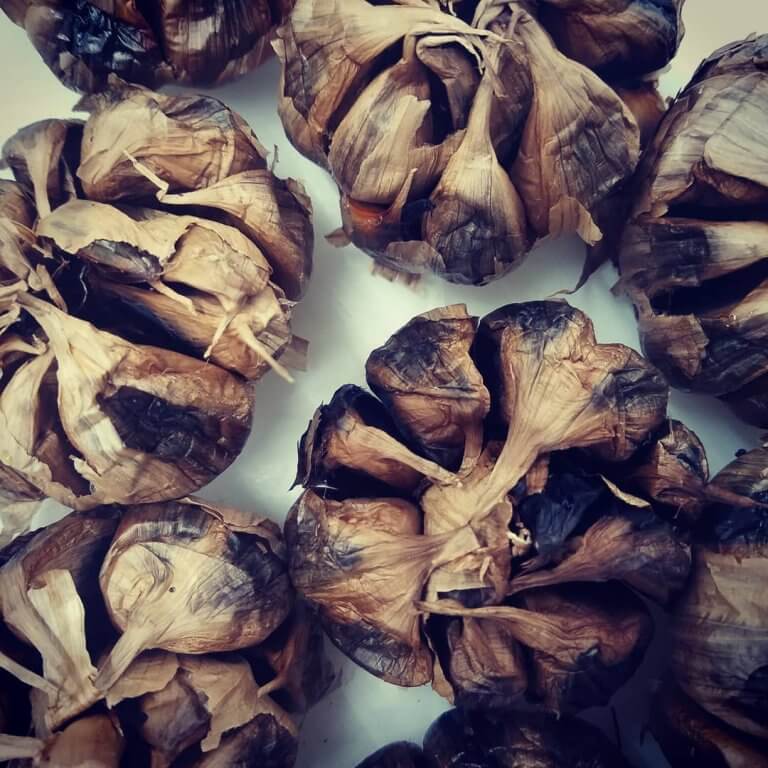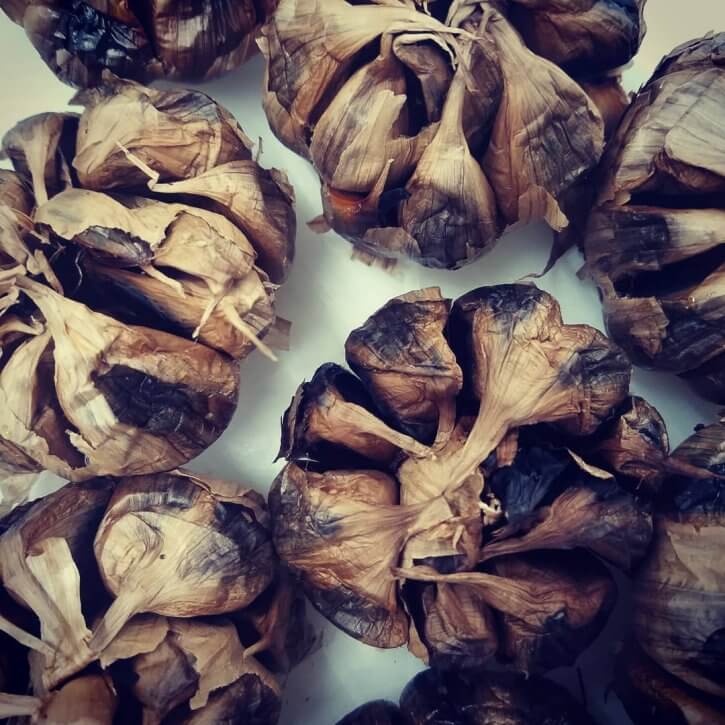 "I remember Matthew coming over and sitting down on the front steps of my house and saying, 'Taste this.' I'm sitting there thinking, 'that's mind-bending.' It was a 'I've never tasted anything like this' kind of moment, she recalled. "The next phone call I make is to chef Blake and chef Amy at Union Public House. I'm like, where are you? Where are your taste buds? So, we are sitting at the restaurant and they are tasting it—and, you know, the entire time you're like a little kid. You're seeing the exact same reaction in somebody else that you just had. They went, 'Wow. If you don't do something with this, I'll never talk to you again,' which is something we always say to each other. Black Garlic was born out of the idea of creating a flavor that we wanted everybody to try and it hasn't stopped."
Depending on the bulb size, the garlic is fermented for about 196 hours using a proprietary method. The result is a shelf-stable, smearable paste with a distinct umami flavor reminiscent of balsamic. The paste can be used straight or as a flavor enhancer in any recipe. Black garlic is now on the menu in many local restaurants and it is shipped worldwide.
Located at 6404 Mobile Highway in Pensacola, the Farm Produce Market is open Wednesday through Saturday from 9 am to 5 pm and Sunday from 10 am to 5 pm. Check them out on Instagram @thefarmpcola or visit thefarmofpensacola.com for specials and new arrivals.