By Tanner Yea
Foo Foo Fest is an exciting time in Pensacola – artists, speakers, writers, musicians, athletes and more come from around the region to collectively make Pensacola stand out as a place for celebration of art, culture and community. There are so many great events taking place during the 12 days between November 2 and 13, and below we've highlighted some of the must-see events of this festival. No matter what you get the chance to see, this is set to be a Foo Foo Fest to remember.
CUBED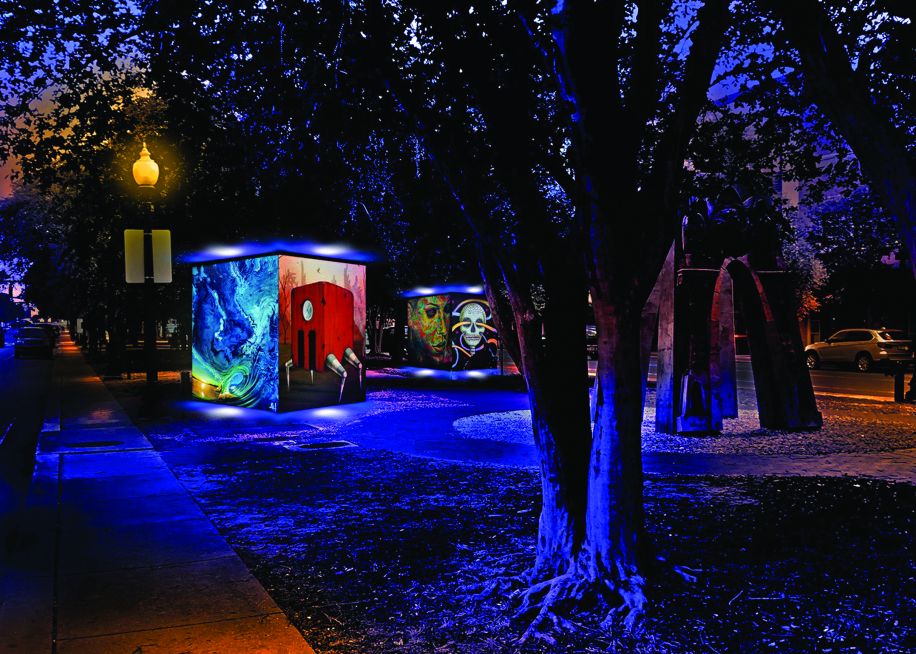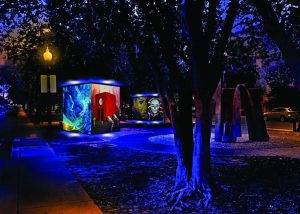 Nov. 2-13 (Installation), Nov. 3-5 (live painting)
Foo Foo Fest is all about art, but rarely does the public get to see art during its creation. Presented by Evan Levin and Ashton Howard, the CUBED event is set to change this, allowing visitors to watch large-scale paintings done in real time. Four enormous cubes will be placed in Martin Luther King Jr. Plaza, and participating artists will have a chance to paint one of the 16 sides of the cubes in real time. Artists such as Poppy Garcia, Jarrod Goldman and Veronique Zayas will incorporate dynamic elements and interactive designs, perfect for photo opportunities. CUBED provides a dynamic experience that allows viewers to interact with artists, while seeing their process in action.
The Great Gulfcoast Arts Festival
Nov. 3-5
Now in its 45th year, the Great Gulfcoast Arts Festival returns to Seville Square to offer art, music, performance and food, all with no cost for admission. This juried art show draws over 200 of the nation's best painters, potters, sculptors, jewelers, graphic artists, craftsmen and photographers. The festival will also feature international artists, including Yume Matsuo from Japan and Diego Alonso Carbajal from Peru. The festival will feature children's and student's showcases, as well as live music and craftsmen. Whether you simply want to admire the art or purchase a new piece for your home, the Great Gulfcoast Arts Festival has something for the art lover in us all.
Fiore Flower Flashes
Nov. 6-11
Put on by Fiore of Pensacola, one of the city's most preeminent florists, the Fiore Flower Flashes will bring splashes of color to some of downtown Pensacola's most iconic locations. Inspired by Lewis Miller of New York City, the 'flower flashes' will be installations of fresh flowers around the heart of the city. They will be done in the early morning across multiple locations, allowing the public to enjoy the brightness and fragrance of the beautiful blooms. Best of all, the art is biodegradable, allowing us to experience distinctive designs and fresh scents without impacting the environment. The locations are set to remain a secret, so keep your eyes peeled for those petals throughout the festival!
Frank Brown International Songwriters' Festival
Nov. 9-19
The 33rd Annual Frank Brown International Songwriters' Festival will bring both seasoned and aspiring songwriters and musicians from across the country to the Florida-Alabama Gulf Coast. Hosted by Flora-Bama, the Frank Brown Festival is dedicated to the late Frank Brown, who was the night watchman at Flora-Bama for over 28 years. Over the 11-day festival, audiences will not only have a chance to hear classic and modern songs, but have the opportunity to speak with the performers and hear the stories behind the music. Spread over 30 venues from Pensacola to Perdido Key to Orange Beach, with more than 200 performers, the Frank Brown International Songwriter's Festival will have a tune to please everyone.
Writing on the Funny Side of Florida
Nov. 9
Presented by the West Florida Literary Foundation, the Writing on the Funny Side of Florida series presents some of the best humorists in the country. The series includes readings and book signings, as well as workshops designed to foster a creative domain for literary expression. The speakers include Craig Puttman, a Pensacola native who has written for the Tampa Bay Times and authored the New York Times bestseller "Oh, Florida!: How America's Weirdest State Influences the Rest of the Country." Other speakers include Leanna Conley, a Pensacola resident who was worked with Second City along with Chris Farley; and Erik Deckers, a humorist and author-in-residence at the Jack Kerouac House. If you appreciate good humor and great writing, swing by the Pensacola Cultural Center and Artel Gallery for their readings.
Pensacola Opera Presents "Maria De Buenos Aires"
Nov. 10 & 12
The Pensacola Opera returns to Foo Foo Fest with Maria De Buenos Aires. With music by Astor Piazzolla and story by Horacio Ferrer, this 'tango operetta' tells the surreal story of Maria, an Argentinian prostitute who navigates a bizarre life—and afterlife. Scored by electrifying tango music and providing metaphor for life, death and spiritualism—all the while celebrating passion and freedom. The opera features members of Pensacola Opera and Ballet Pensacola, with original choreography by Richard Steinert, and members of the Pensacola Symphony Orchestra conducted by Cody Martin. This ethereal and surreal opera is sure to delight and fascinate, so get your tickets while you can.
Pensacola Symphony Orchestra: Awakenings
Nov. 4
The Pensacola Symphony Orchestra has always brought beautiful music and artistry to our city, but the show they are putting on for Foo Foo Fest is sure to astound even the seasoned listeners. Awakenings is not just a symphony concert, but also a sensory experience as images of Pensacola's rich history are displayed above the orchestra, choreographed in time to the music. Produced by Los Angeles-based Westwater Arts, the film Pensacola: Then & Now features images from the UWF Historic Trust along with images submitted by residents. These photographs will combine with selections of music from Joseph Curiale's Awakenings, Aaron Copland's The Tender Land and Antonin Dvorak's From the New World. Awakenings will present a multimedia experience that you won't soon forget!
Peat and Pearls: A Celebration of Scotch and Oysters
Nov. 5
Pensacola, and the Gulf Coast in general, has a long tradition of sailors, fisherman and seafarers who've helped grow our economy off of trade and fishing. To best celebrate this heritage and history, Peat and Pearls is presenting a night of food and drink at the Barkley House. The "peat" part is presented by William Grant & Sons and Old Hickory Whiskey Bar, who will be presenting an array of delicious scotches from the Glenfiddich distillery. The "pearls" are the delicious Gulf Coast oyster that will be served from farms like Panacea Oyster Co-Op, Point aux Pins and Pensacola Bay Oyster Co., all prepared by local chefs like Irv Miller, Gregg McCarthy and Martha Wiggins. Beyond that, there will be live music, chefs' demos, a cigar garden and actual pearls! Don't miss out on this event and the smooth tastes of the Gulf.
13th Annual Pensacola Marathon
Nov. 12
Foo Foo Fest is not all art, food and drinks, but experiences as well, and the 13th Annual Pensacola Marathon is one such experience. Beginning and ending at Veterans Memorial Park, the full 26.2-mile loop will take runners through historic downtown Pensacola, past sugary white sand beaches, and atop the bluffs overlooking the Escambia Bay. To boost morale, bands, DJs, high school bands, drum lines, parade floats and cheering Pensacolians will be lined up and down the marathon route. The event also serves as a qualifier for the Boston Marathon. All the proceeds for the marathon go to Pensacola Sports, a non-profit dedicated to promoting sporting – both amateur and professional – in and around Pensacola. Even if you are not up for the run, make sure to come out and support the runners!
Back on the Blocks
Nov. 3-5
Belmont-DeVilliers, commonly known as "The Blocks," is one of the most artistically and culturally rich neighborhoods in Pensacola. Its historically African-American businesses, entertainment and culture have earned it the reputation of the "Harlem of the South." The Back on the Blocks Festival, now in its fourth year, celebrates this history with music, dance, culture, arts, film, food and heritage, all at the intersection of Belmont & DeVilliers Streets. The line-up for the festival includes author Debra A.K. Thompson, artist Robert Atkins, performances by the Indian Dance Show, a block party celebrating Latino heritage, and much more! Stop by The Blocks to get a taste of why Belmont-DeVilliers is still going strong.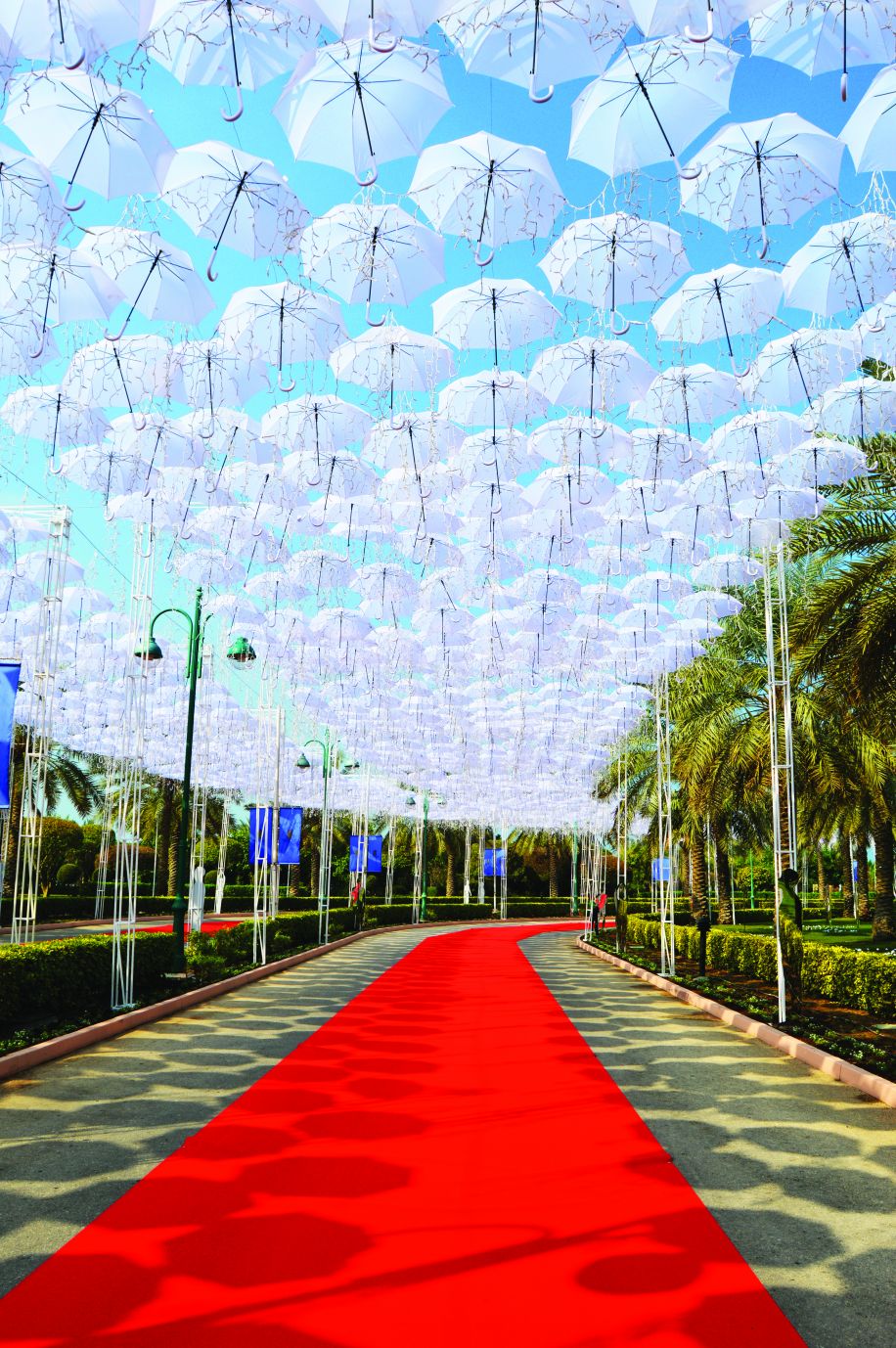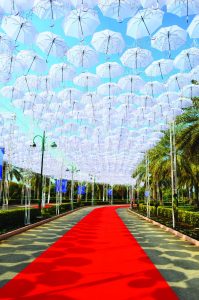 Pensacola Umbrella Sky Project and Busker Festival
Nov. 3-5
Busking has always been around in Pensacola – on any Friday night you can walk down Palafox Street and see musicians of all sorts performing on the street corner. For Foo Foo Fest, though, this tradition will hit the limelight with the Pensacola Buskers Festival. Held on Intendencia Street under the shade of the Pensacola Umbrella Sky Project, the Pensacola Buskers Festival will feature artists from around the country—not only musicians, but also magicians, jugglers, performance artists, and drum circles. Pensacola's festival is taking inspiration from other international festivals such as the Eboli Buskers Festival in Italy and the Buskers Festival WEIN in Austria. All of this will be taking place under the multicolored Umbrella Sky art display, which we have the full scoop on later this issue.
Clean Energy Fest and Future of Energy Art Exhibition
Nov. 3-4
As technology advances, we look forward to alternative and clean energy sources that allow us to fuel Florida while also helping the environment. The Clean Energy Fest and Future of Energy Art Exhibition held at the Pensacola Museum of Art will show participants how local businesses and leaders are helping pave the way for clean energy technology. The event is a juried art exhibition, and invites artists from across the globe to submit their works that celebrate clean energy sources. There will also be vendors like Sandy Sansing Nissan, Sun Farms, Compass Solar, and products from Tesla, which will celebrate clean energy. Art, education and music will all come together to show just how clean the Gulf Coast can be.