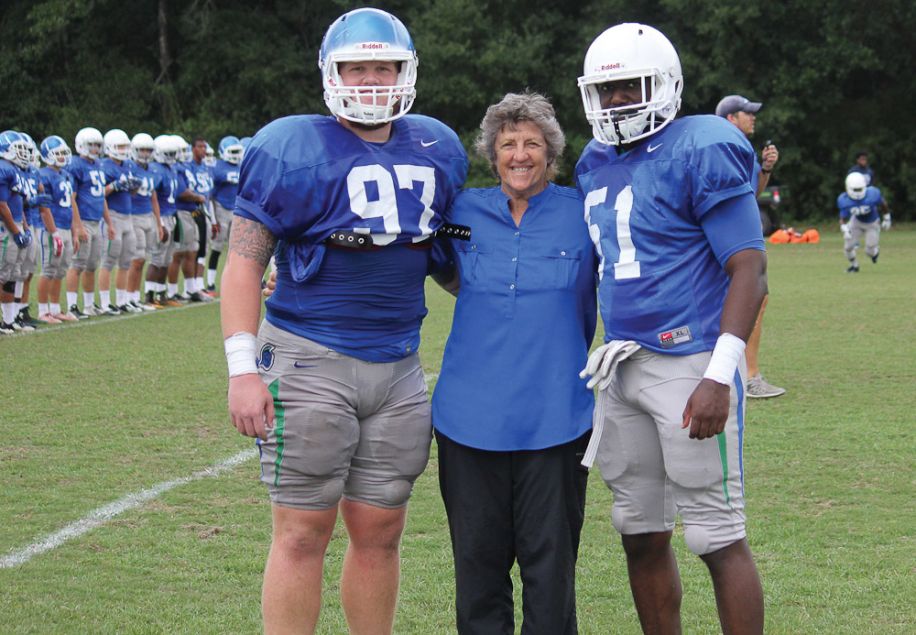 Although the official football season for the University of West Florida (UWF) Argonauts does not begin until fall of 2016, the UWF Athletics Department has already begun working on the 25-year master plan for UWF football, which includes building a football stadium and additional athletic facilities on campus. In the meantime, until the campus stadium is constructed, the Argonauts will be playing all home games at the Bayfront stadium in Downtown Pensacola.
"One of the benefits of signing on with Bayfront stadium was it took a lot of construction costs out of the equation and pushed those costs off into the future," said Dave Scott, UWF athletics director. "Obviously one day we want to be able to play on campus, but right now what we're building are practice fields and we're clearing infrastructure for the facility that would house not only football locker rooms and meeting rooms, but athletic training areas for all of our student athletes."
Although the Bayfront stadium has only been host to baseball games up until this point, the stadium was designed to be flexible for either football or baseball games. The field will be altered so that it runs down to the third baseline and a good way into the infield. The fence will extend to the left field, so it becomes a full length football field (100 yards) within the stadium. Bleachers will be set up in the outfield to create a football venue that runs parallel to the third baseline. The Hancock Club will still be used as a President's Box, and a lot of the original stands will be used for seating.
The cost for what the team has dubbed "Phase 1A," which includes the construction of practice fields and a facility for locker and meeting rooms as well as training areas, is at $6.4 million and the team hopes to have construction completed in February of 2016 before the inaugural season starts.
The team is looking at a budget of $1.5 million for the inaugural 2016 season. Part of the budget will be split between salaries for players and staff, travel expenses, and scholarships. The largest portion will go toward scholarships, and the team hopes to progressively increase the number of scholarships it offers. Division II can offer up to 36 scholarships per team. Last year, UWF Athletics Department offered 14 scholarships and next year there will be a total of 28 scholarships to give to student athletes.
The team has a total of 104 student athletes. Four are from our own Pensacola community, and others hail from areas of Florida, Alabama, Mississippi, Texas, Missouri, Virginia and North Carolina.
The Argos unveiled their new, official uniforms on Aug. 17 of this year. Although the team does not break down the budget according to how much it costs to fund each player, each kelly-green and royal-blue Argonaut uniform cost $1,275 to fund. For a team of 104, you're looking at a price of $132,600 to fund uniforms for all players. The cost of uniforms includes materials, helmets, safety padding and design.
The Argos football team has also received a great deal of support and aid from the community.
At the UWF Football Founders Kickoff event at Seville Square in August, 100 uniforms were purchased by attendees at $1,275 each. Uniforms were sold out, funded without taking money away from the team's budget for next year.
Currently, the team is in the process of a Locker Initiative, or a fundraiser for a new locker room. The team is looking to sell at least 120 lockers at $1,500 each. The lockers are 25 to 30 percent sold already. All donations are helping the team move forward and toward a successful 2016 season.
In addition to fundraising events, the team has received monetary gifts from those within the Pensacola community. The Burr family made a generous donation of $250,000 toward a new athletic facility on campus, which will be designed with athletic training and strength conditioning programs in mind. Eric Nicholson and his wife made a donation of $50,000 toward the new athletic program, as well.
The UWF Argonauts,  more popularly known by Argos for short, are classified as an NCAA Division II team. In other words, the team is in the intermediate-level division of competition and it is part of the NCAA college division. Division II prides itself on being able to offer scholarships to student athletes. Aside from Florida Tech, UWF is the only other Division II school with football in Florida.
On the Division II level, teams typically bring in an annual revenue of $250,000 to $500,000 from corporate sponsors, ticket sales, and revenue from boosters. This excludes the additional revenue from team merchandise sold at the UWF Bookstore. The team aims to have a vendor selling team merchandise at next year's official games. The team will announce its sponsors once they move into the stadium next year.
Florida Tech, the other Division II team in Florida, generated $40,000 from merchandise alone that was sold at their first game in 2013. UWF Argos intend on signing with a company to become their official representative and provide merchandising at next year's games for similar, if not equal, earnings in merchandise sales.
Aside from the additional equipment needed to play at the Bayfront, since the stadium has only been equipped for baseball games, the team will be paying to rent the stadium for the five home games scheduled in 2016.
"We have a contract with the NPA for basically $5,000 per game that we play at Bayfront stadium," said Dave Scott. "There's also a standard $1 per ticket charge. Then we figure about $15,000 in fees for staffing."
When you do the math, the cost for the team to play at Bayfront stadium is roughly $10,000 per game. The costs goes up to $25,000 if you count the additional $15,000 for staffing.
"A typical Division II game will pull about 3,100 people," said Dave Scott. "The Gulf Coast Conference pulls about 5,100 people. We're at the lower end of what we can provide attendance wise at Bayfront stadium, so there will be a challenge getting people into the stadium. We know we'll overflow into the parking lots and amphitheater, but we think that's going to create a nice opportunity for downtown businesses and people excited about games on Saturdays."
Not only is the new football team bringing in additional revenue for UWF, but, because of games at the Bayfront stadium, the team is bringing additional opportunities for downtown establishments to increase revenue from increased foot traffic on weekends. At least 5,100 pairs of feet will be traversing the downtown areas on game nights, which is good news for nearby restaurants and shops that will surely be hit before and/or after games.
If the team makes the playoffs, then that will mean additional games and revenue for Downtown Pensacola.
The team held its first scrimmage at UWF on Sept. 12 and drew a whopping total of 750 people who cheered on the football players from the sidelines.
If the first scrimmage is any indication of what attendance will be like at the official games next season, then the team is already a fifth of the way toward filling the 5,100 seats at Bayfront stadium.
On the topic of scrimmages, four more will be played this fall with three played on campus at University Park Field. On Oct. 17 there was a special scrimmage hosted at Bayfront stadium, a precursor to the first home game to be held at the stadium next September.
The scrimmage at Bayfront stadium was what Dave Scott referred to as a "dry run."
"Maritime Park is there but we'll have to adjust it to football," explained Dave Scott. "The dry run gave us the chance to change and observe logistics such as the equipment we'll need on field. We'll also develop plans for transporting it all to downtown for next year. It's not the same experience that we'll have next year when we're prepared, but we're really just trying to work out any kinks in the system so we'll be ready to go for our inaugural season."
Essentially, scrimmages create an opportunity for players to have a game environment before the official season begins, so they are used to a play being called.
Tickets for the inaugural season are already on sale and the team strongly suggests buying tickets now, since they are already being reserved for boosters, players and athletics staff.
There were roughly 1,200 boosters for all UWF sports last year, and 40 percent of boosters bought tickets.
The average number of tickets bought per purchase is four. If at least 500 people (250 less than the crowd drawn to the first scrimmage) buy four tickets each, that's already 2,000 less seats available at the stadium. That's not considering the team also reserves four tickets for each student athlete, as well as for other UWF alumni.
Currently, season tickets are on sale at $250 for the Dugout Club, $115 for Blue Level, $95 for Green Level, and $70 for Silver Level.
"The Wahoos have done a great job providing an awesome entertainment experience at Bayfront stadium," said Dave Scott. "We want to work with them to do the same for UWF football and bring additional people to the downtown community."