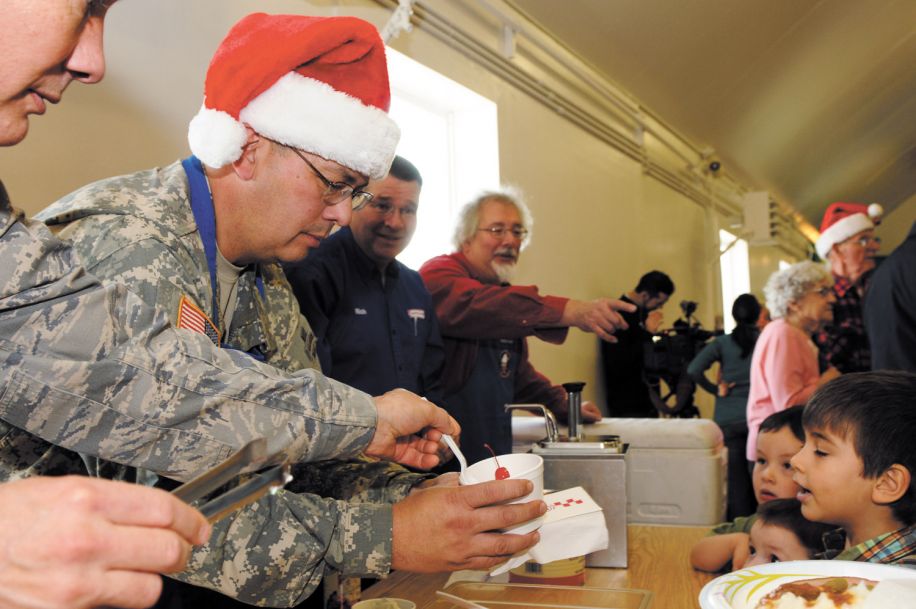 With Christmas just around the corner, many people in Pensacola are likely wondering how they can spread the love and generosity to those in need. Escambia County is one of the poorest in the state, with many children who have never had a traditional holiday season replete with gifts to unwrap on Christmas morning. With just a few spare dollars, those with more in our city can enrich the lives of those with less, and there are a variety of methods to do so.
Toys for Tots
The national program, headed up by the Marine Toys for Tots Foundation, has been gathering together toys for underprivileged children since 1947.  Since then, it has donated more than half a billion toys and other products of use to pre-teens. In Pensacola, interested donors can drop off merchandise at Toys "R" Us in University Town Plaza. Most toys for children are accepted, in addition to sporting equipment, books, backpacks, cosmetics, purses, bath gift sets, electronics, skateboards and bicycles. The only real exceptions are realistic-looking weapons and products with food. If you would prefer to volunteer for Toys for Tots, there's ways to do that, too. Simply fill out the form under "Toy Drop-Offs" on pensacola-fl.toysfortots.org and help coordinate the local chapter to make a difference in the life of Escambia County children this holiday season.
Operation Santa
Operation Santa is in its 103rd year, a program locally facilitated by FamiliesFirst Network of Pensacola, a subsidiary of Baptist Health Care's Lakeview Center. Each year, they work to provide Christmas gifts for the children and families that they serve. You can sponsor a particular family, donate toys for general distribution, or make a cash donation to the Baptist Health Care Foundation. If you sponsor a family, FamiliesFirst Network will provide a wish list of items to purchase that will ultimately end up in the hands of that family for Christmas morning. To adopt a family, reach out to FamiliesFirst Network by calling (850) 469-3462.
Angel Tree Project
Not to be confused with the following entry's details about the better-known national program, the Angel Tree Project is an act of love and caring by the members of Saint Paul Catholic Church. They work each year to improve Pensacola by reaching across all boundaries and faiths to bring happiness and love to children by providing them with Christmas gifts. Volunteers can assist with making paper angels, collecting and sorting gifts, and shopping. To join the project, contact the church at (850) 434-2551.
The Salvation Army's Angel Tree
Started in 1979, this popular Christmastime program allows communities to directly impact members of their own region. The program provides gifts of new clothing and toys to thousands of children who otherwise probably would not have anything for the holiday. Children who are recipients of Angel Tree gifts are from families who have applied for Christmas assistance through the social services program of the Salvation Army. During the application process, the clothing sizes and special needs of the children are determined and written on the application and is then transferred to paper "angels" along with the child's first name, age and sex. The angels are then taken to area shopping malls where they are selected by concerned shoppers who then purchase any or all of the items listed. After purchasing these items, the gifts are returned to the Angel Tree. Pensacolians can pick up angels at the Salvation Army's local location, 1501 N. Q St.
Operation Christmas Child
Olive Baptist Church hosts this program, a local chapter of the Samaritan's Purse initiative, to deliver shoebox gifts to children in need. Since the program's inception in 1993, more than 100 million boys and girls have been served in over 130 countries. To volunteer or give to the program, call (850) 475-3165 or email [email protected].
Christmas Shoebox Project
This ongoing community project, coordinated by Waterfront Rescue Mission, is an opportunity for family, co-workers, church attendees, and other groups of people to serve the needy during Christmas. Here's how it works: participants purchase and gather together basic items found at waterfrontmission.org/christmas-shoebox-project, pack them up in a shoebox, and wrap it all up as a gift for an individual staying at the Mission. Then, simply drop them off at Waterfront Rescue Mission, 348 W. Herman St. in Pensacola. The boxes can be as large or as small as you prefer, and there is no minimum or maximum quantity.
Children's Home Society of Florida
The state of Florida's adoption and fostering program receives gifts year-round to give to children within their network. Many of these children do not even have a family or a place to call home, so holiday gifts are especially impactful and can often help them rise up out of depression and loneliness. You can donate funds on their website, chsfl.org/holiday, or check out their Amazon Holiday Wish List at goo.gl/6ajx7p.
There is so much wealth in Pensacola, and so much opportunity to improve the lives of others. It's so easy unfortunately to become preoccupied with Black Friday sales and potlucks with family—fun, important happenings that often dominate our holiday time and resources. So in between those admittedly self-centered happenings, let's not forget to lean into the spirit of the season and help those with who are less fortunate and less able to take advantage of the sales or even have a family meal.