By Hana Frenette
On the cover of their latest album, Signs of Light, indie folk-rockers The Head and the Heart lounge leisurely by a gorgeous blue California pool. The album cover gives a heavy nod to the sunny days of 70s rock and pop bands like Fleetwood Mac and Tom Petty and the Heartbreakers. Drummer Tyler Williams said that was exactly the vibe they were going for.
After touring non-stop for four years and experiencing the temporary hiatus of their lead singer, Josiah Johnson, due to a drug recovery program, the band decided to take it easy—and what better place for that than California.
"We rented a house in Topanga Canyon, and the placed was an iconic spot in the 70s. It's really pretty and set back in the woods," Williams said. "We spent another two weeks in Stinson Beach, California, which were vital to the making of our last record. We would just all be playing in the living room and looking out on the beach and the mountains—it was an incredible time."
Signs of Light marks the first release for the band on the Warner Brothers label, and their first time working with producer Jay Joyce—a change they welcomed.
"We kind of made this decision to go with Warner Brothers in late 2014. We'd talked to so many other labels and we thought they were the perfect fit," Williams said. "They have all these artists like Fleetwood Mac, Built to Spill, Flaming Lips—all these bands that musicians want to be in. "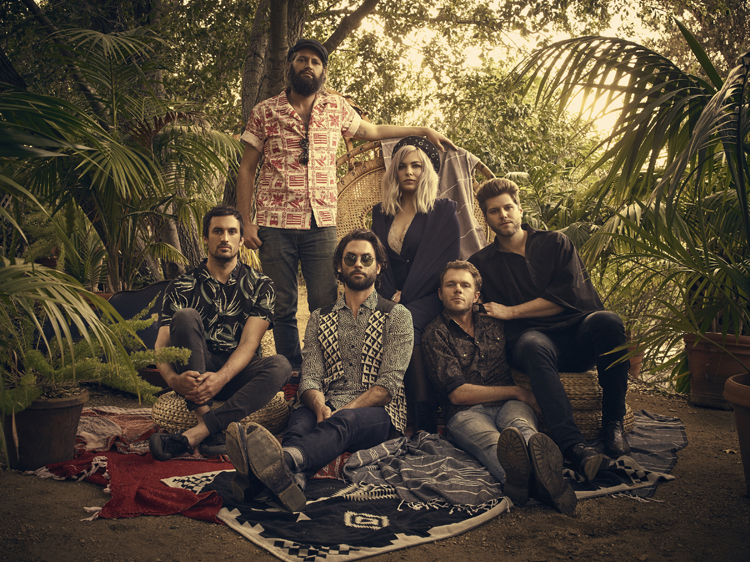 Williams said the group took some time for a song writing session in 2015 and didn't feel pressure from the label to immediately release a new album, which was great for them since they were dealing with the replacement of their front man, Josiah.
"We worked with Jay Joyce, and he's produced records for everyone from Cage the Elephant to Emmy Lou Harris, and that was kind of what we were looking for, country leaning with pop rock influences—we think this new record captures exactly what we were looking for."
Williams said the band has always had many different influences and things they pull from in their everyday life, and with this record they had the opportunity to let those influences out.
"We were able work with someone who read our vision and was able to put it on to records," Williams said. "When you're just a band of musicians who've never produced records, you're stitching together elements to create sounds; but when you don't know the exact way to do that, its not going to happen just right."
Williams cited Fleetwood Mac, Taylor Swift, Kayne West, and Kendrick Lamar as influences on the new album.
"We'd have Kendrick dance parties on the bus after shows—that influences you whether you'd like to think that or not," he said. "We wanted to let out what we felt in our heart, and show those influences, big and small."
Since the record's release last fall, the band has toured in support of the album, and will embark on a several month long U.S. and European Tour, making a stop at the nearby beach weekend party, Hangout Music Festival in Gulf Shores, Ala. Check them out on Saturday.