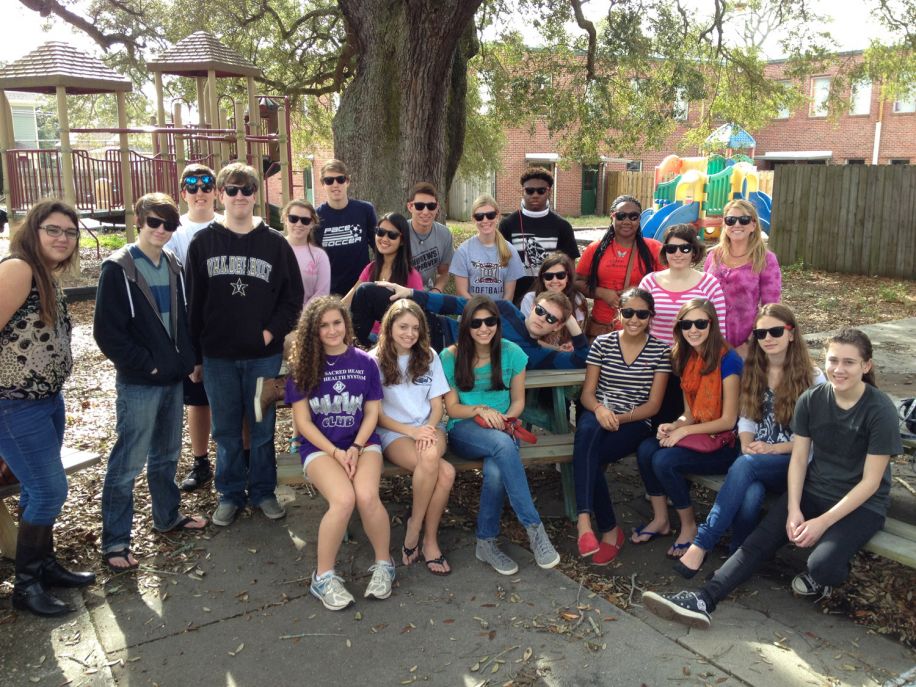 By now, the Pensacola Chamber Foundation's Leadership Pensacola (LeaP) program is well known in the community both as an initiative to continually renew the pool of leaders in the city and as the kickstarter for many great community projects, like the LeaP Trail near the airport, a playroom at Sacred Heart, and most recently parking meters for the homeless. What is less known is the Youth LeaP program, a curriculum created by LeaP alumni that reaches into area schools and engages with sophomores, juniors and seniors in much the same way the adult version does for lawyers, doctors and business professionals.
Youth LeaP was designed to expose high school students to various elements of Pensacola life—as well as movers and shakers that may positively impact them in their future careers. The program gives them a behind-the-scenes look, for example, at the region's justice system, utilities infrastructure, military industry, healthcare hubs and more, while also providing thought-provoking exercises on ethics and best practices.
"We want to plant the seed of Pensacola's excellence so that after they complete their education, they will stay here, raise a family and be successful," said Scott Grissett, who works at Andrews Institute but also helps head up the youth program.
It all started just a few years after LeaP's inception in the 80s, when a group of alumni realized that the city's talented kids were going away to college in Tallahassee and Gainesville and never coming back. The best and brightest of our region were vacating the very place they grew up. To combat this, a core collective of early LeaPers decided to market Pensacola's excellence and infrastructure to those still in school.
Kurt Larson, whose day job is now at the Florida Institute of Research and Education training firefighters, decided to work with the Foundation for Excellence, a facet of the Pensacola Chamber. They directed him to the Escambia County School Board, and in 1988, the very first Youth LeaP program, then called Pilot, took place at Pensacola High School.
"It was such a success that the district wanted to expand it to all 39 schools," said Larson. "We didn't have the infrastructure for that, so we decided to just do all the high schools. From that point, the alumni took over facilitation of the program."
It started out small, with five days outside of class throughout the year dedicated to learning about civics and leadership. Gradually other elements, like a class project, were added and qualification requirements were tweaked.
"Kids from the early class who stayed in Pensacola did take on more leadership and volunteer roles," said Larson. "So in that way, I think it was a success."
The program also aided with future college enrollment applications, as Bright Futures requires a certain number of volunteer hours, a condition Youth LeaP helped fulfill.
Today, the Youth Leap program continues to engage with the district to fine-tune the class every year.
"We recently created a focus group that engaged the Escambia County school district, their guidance counselors and other professionals to make the program into something that adds value to these kids," said Grissett. "The demands on kids are much greater than when I was in school, so we want to make sure each day is worthwhile."
Guidance counselors work with students to select those with the most potential for the program. After they have been nominated, the student will fill out an application and submit it to a Youth LeaP selection committee by April 15. There is a GPA requirement and some essay questions that factor into the decision. That committee will then select 50 students by May to begin in late August and continue through until April, with monthly days or half-days during which the students will travel about and learn about their city. The students visit places like the Pensacola Cultural Center, Gulf Power, the Emerald Coast Utility Authority, a courthouse and more.
"Youth LeaP exposes high school students to new career opportunities, diverse perspectives and real-world value not offered in the classroom," said Clay Ingram, Greater Pensacola Chamber President & CEO. "The program curriculum allows students to take a closer look at our community, generating a new appreciation and desire to stay here."
Each year, the LeaP alumni select curriculum chairs who work hard to make each day as engaging and enlightening as possible.
"We want to ensure it's a quality product," said Grissett.
Much like adult LeaP, the youth program is also encouraged to select a class project that will benefit the community in some way. These projects are less labor- and funds-intensive than their adult counterparts, but they provide an opportunity for the students to understand what it takes to make effective change happen.
"We don't want the project to be a laborsome commitment, but we do want them to understand what goes into creating positive change," said Grissett.
All LeaP Alumni dues go to fund the Youth LeaP program, making the latter a completely free experience for the participants.
The Youth LeaP program has been a great success, both for the kids involved and the business that participate in sharing their business models and lessons learned with the next generation. The applicant pool is competitive, but Grissett encourages students to apply for the program and give it their best shot.
"Any students that see youth leadership as a value sort of select themselves," said Grissett. "We want to accept a wide range of students. We want the program to be something the chamber, the city and the alumni are proud of."