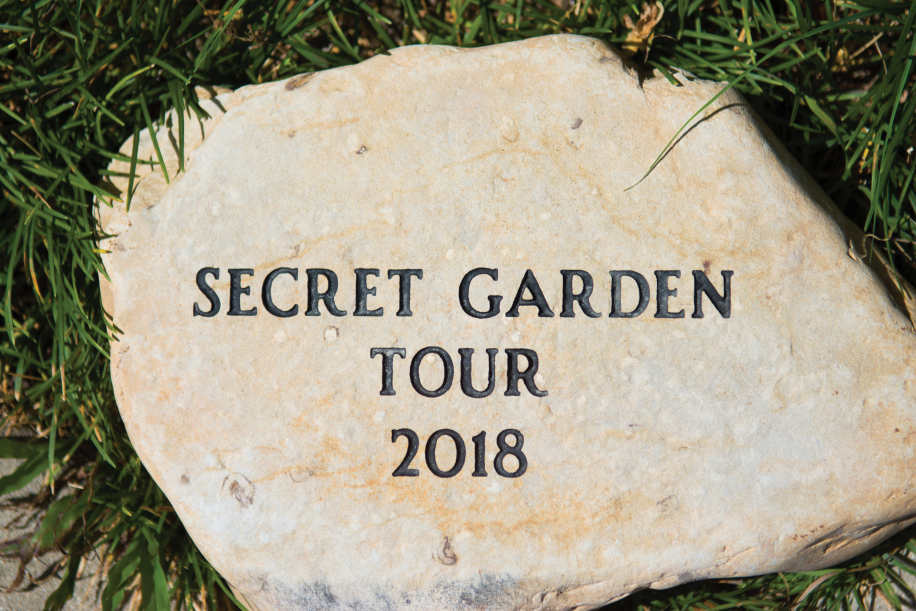 By Kelly Oden
For many of us, the spring is time to play in the dirt—weeding, tilling, planting and mulching. For me, gardening is one of the best forms of therapy there is. Plus, you get a lovely garden for your work if you are lucky. One of the best ways to discover new plants, pairings and general gardening techniques is by visiting other gardens and chatting with the folks who grew them. That's the premise behind the Pensacola Federation of Garden Clubs annual Secret Gardens of the Emerald Coast Garden Tour. The Secret Garden Tour, now in its ### year offers both veteran and aspiring gardeners the opportunity to visit the private gardens of local gardeners and find wonder and inspiration in their unique, intimate and charming outdoor spaces, both large and small. This year, the Secret Gardens Tour committee chose six unique and beautiful private residential gardens, selected for their creativity, use of native plants, stunning garden features and interesting horticulture specimens. In addition, the committee included the UF IFAS Extension Escambia County Demonstration Gardens to highlight their contribution to horticultural education.
This year's tour took place the weekend of May 18, but don't worry if you didn't make it. Our photographers visited each garden and captured the highlights of some of the most beautiful spaces in town. From shady palm gardens to a curving front yard with a dizzying array of annuals and from a stunning collection of cacti to an edible paradise on the bay, you're sure to find some inspiration in these fantastic secret gardens.
Garden 1
Rick and Anita Miller
East Hill
Garden 1 is a unique mix of eclectic New Orleans and funky Key West. A block fence covered in creeping fig and a porch banister with a fish motif welcome visitors to this East Hill Cottage-style home. In addition to the variety of plant life, a truly unique collection antiques, thrift store finds, and salvaged materials combine to make a fun and unique space with surprises at every turn. The brick paver walkway, referred to as "holy bricks" by the homeowners, was created with old pavers from St. Christopher's Episcopal Church. Other reclaimed and recycled features include arched iron gates from a dear friends home lost in Hurricane Ivan, wood sheds salvaged from McGuire's "village" with original porcelain-and-glass door knobs and key hole plates, a mounted lantern from the old Bayou Chico draw bridge, and wrought iron pieces gifted from the historic Seville Quarter complex. Fruit trees such as Meyer lemon, satsuma, ruby red grapefruit, pear, and plum adorn the landscape. Multiple flowerbeds hold rosemary, amaryllis, day lilies, Lily of the Nile, and white and blue hydrangeas. At the far end of the backyard is a small dipping pool, perfect for relaxing.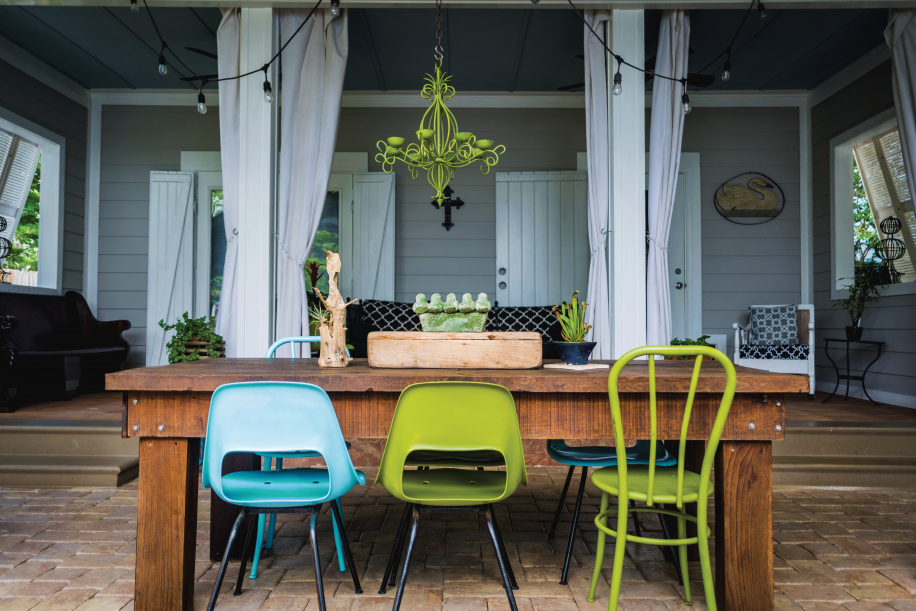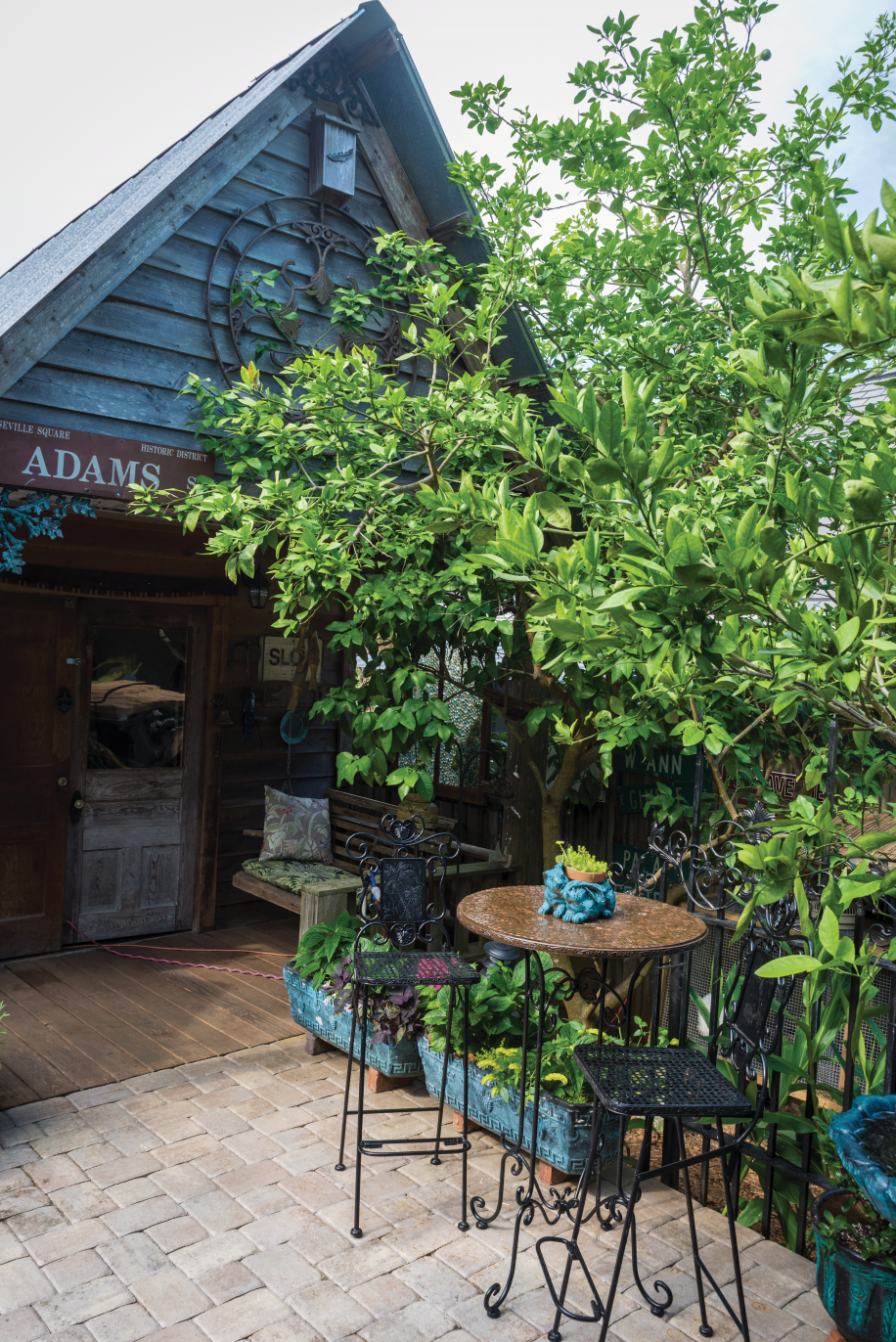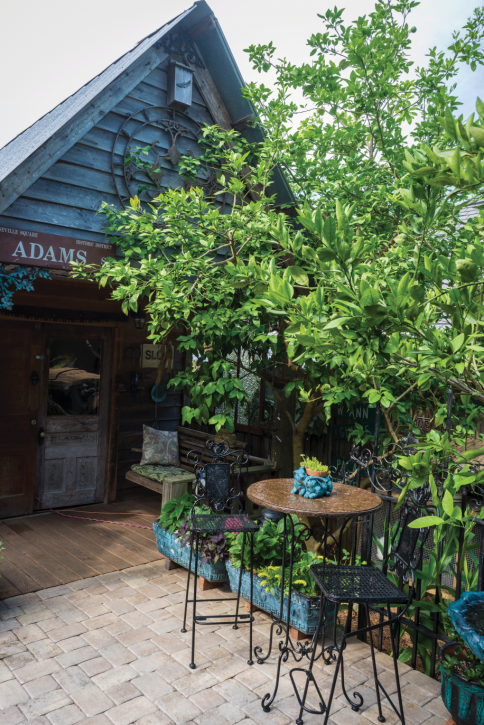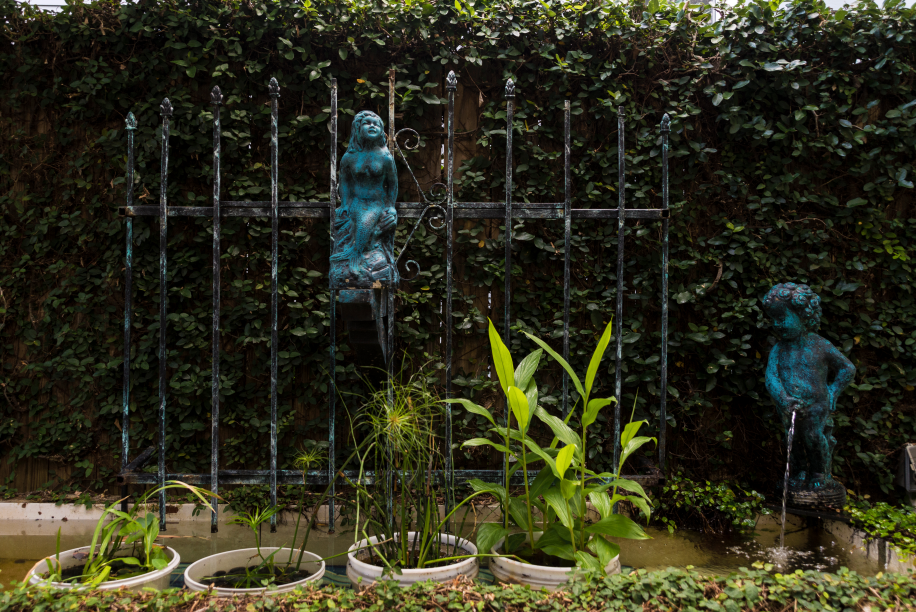 Garden 2
James Martin
East Hill
Garden 2 in East Hill is home to a 1941 renovated cottage flanked by two sphinx sculptures gifted to the owner by Fred Levin. The exquisite gardens sit on a large corner lot with a 360-degree walking pattern. These gardens were created with sumptuous curved beddings, filled with an abundance of color, beautiful Pennsylvania field stone pathways, hanging lanterns from shading oak trees, and a whimsical iron sculptured bench with two seated children. Visitors will see over 3000 annuals and a variety of perennials including SunPatiens, pink chaos coleus, bubble gum petunias, ruby slipper hydrangeas, double knockout rose trees, olive trees, Italian cypress and much more. Attendees will stroll through five themed gardens: The Imagination Garden, The Lantern Garden, The Diversity Garden, a true "Secret Garden," and The Italian Garden. Not to be missed is the recently installed 80-piece glass art sculpture "Over the Rainbow" created by local glass artist, Joe Hobbs.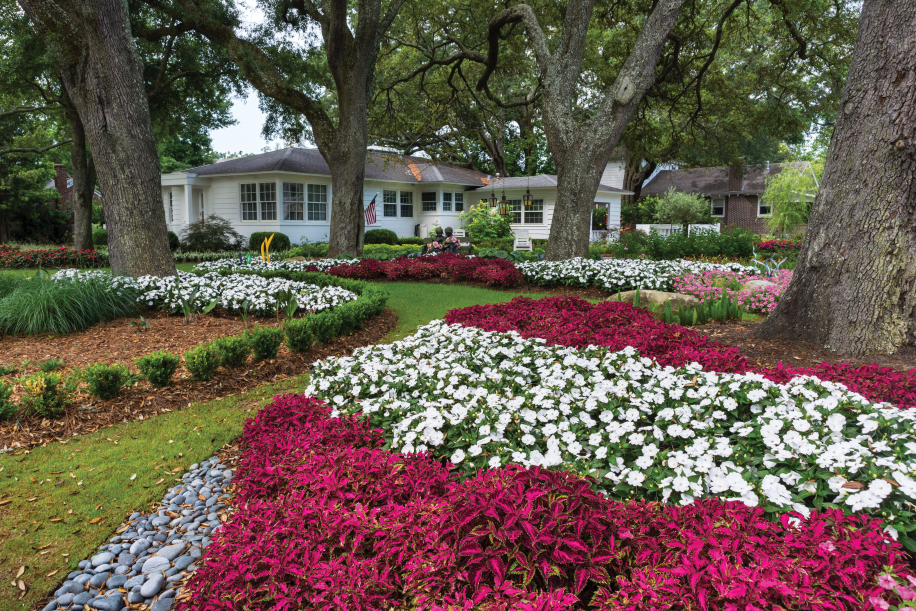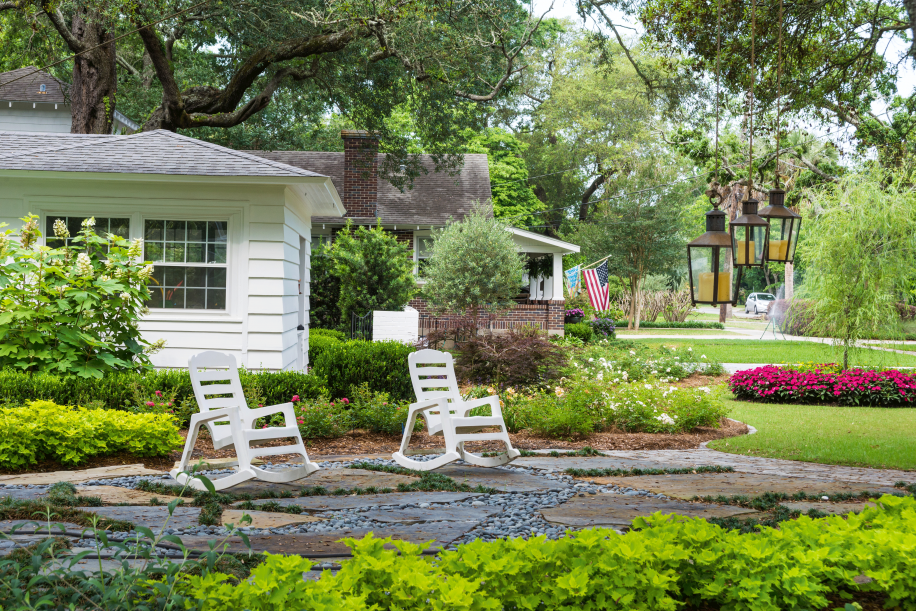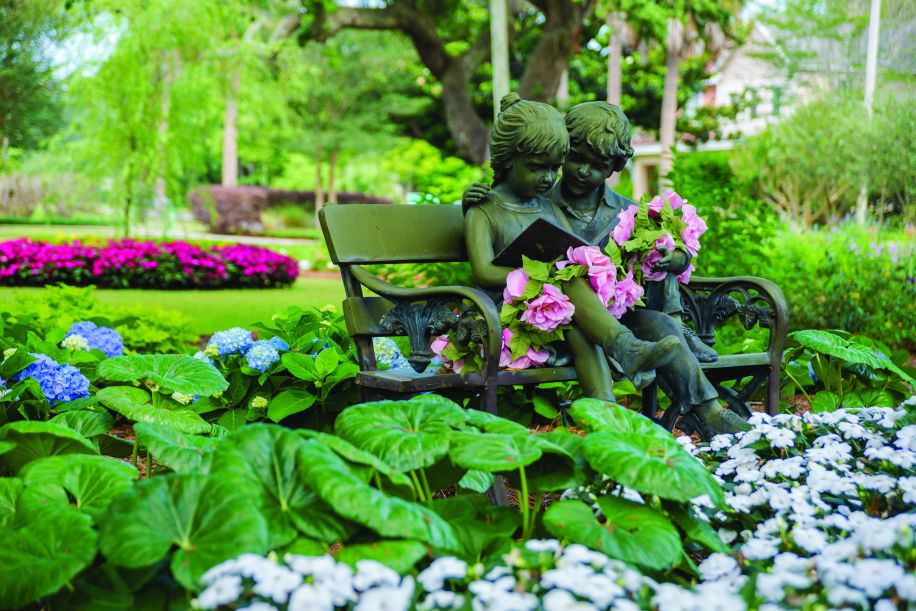 Garden 3
Dee Green and Jim Einhart
Scenic Highway
Just off Scenic Highway is the third garden on the tour. The homeowners concentrate on growing edibles, much as the Italians do, as a wood-fired pizza oven and a pergola with climbing white roses anchor the landscape. Two towering Italian cypress flank the dining terrace. Terraced landscaping in raised flower beds are constructed of CXS railroad ties that floated into the yard after Hurricane Ivan. Vegetables, herbs, and flowers are all grown organically. A variety of fruit trees, including oranges, pineapple guava, pomegranate, peach, pear, cherry and plum dot the landscape. Several varieties of blueberries and fig trees can be found throughout the property. Cascading rosemary is placed in large pottery urns, ready for clippings to be added to the products of the pizza oven. Two scenic views can be enjoyed: the waters of Escambia Bay and the wooded hill leading up to Scenic Highway.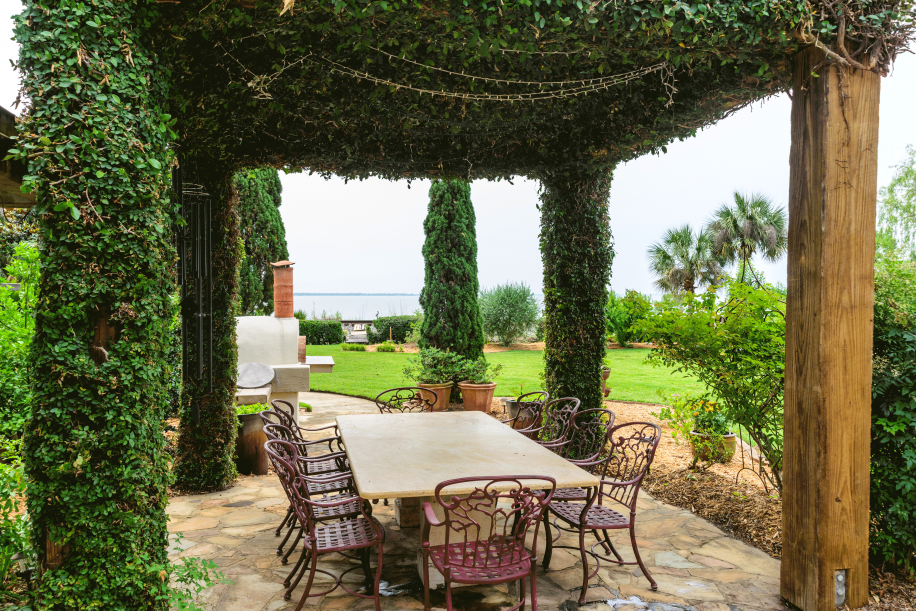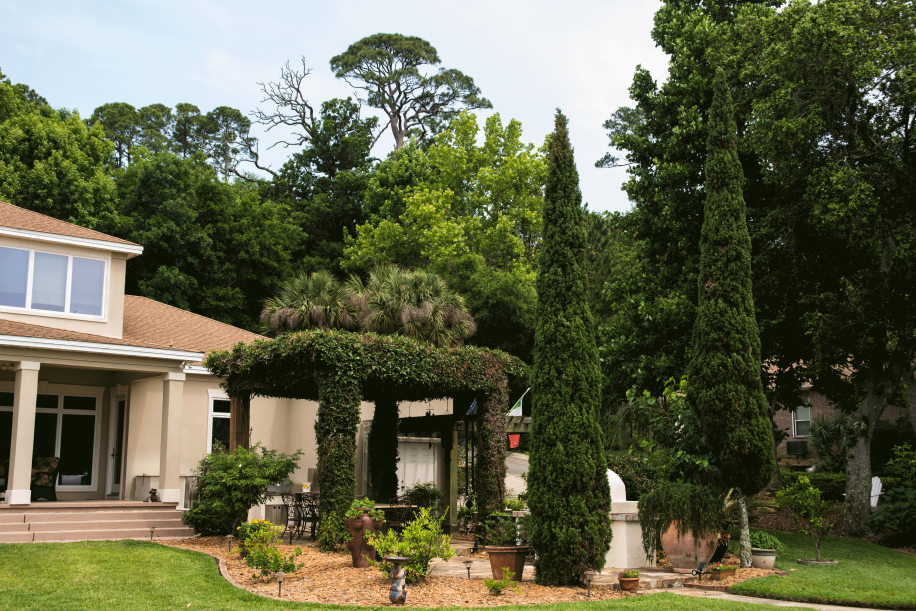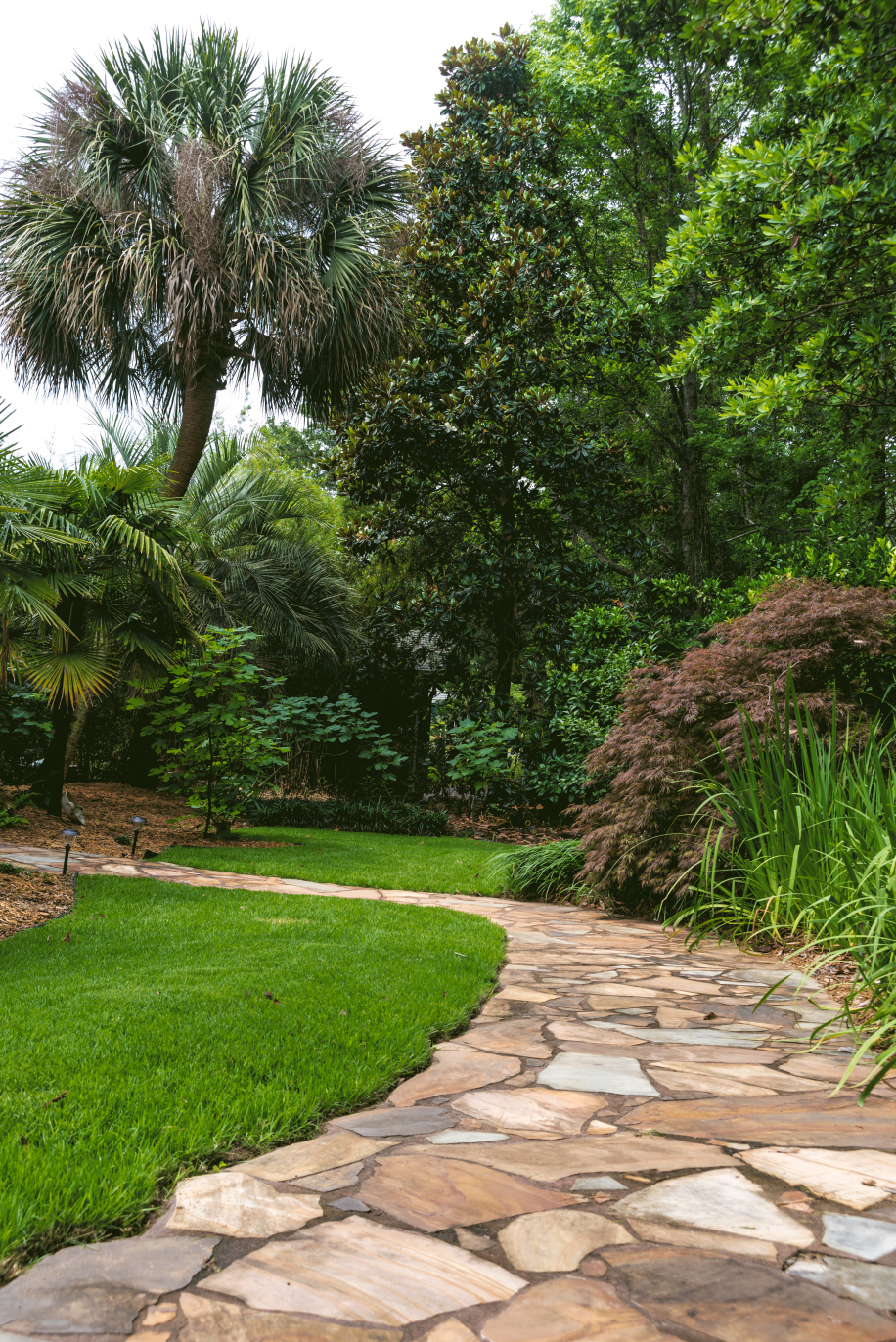 Garden 4
Jimmy White
Cantonment
Garden four sits on the banks of a natural spring lake—complete with a dock for fishing. The backyard slopes dramatically to a reverse wall to control erosion. A standout feature of garden four is the North Alabama stone staircase with multiple patio landings that connects the house and lawn area. The front yard is an explosion of seasonal color in curved beds, provided by well-established coral drift roses, Purple Pixie dwarf loropetalum, Veronica Sunny Border Blue, varied shades of SunPatiens, and lavender. Placed throughout are several sizes of flat rock formations. A Tamukeyama Japanese Maple and two larger Bloodgood Japanese Maples frame the traditional brick home and are lovely statement specimens.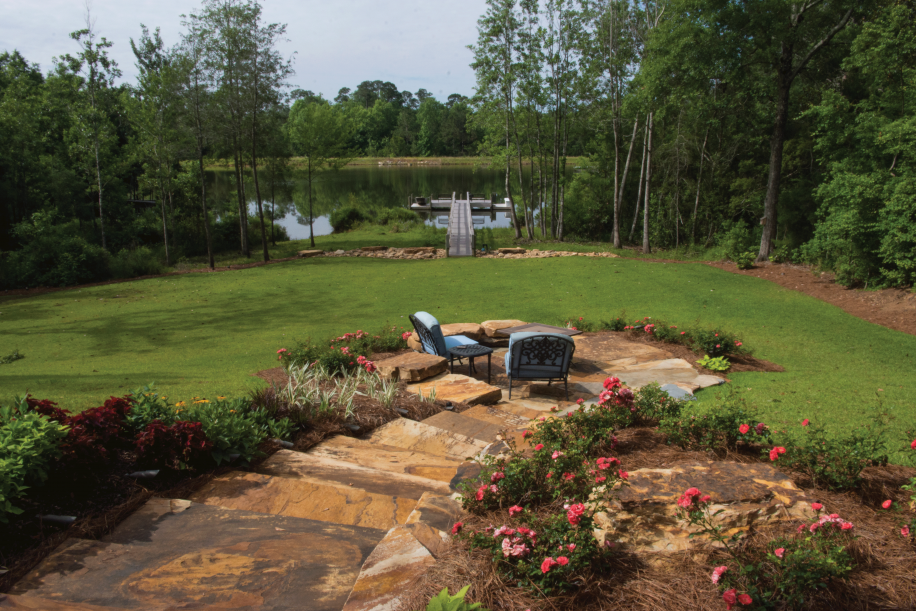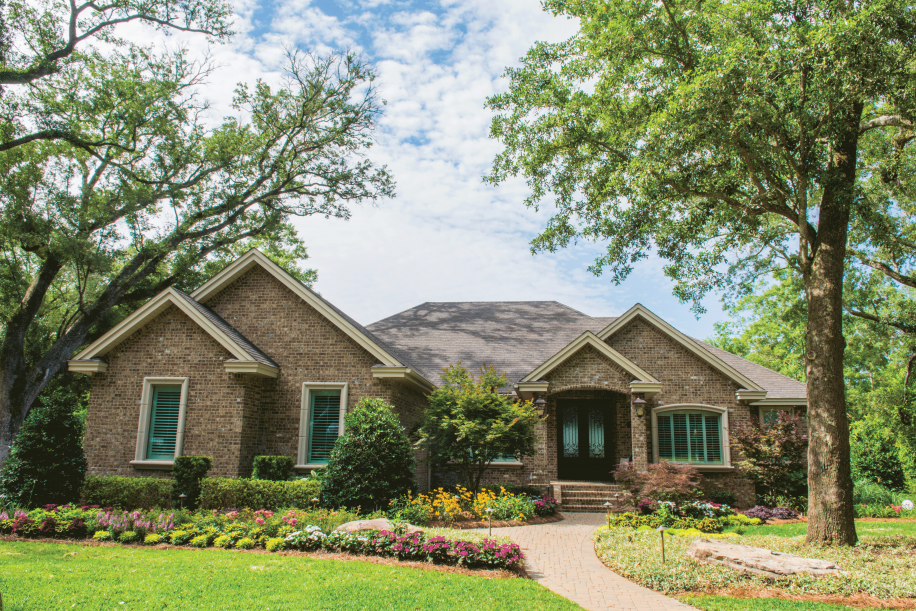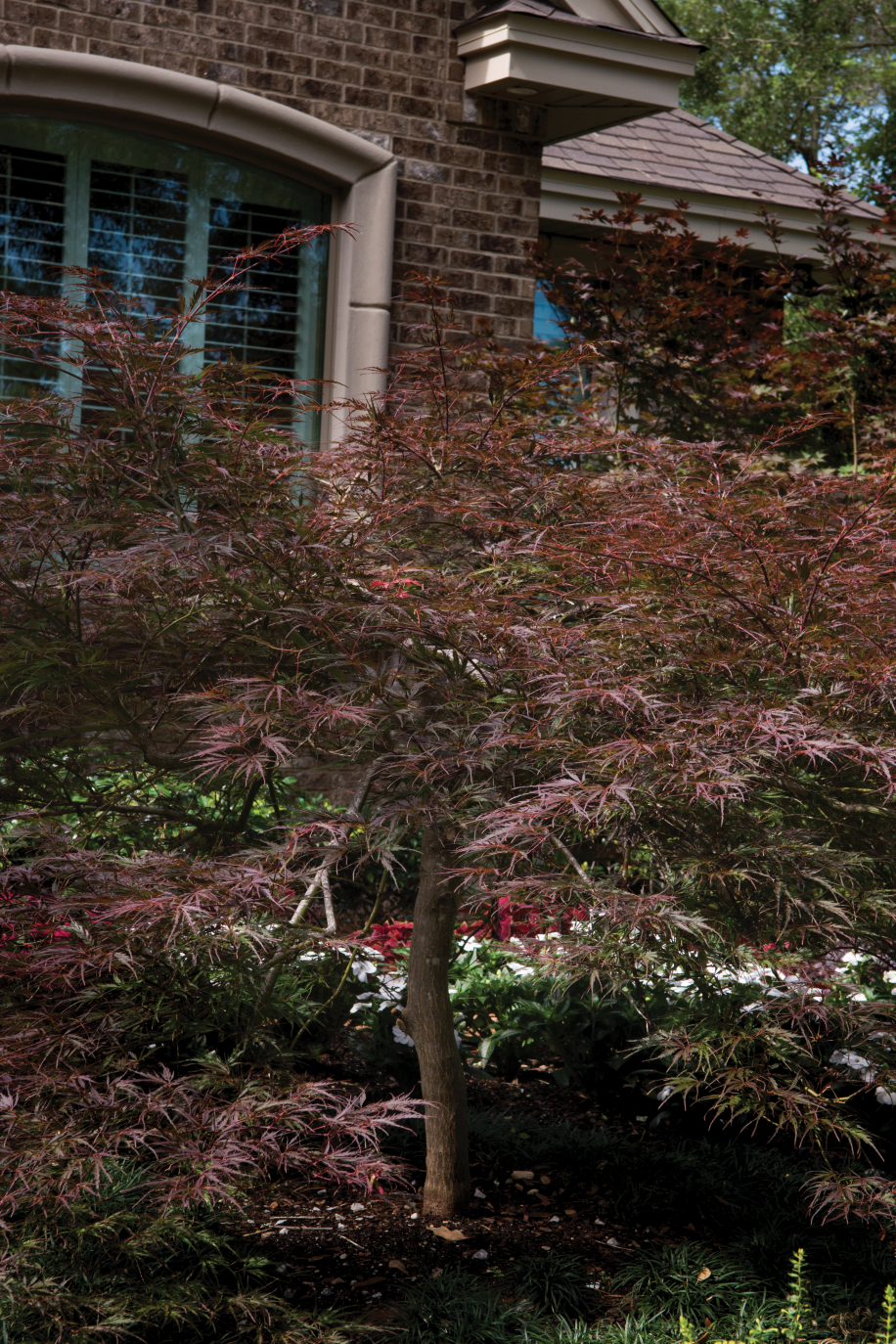 Garden 5
UF IFAS Extension Escambia County
Cantonment
Garden five is home to The UF/IFAS Extension Escambia County Demonstration Gardens. Attendees can stroll through a total of nine themed garden areas featuring a wide variety of plants and garden types. Standouts include a lovely pineapple guava, hidden Hawaiian ginger, a Fuji waterfall hydrangea and much more. A wonderful resource for all community residents, the Extension center's master gardeners are available to answer questions and offer advice regarding propagation, pest and fungus control, best practices and more. The gardens are open to the public year round and a new county walking path runs right through the grounds. Grow houses hold the propagation area, and the Bog and Sensory Garden includes educational features for adaptive gardening ideas and gardening inspiration for youth.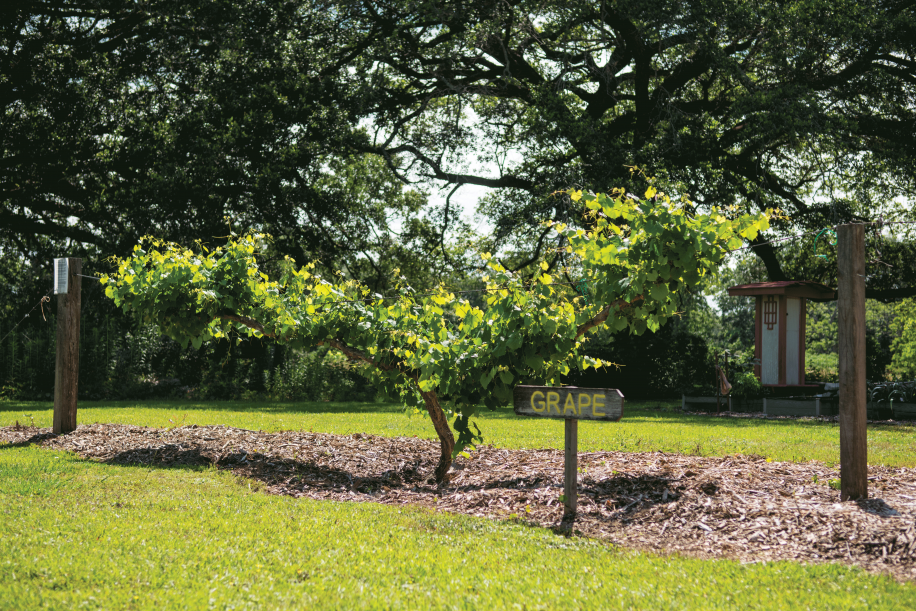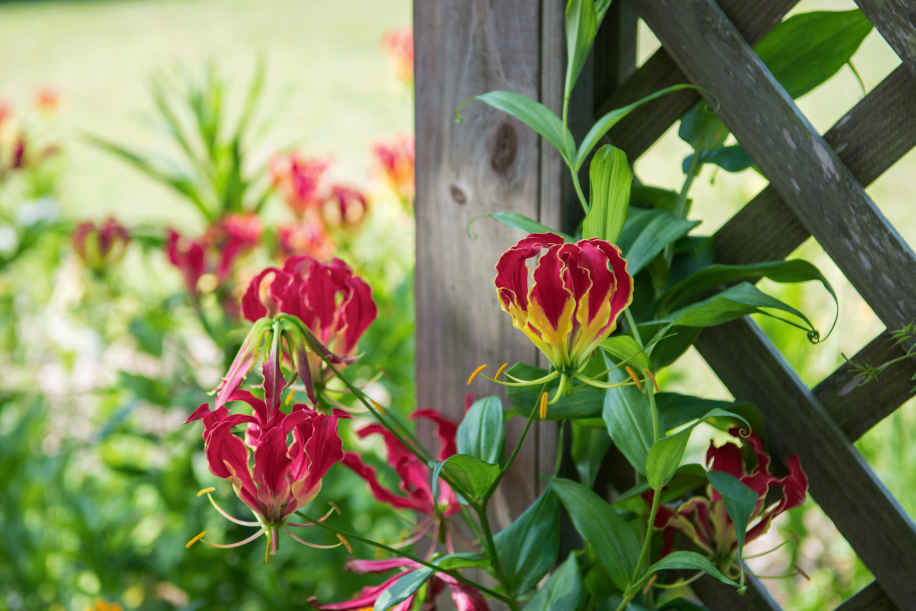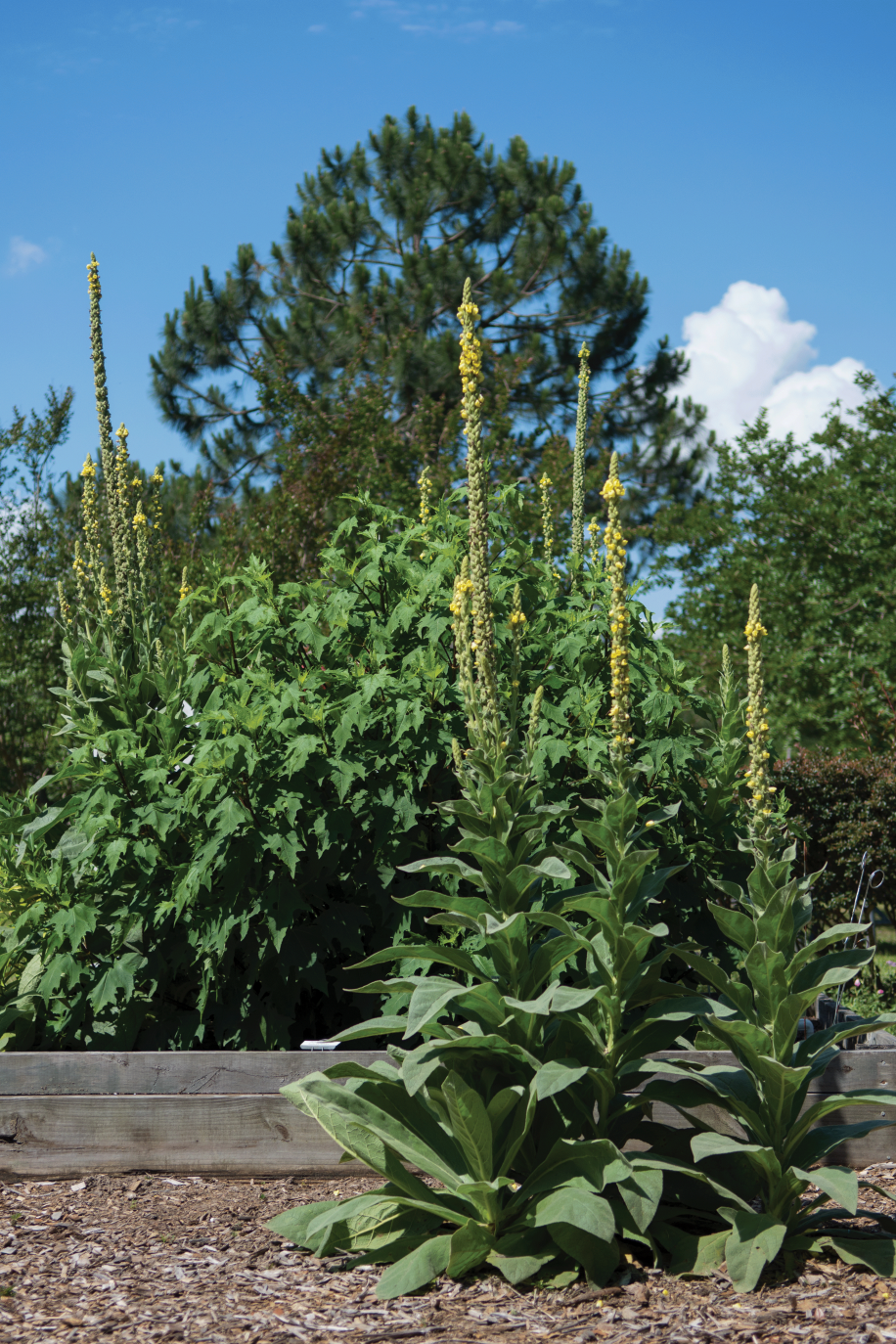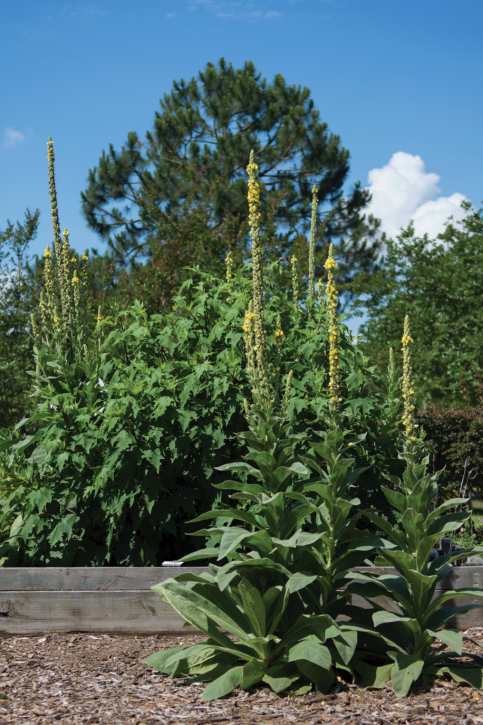 Garden 6
Tom and Eileen Mignerney
Cantonment
A canopy of sprawling oak trees invite you into this spacious, shaded country garden filled with palms, cycads, and fern. Over 30 varieties of palms and cycads can be found in the landscaped garden and growing area at the back of the property. Behind the front door is a 2-story atrium which houses a fishtail palm, a paradise palm, and a king palm along with bromeliads and other foliage plants, all of which can be viewed from the living spaces in the house to bring the outside in all year long. A beautiful Texas magnolia was gifted to the homeowners in the 1980's. Its leaves measure between 20-24 inches, and the petal of the bloom is similarly large. Stunning Staghorn ferns mounted on driftwood are hung from sturdy oak branches around the property.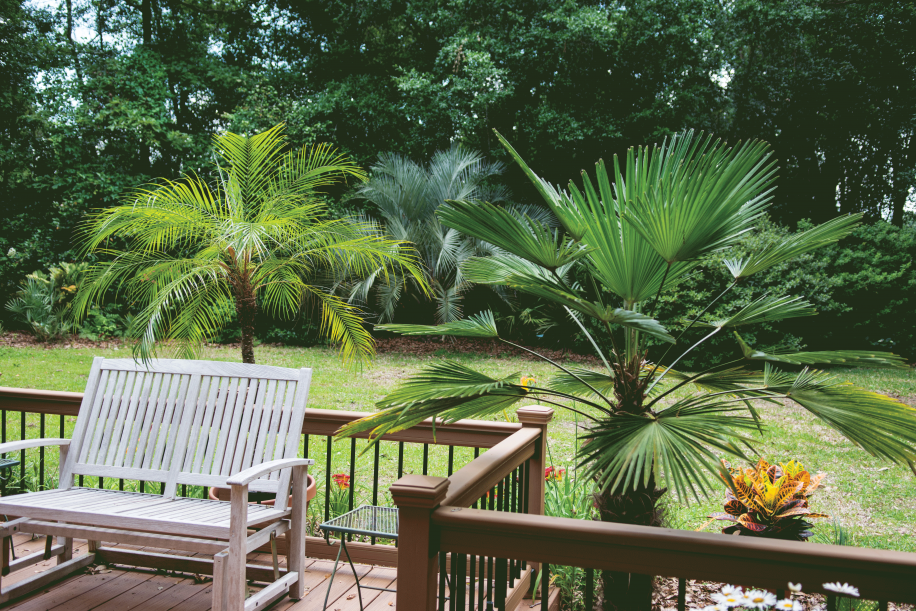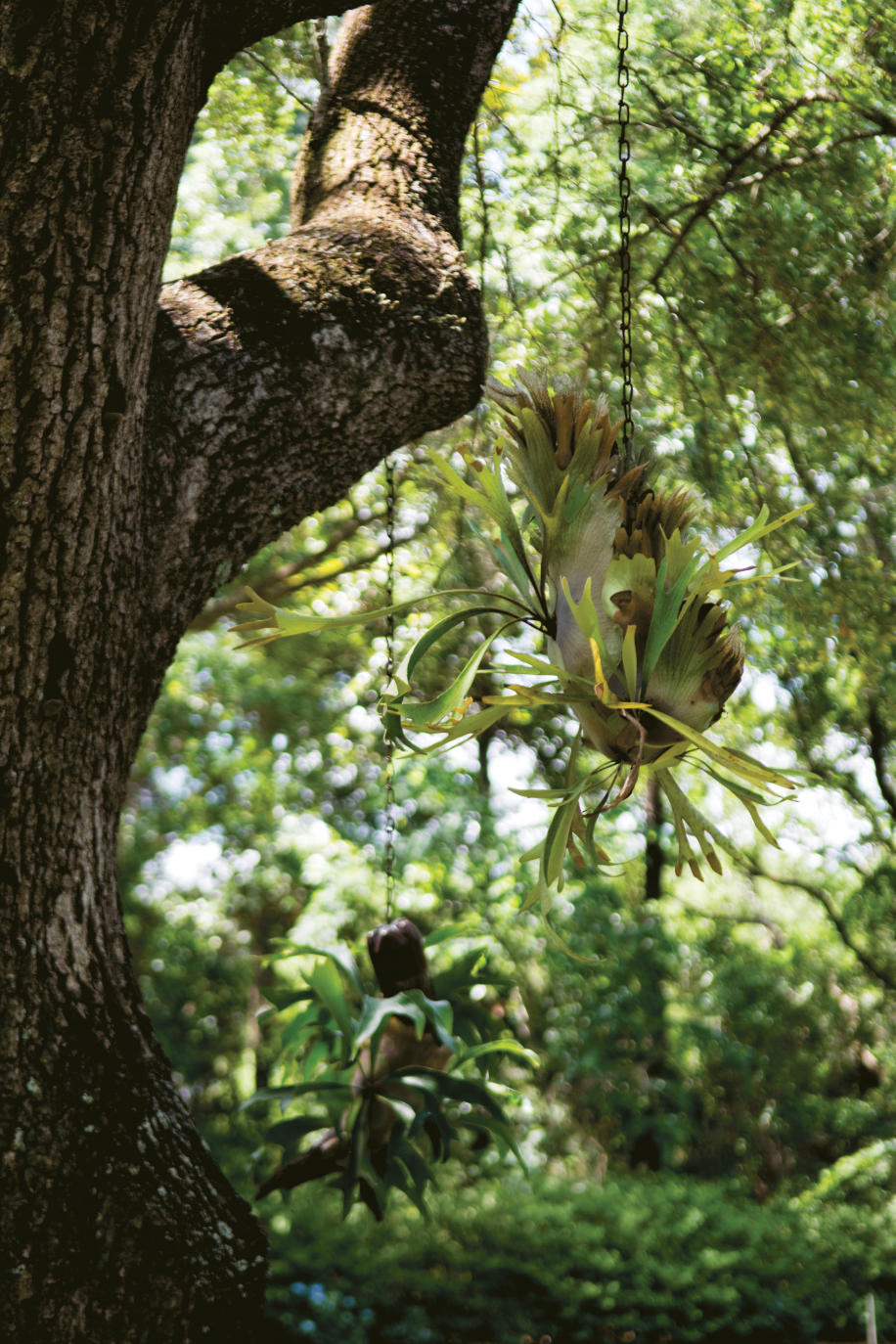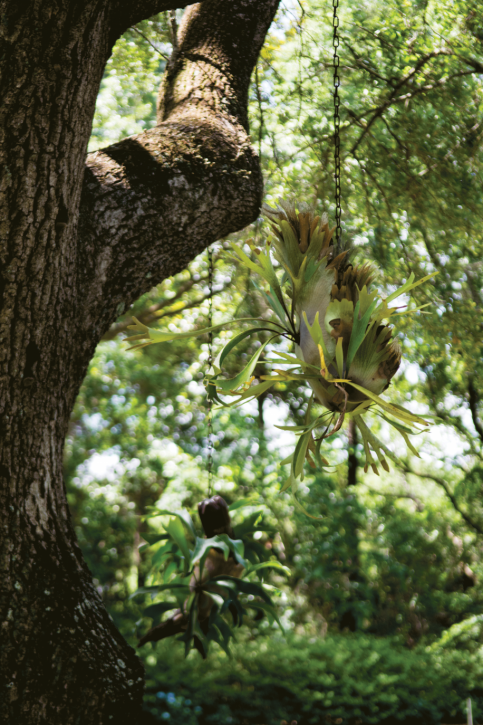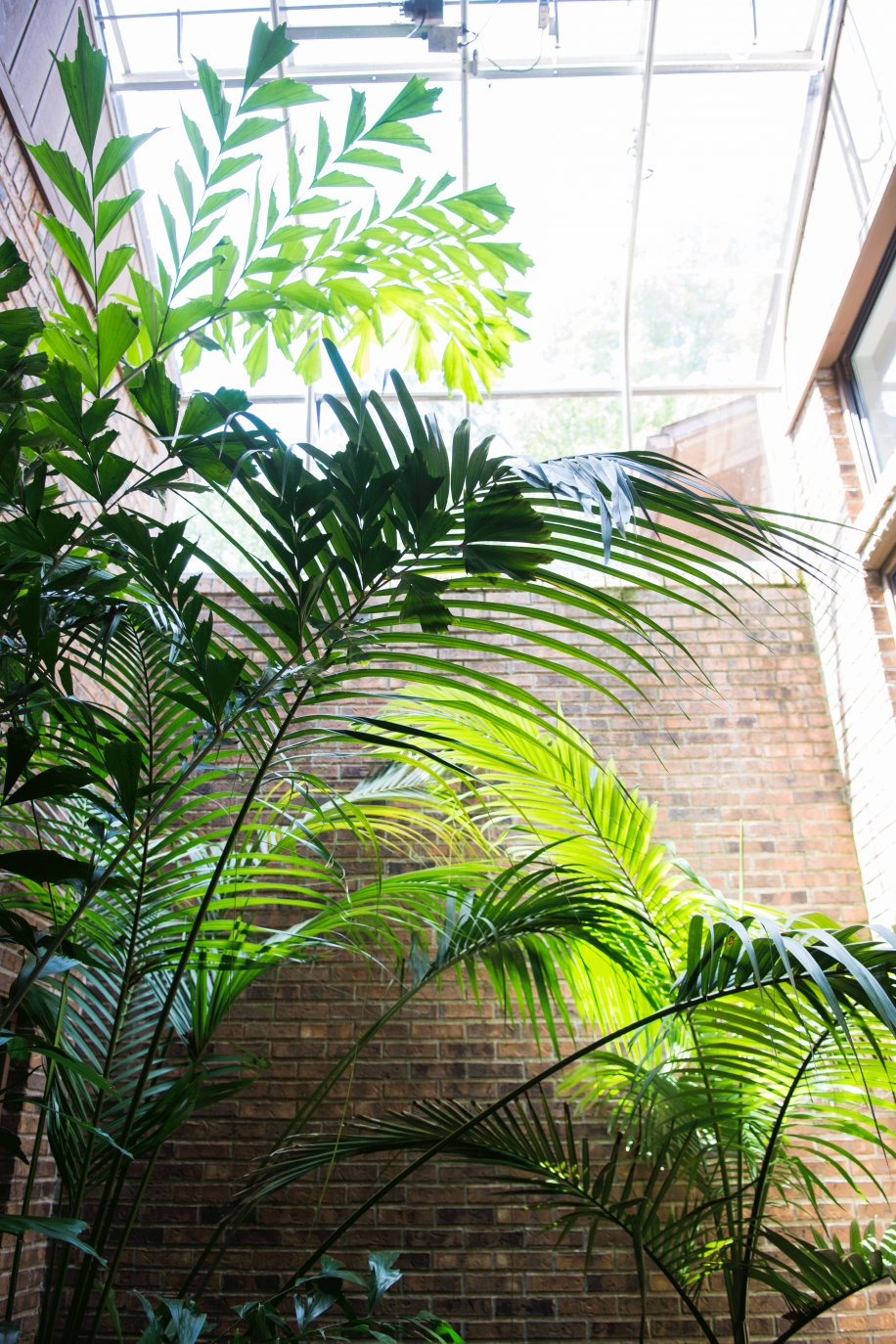 Garden 7
Dr. Cliff Owens
Cantonment
Garden 7 is a magical treat of a greenhouse focusing on a stunning collection of hundreds of cacti and succulents. The beautifully hand constructed greenhouse is a surprisingly serene space that holds a variety of specimens in terra cotta clay pots set in clean rows and roughly arranged by species. The Owens collected cacti and succulent species for nearly 50 years. Each species has a unique story and the protective characteristics of each type are fascinating. Many of the impressive saguaro cacti stand over six feet tall and they were all grown from seeds by the Owens 50 years ago. Interesting, these saguaro are all unbranched because branching does not happen in the saguaros until they are roughly 100 years old. This superb collection of clustering, globular, columnar, and segmented cacti is truly a magnificent sight to behold.