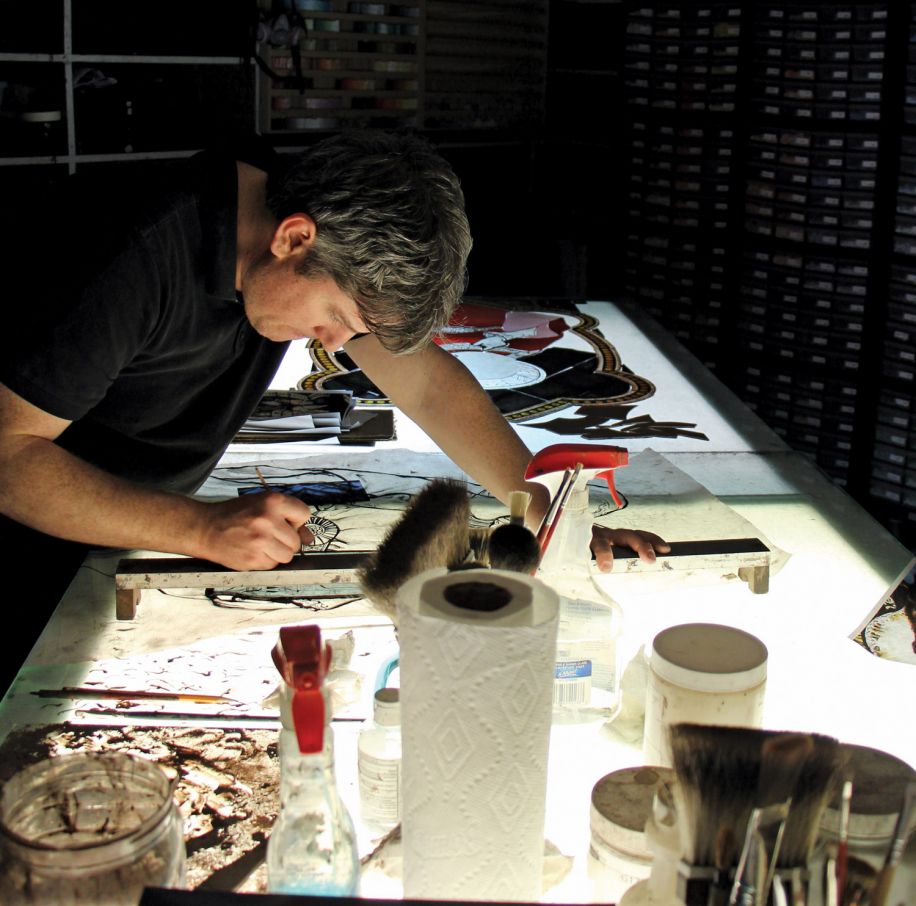 If eyes are windows to the soul, then it's no stretch to say windows can offer a glimpse into the soul or history of a structure. This is especially true of the new and restored stained glass windows at St. Michael's, completed by the Emil Frei Firm of St. Louis in spring 2016. The firm was responsible for designing and producing the original set of church windows and, although Emil Frei was the original artist, St. Michael's was able to enlist the help of John Wheadon—an artist and craftsman who has worked with the firm in one form or another since 2000. Although Wheadon began with very little experience in stained glass, he learned both craft and design aspects by shadowing artists in the studio who came before him, and today he is responsible for the creation of wonderful pieces like the beautiful stained-glass work at St. Michael's.
Tell us about yourself.
I am a St. Louis native who discovered Emil Frei Stained Glass of St. Louis in 2000 while pursuing a degree in Fine Arts at the University of Dallas. I have done less fabricating of the stained glass windows in recent years, but I spent a lot of time working on the craft side of things in my earlier years. That experience was incredibly valuable. As an artist, it is important to understand the possibilities and limitations of a material in order to become a good designer.
How does working with stained glass compare to other mediums for painting?
Stained glass is colored when it is made; long before I ever add a brush full of paint to it.  The painting I do appears very dark because it mostly obscures areas of the glass and prevents light and color from passing through. It can be challenging at times to paint on stained glass because the paint does not absorb into the glass as it does in paper or canvas.  If I accidentally touch a face or a hand that I am painting I might wipe away hours of work. On the other hand, after the paint is kiln fired there is nothing I can do to remove it. So there isn't a lot of room for mistakes. All that said, this same property has its advantages. Unlike paintings in other mediums, I can create marks by intentionally brushing away paint. So painting on glass is both additive and reductive.
What type of windows did you use for St. Michael's and why?
We decided to make leaded glass windows for our new designs because we wanted the new windows to be in agreement with the original leaded glass windows and the church architecture. The parish is very proud of St. Michael's history and we did not think it was appropriate to inject an entirely new material aesthetic.
How many windows did you restore at St. Michael's in Pensacola, and how did you work to maintain the integrity of the original design?
All of the existing stained glass windows received some degree of restoration (31 windows of different shapes and sizes). We are able to maintain the integrity of the original design when restoring stained glass because we are using the same material and techniques as were used when these windows were made. When replacing broken pieces from the original hand painted windows, highly skilled artists in our studio will hand paint new pieces in the exact same manner. When repairing broken lead joints we solder them back together in same way.  We can even tarnish new work to make it look as though no corrections were ever made. It was important to maintain the style and painting techniques of the original windows when fabricating the new windows as well, so that the new windows felt like they could have always been there.
What new stained glass work did you complete for St. Michael's and what stories do they tell?
We made six windows in the tower, two windows in the sacristy, and one in the stairwell up to the choir loft. Each tower window displays a crest from local, regional, or universal church leadership. If you study the windows for a moment you may notice that the design is an abstraction of a boat floating on water. The crest in the middle completes the image that recalls the words of Christ to the Apostles Peter and Andrew that he will make them "fishers of men." The sacristy windows both depict symbols of faith and hope in the church, the Ark and an Anchor. The stairwell window was designed in the same manner as the original choir loft windows. It depicts an image of St. Cecilia, a patron saint of music.