Written by Kelly Oden, photos by Guy Stevens
Tin cans, canned hams, travel trailers, campers, glampers, caravans—whatever you call them, there's no denying that vintage campers, like many vintage cars, have an unbeatable style that modern manufacturers simply cannot replicate. The curved lines, functional and gorgeous interiors, and large picture windows remind us of simpler times when a family vacation meant driving through America, visiting National Parks and spending time together in nature. These iconic pieces of American history started appearing in the U.S. almost as soon as the automobile became available. They grew in popularity and by the 1950s, there were dozens of manufacturers selling a variety of styles—often at affordable prices. Although contemporary RVs offer more creature comforts and high tech options, modern outdoor enthusiasts often choose vintage campers for their style, comfort and affordability. Many vintage models offer full kitchens and bathrooms while others offer simple, stylish sleeping quarters. Pensacola Magazine spoke with a few local vintage camper owners and enthusiasts to get a glimpse into the vintage camper lifestyle.
1972 Airstream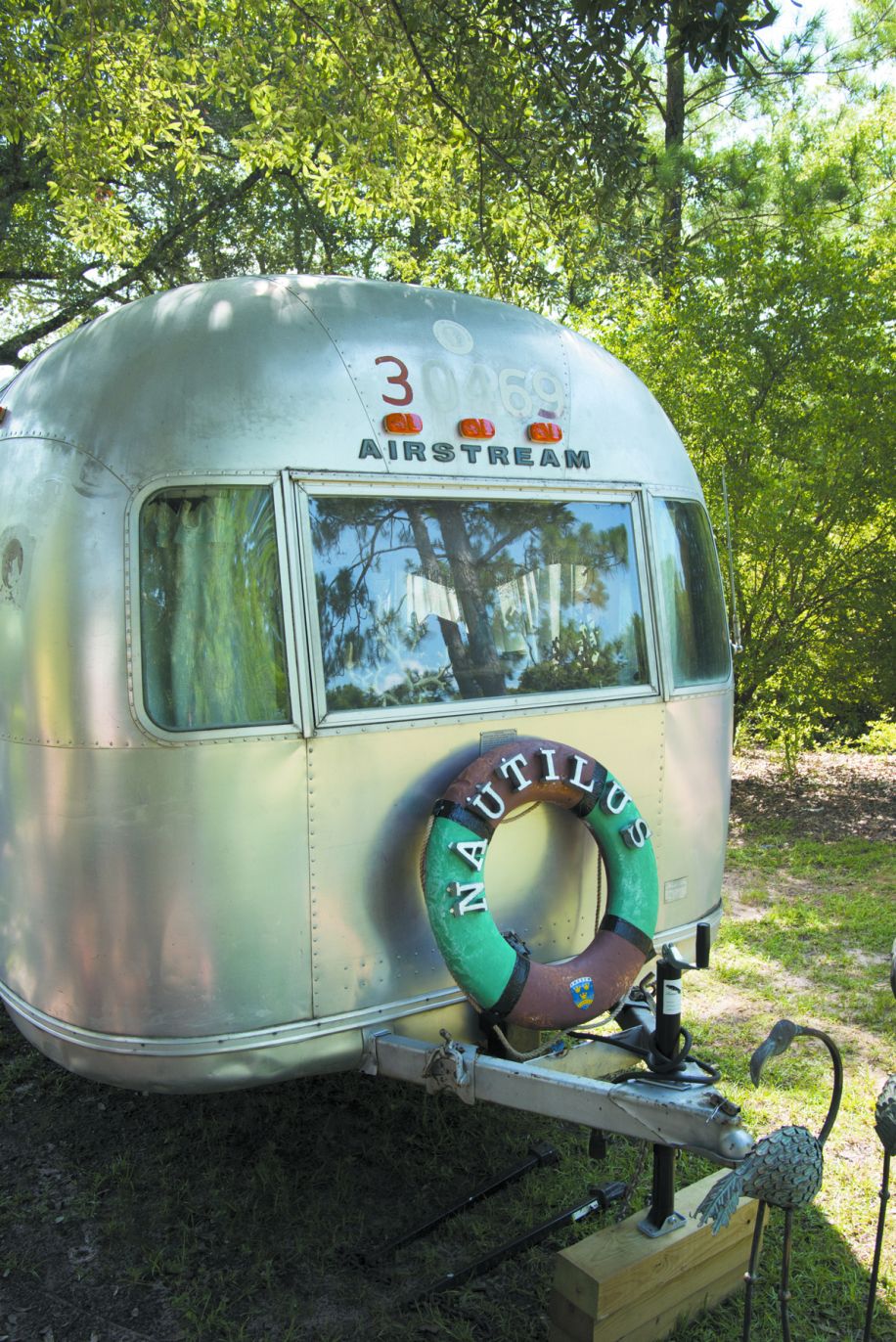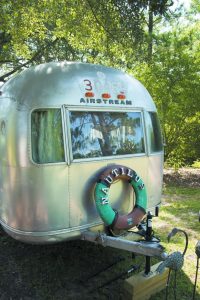 Jen Ehrhardt's 28-foot long 1972 Airstream International Ambassador has been a seven year labor of love. After being told the camper was too far gone and would need $20,000 dollars in professional repairs, Jen decided to tackle the project herself. "I simply was not ready to give up on the dream of going on the road with my very own Airstream," says Jen. "It was a do-or-she-will-die, shell-on restoration. For an entire year, I spent nearly every weekend working on the renovation and most weeknights working on various decoration projects. It was all-consuming, heads-up, hands-on, heart-in labor and often overwhelming as it pushed me to use materials and tools I had never even known to exist before."
Named in homage to UWF's chambered nautilus and Captain Nemo's submarine, Nautilus Patina is decorated in a Victorian mermaid theme. The décor also pays tribute to Jen's Swedish heritage as well as her love of steampunk. The Nautilus sleeps five and features a roof A/C with heater, two single-plate convection stove tops, a residential refrigerator, a dryflush toilet, and running water in the kitchen and bathroom sinks.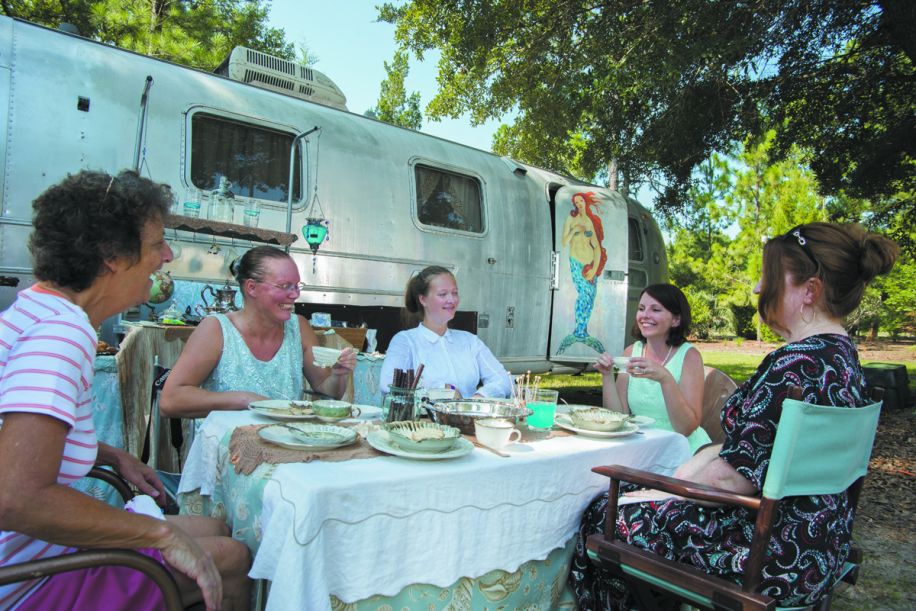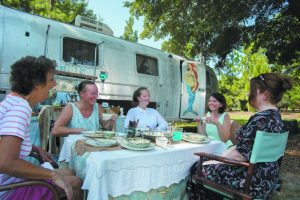 Jen's favorite local camping site is Big Lagoon State Park, which she calls heaven on earth in the form of authentic Florida nature. "The rustling of sand pine trees in the salty breeze over saw palmettos and prickly pear framing blue waves and crystal white sand makes me happy," she says. "I raised my daughter here. I exercise here. I teach summer camp and continuing education classes here to share it with other people. In fact, I love it so much I bought property across the street to use as headquarters for future trips. This is where I choose to live. Go explore it," she said.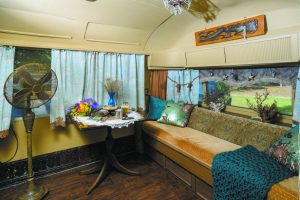 "One of the most exciting things about having Nautilus is being able to participate in open house events during which several glampers are staged to look their best for the enjoyment of the public. For example, my daughter and I love decorating Nautilus for Christmas and serving Swedish mulled wine and gingerbread cookies at the Tin Can Tourist rally at Three Rivers State Park," she said.
Jen—along with her mother, her daughter, and a friend— recently drove Nautilus on an epic adventure to the Grand Canyon. "I have always known that my mother wanted to go to the Grand Canyon," she says. "As soon as I purchased my Suburban for towing, I knew I could take her there. Two years later, all three of us went on the Grand Grop Expedition 2017 (Grop means hole) together."
1978 Apache Mesa Hard Top
Nancy Wiliams purchased her 1978 Apache Mesa hard sided pop-up because it's light enough to tow with her Toyota Highlander. Williams painted the exterior, recovered the cushions, and made new cabinet doors out of old shutters. Future renovations will include wood flooring and new countertops. The stove and sink are original porcelain enamel over metal. There is no restroom, but Williams uses a two room shower tent that has a solar heated water tank with a shower head on one side and a portable handicap toilet on the other. She added a refrigerator a window unit AC, which sits behind the right shuttered door.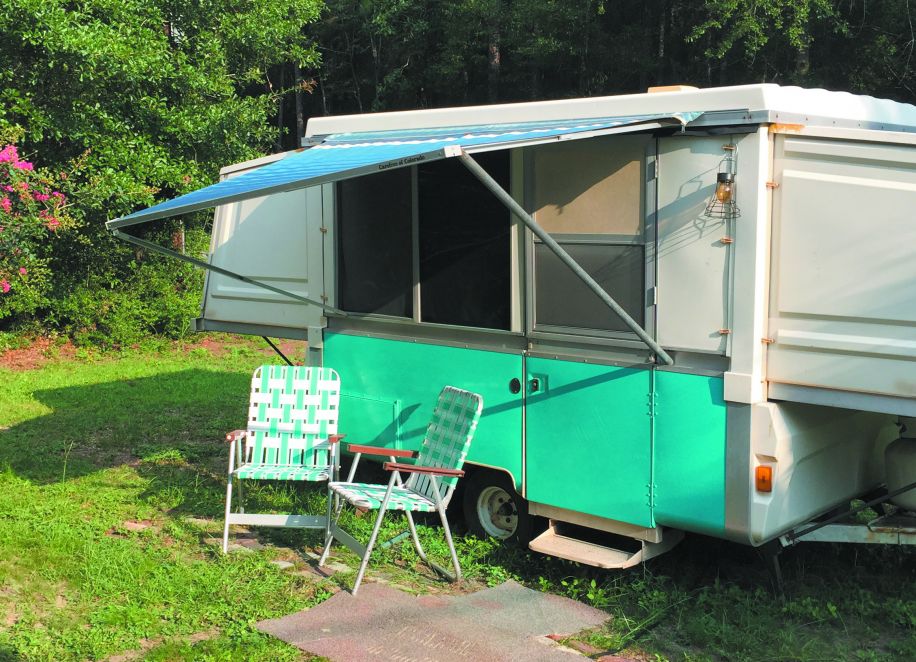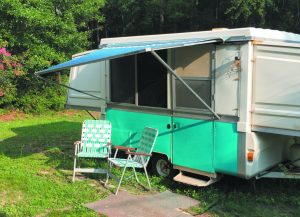 The awning is repurposed from an older camper and she refinished the old aluminum webbed chairs to match the color of the camper. "I love vintage items and I tried to keep the camper decor looking vintage," Williams says. She plans to use the camper as guest quarters and as a sleepover space for her son. Williams is Native American and a member of the Santa Rosa Creek Indian Tribe. She has named the camper 'Idie' in honor of her heritage, saying "Her name is Indie since I'm Creek Indian and she is an Apache."
1957 Coachman Cadet and 1959 Yellowstone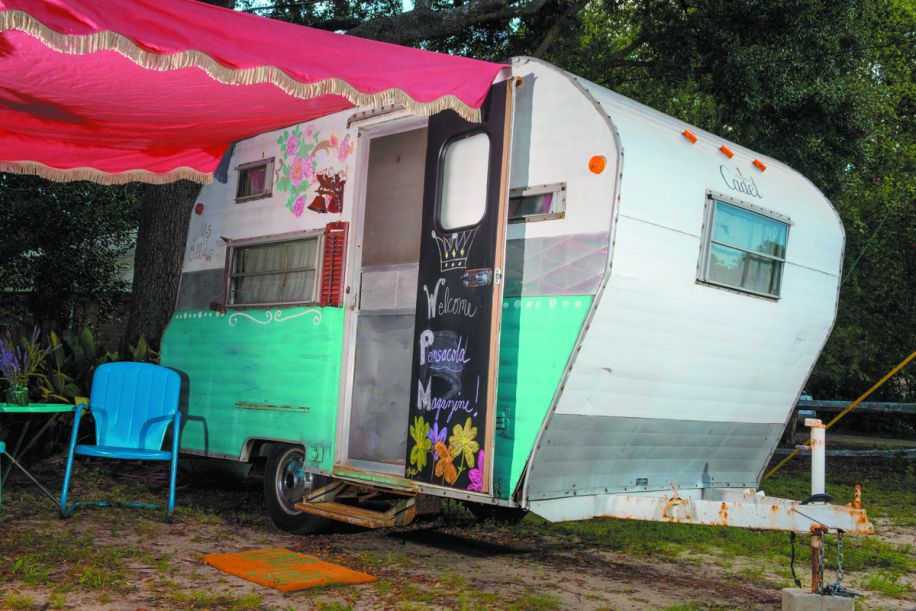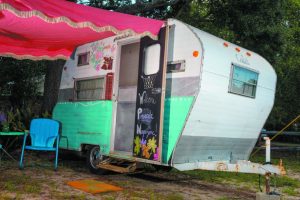 Dawn Bybee bought her first camper, Miss Ollie, seven years ago. The 1957 Coachman Cadet is 12 feet long and weighs 1500 pounds.
"She didn't need a lot. She was already done. It was just cosmetic. I came home and I put a vintage couch in her," says Bybee. "I had a vintage couch that somebody gave me so, we took out the middle 14 inches, we re-bolted in together and my mom and I reupholstered it. That was kind of the cool thing with that camper for a long time."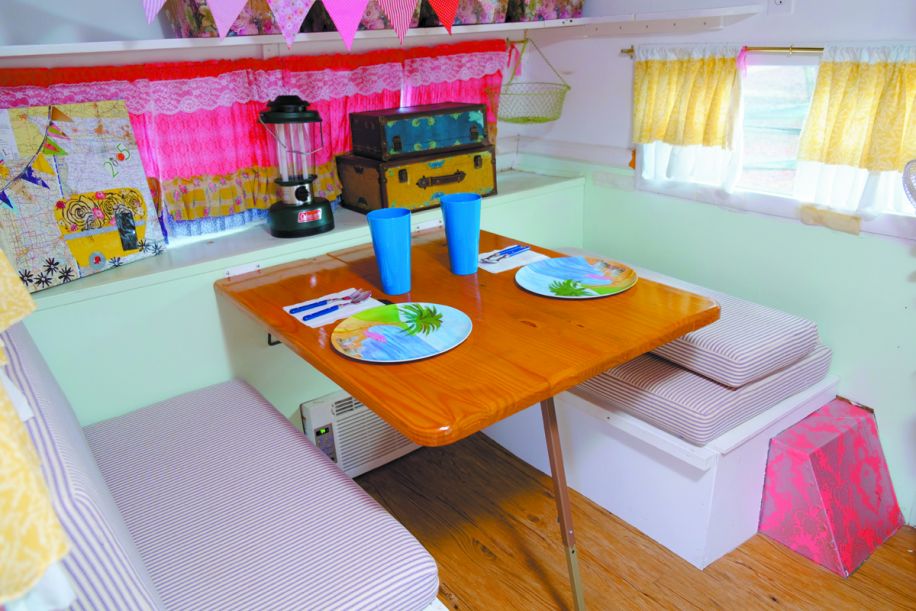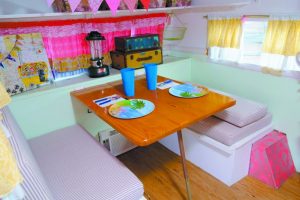 Bybee is a member of a women's camper group called Sisters on the Fly and she often takes Miss Ollie to those gatherings. "As you can see, she's very decorative and girly and fun," says Bybee. "But there was a lot of pink in that camper, so that's why I bought the 59 Yellowstone so that we'd have a little bit more Birchwood and my husband wasn't always sleeping in so much pink."
Bybee and her husband Toby bought their 1959 Yellowstone about five years ago. The Yellowstone weighs 5,000 pounds and still has the original refrigerator, the original stove, plumbing, electrical, and sewage. The original birch panel interior is in great shape, a rarity in the vintage camper world. The Bybees also added solar panels before embarking on an epic road trip.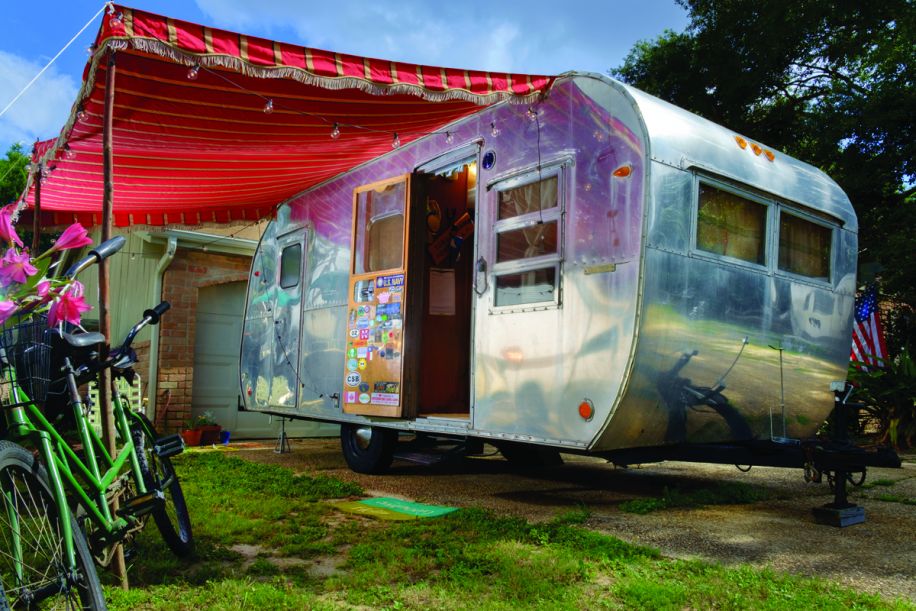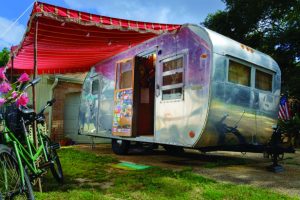 The couple, both emergency room nurses, quit their jobs in 2013 and toured the country in the Yellowstone. "We downloaded a free app on our phones so we were able to see where free camping was," Bybee recalls. "We did that a lot of places. Very rarely did we stay in parks. We lived in the camper for 10 months. We went through the middle part of the United States. We started in Gadsden, Alabama, then to Tennessee, Ohio – we had a family reunion in Ohio in 2013 – we went over to Philadelphia. I broke my ankle one month into our trip in Hillsborough, New Jersey so I had surgery there and we decided to stay on the trip. So we went through recycle.org and got a free wheelchair from somebody and he pushed me all around Boston, Niagara Falls and Cape Cod so we could stay on the trip."
As for her favorite local camping spots, Bybee loves Fort Pickens. "I think you get a good bang for the buck. You have the south side and the gulf side. The bathrooms are always decent to use and they have cleanouts when you leave. You do have to book for certain times. They book 11 months out," she said.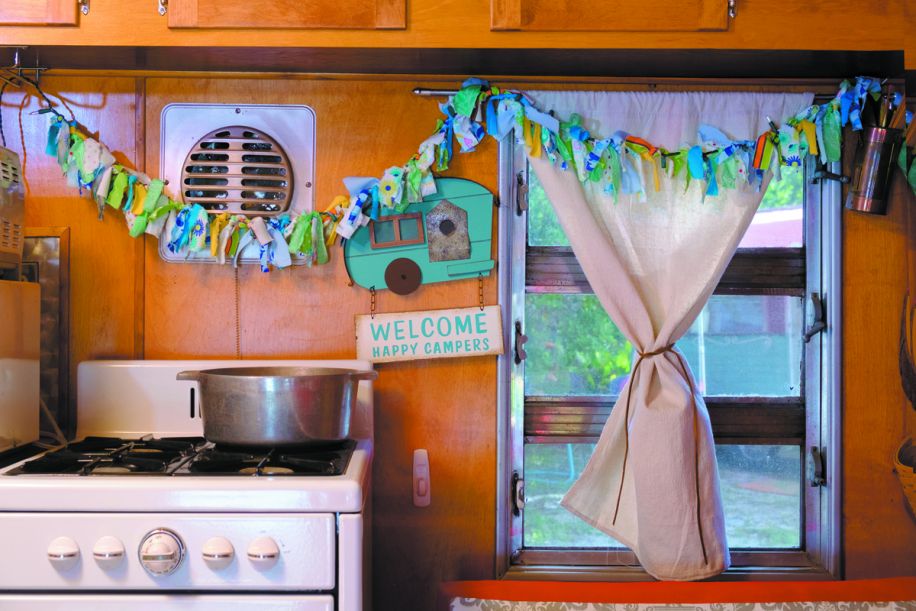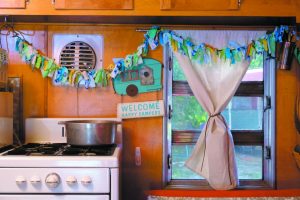 "I believe in living life and getting out there and trying to do it all. I'm very fortunate that at 43, I traveled around the country for 10 months. I feel very fortunate to do that. I think that if you're an old soul and you feel it, vintage kind of talks to you. Go with your natural instinct and decorate your camper as you like, but use it! Don't let it just sit for no one to enjoy. Share it with your children or your friends."
1990 Jayco 1006 Deluxe
When Toni and Tom Daly purchased their 1990 Jayco 1006 Deluxe in August of 2015, it needed a good deal of work. The couple laid a vinyl 'wood plank' floor directly over the existing laminate, painted the exterior frame as well as the interior cabinets, and eventually replaced the canvas.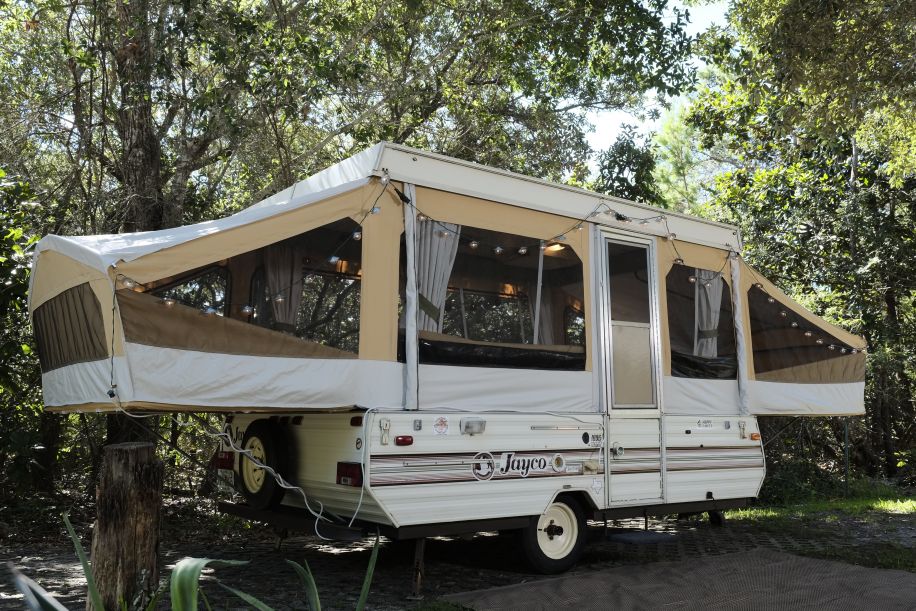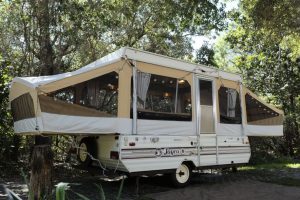 In terms of décor, Toni chose her color pallet based on the exterior stripe on the camper. She picked the dinette fabric first and designed the rest around that. Toni's mother did all the sewing and Toni painted the cabinets a green just a shade lighter than the accent fabric. She chose bed sheets in a red print as an accent for the bedding and her mother made duvet covers. The camper didn't come with an awning so the couple purchased one.
The Daly's comfortably sleep their family of 4 and 1 pup, but are able to sleep six when using the dinette as a bed. Although mattresses are very comfortable, Toni says the camper is pretty bare bones. It did come with a good AC, which she says is a must in Florida. There is no refrigerator, hot water, heater, shower, or even toilet. The family tucks a porta potty in a cabinet for night time.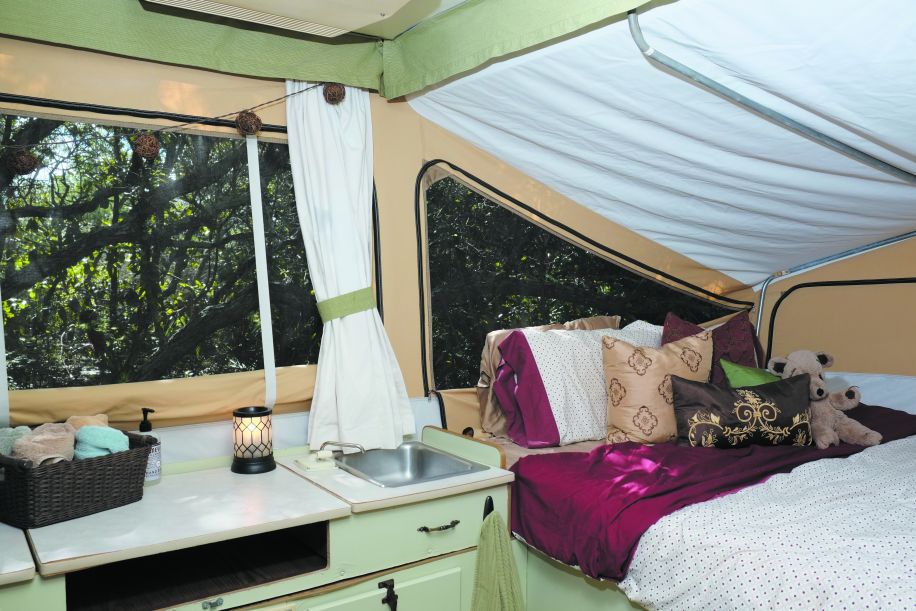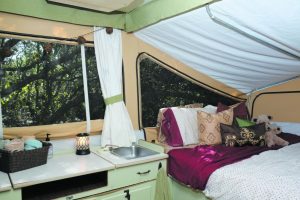 Toni got creative with the small space by sticking a vinyl chess board film on the dinette table so the family can play chess or checkers. She also covered the door and ice box (which she uses as a linen closet) with a chalkboard vinyl. The Daly's like to decorate the door on every trip and take a group picture. Toni keeps the camper fully stocked except food and clothes and even keeps the beds made so they are ready to go with minimal prep work.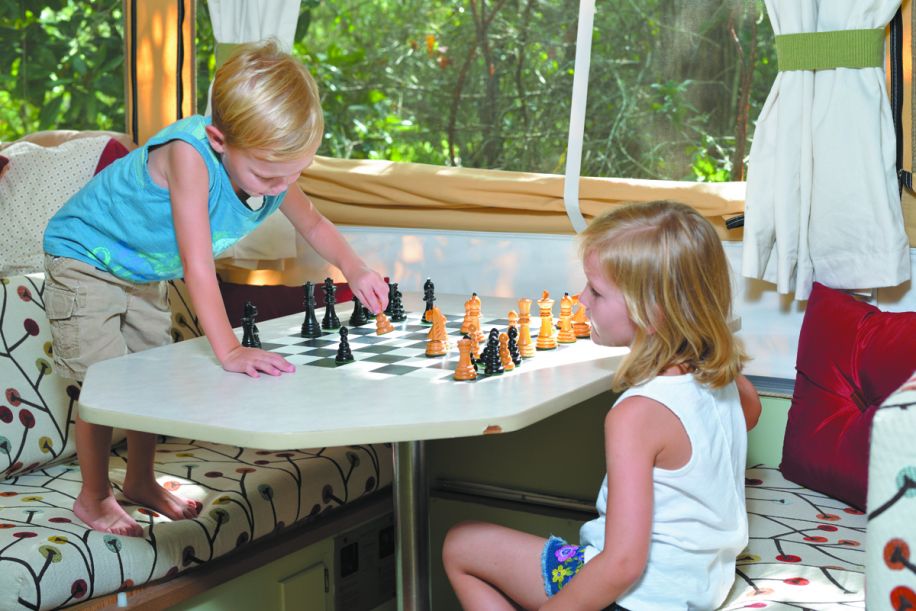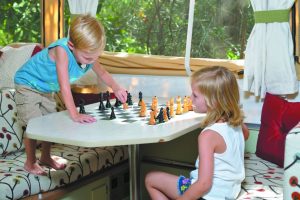 "We have always been tent campers and the pop up still gives you the feel of a tent, but with amenities of a travel trailer. It is so much easier than tent camping, though. There is no need to load all our gear every time we camp because it is already loaded. We just pack food and clothes, hook up and go! We camp now more than we ever did with a tent," she says. The Daly's love Big Lagoon State Park because there is so much to do (especially for the kids); Fort Pickens National Park because it's beautiful Pensacola Beach; and Blackwater River State Park because it is small, has great facilities, and they love the river.