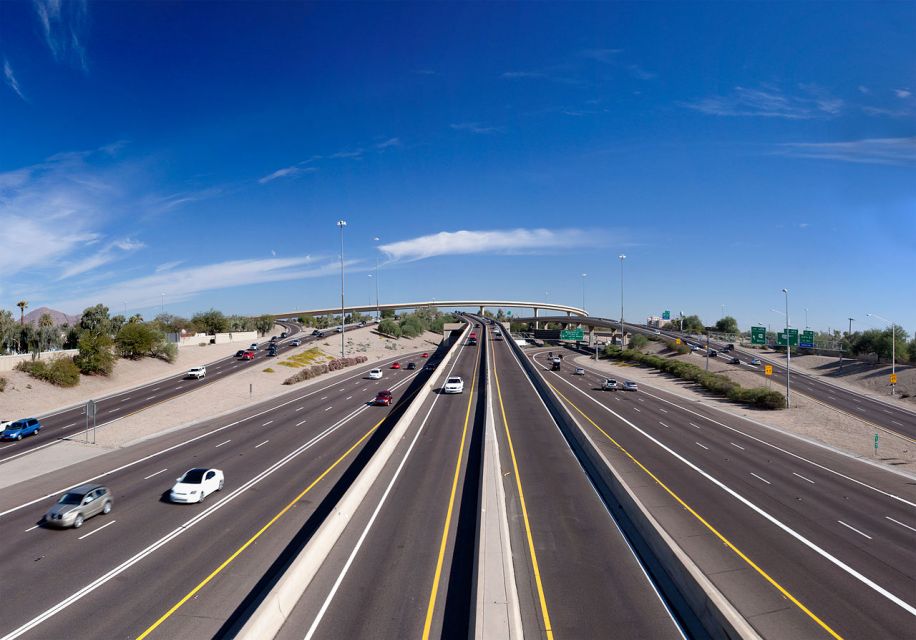 Northwest Florida's state highway system is comprised of the arteries that connect our economic hubs, our centers for distribution, our regulatory agencies, and the end users—us and our neighbors. Just like utilities, food or any of the other necessary things in American life that we often take for granted, our highway system has behind it a vast network of engineers, planning professionals, money, and agencies that all work in tandem, knowing that their work is most successful when it is not even noticed.
Throughout Escambia, Santa Rosa and Okaloosa counties, there are almost 200 state highway construction projects planned or ongoing, some of which are minor like the addition of a turn lane, and others of which are major, such as the Pensacola Bay Bridge replacement. Through every project from repaving to the construction of new facilities, a huge number of organizations and people work together to maximize funds, minimize negative impact, alleviate traffic, and expedite completion.
Perhaps because of its name, many assume that the state highway system only includes, well, highways. But while many state roads are the traditional long stretches of asphalt with little traffic regulation, many of the streets we use everyday are also part of the system. Ownership of road is based on right of way and who owns the property on the road. While Florida is not a majority-share highway system state, according to FDOT Urban Planning Manager Bryant Paulk, the system does probably handle more than half of the average annual daily traffic count (AADT). That is a big part of how funding is allocated and usage is measured: not by the length of the road, but by its average annual usage.
While the Florida Department of Transportation (FDOT) handles funding, planning, studies, and contracting out the construction for nearly all state highway projects, no matter how minor or major, the agency relies on information from local bureaus like the Florida-Alabama Transportation Planning Organization (TPO). There are various TPOs throughout the state, all of whom conduct surveys and cost feasibility studies  in order to plan for the future transportation needs of the region in a collaborative manner that is beneficial to all residents and visitors.
All five commissioners and Escambia and Santa Rosa counties sit on their local TPO board. Santa Rosa County Commissioner Jayer Williamson, who currently chairs the Florida-Alabama TPO, sees transportation—and local transportation planning—as vital to the state economy and overall welfare of the community.
"Our interstate corridor is vital to commerce, and all the roads that shoot off of that and lead to our businesses are important for sustainability into the future and for one-time usage for visitors from the west," said Williamson. "We want to make sure we have projects that serve the needs of our constituents, but also the region. That road does not stop at the county line. It continues on to help other people in other counties."
The public echoes these sentiments. In the most recent survey conducted by the Florida-Alabama TPO, 72 percent of respondents said that transportation issues are "very important" to them and their family. Unfortunately, 65 percent said they do not have enough transportation choices. Most report traffic congestion, pedestrian safety, and the construction of new roads to be the three primary issues on which money should be spent.
TPOs across the state conduct surveys like these to gauge the opinion of those who most often use our state highway system for work, leisure, errands and general transportation. Using that data, combined with general maintenance requirements and feasibility, the TPO puts together a long-range plan for submittal to the FDOT. The most recent long-range plan goes through 2040 and foresees about $2.4 billion in transportation needs throughout the region.
"We put together what is essentially a wish list based on our data, knowing that not all of it is cost feasible right now and that most of it will be subject to further studies," said Mary Robinson, transportation director for the West Florida Regional Planning Council.
In fact, the TPO only forecasts about $431 million in estimated revenue for the projects on its wish list, most of which comes from gas taxes. Therefore, it is up to the FDOT to put together a five-year plan, county by county, to invest in and pay for.
"So it goes from a very general 25-year planning outlook to a five-year implementation outlook," said Robinson. "The FDOT really has to look at what's going on in the current fiscal year and the short-term future."
First, the FDOT conducts Project Development and Environment (PD&E) studies to meet the requirements of the National Environmental Policy Act, but, also to study construction impacts on businesses and communities near the construction site. The study will help them determine the exact location and conceptual design of feasible build alternatives for roadway improvements. All along, a no-build alternative, which essentially projects what would happen if the facility remains in its current state, remains a viable alternative. The PD&E study is expensive, often costing a million or more dollars, and is only complete when the FDOT accepts the considerations and proposals.
"The department does its best during this phase to minimize negative impact and balance all aspects of the project to make it the best it can be for the larger highway system and all communities and businesses involved," said Paulk.
If the FDOT selects the "build" alternative, the project moves on to the design phase, during which the department works with traffic engineers and contractors to prepare detailed, time-effective construction plans.
After the plans are set, the department sets out to acquire the right-of-way for new construction. This phase is critical to regional buy-in and goodwill toward the project. If the new facility is scheduled to rollout over a portion of an existing business' parking lot, for example, the department will not only pay for that land but will estimate the lost income to that business as a result and pay damages in that amount.
Last but certainly not least, construction begins only after all of the aforementioned has taken place. The department advertises the bid, vets responses, and oftentimes tacks on a timeline incentive for early completion.
"We try to spread out our projects and bids, because there's only a certain number of contractors and we have to work with them and their schedules to make sure they align with our timelines," said Paulk.
But what happens when a new construction project drags on for much longer than anyone anticipated or any business wanted? That happened with the still-ongoing Avalon Boulevard construction in Santa Rosa County. The six-year, $40 million undertaking that stretches five miles from I-10 to US 90. The endeavor included facility widening, sidewalk additions and the construction of a service road, and it has been blamed for the closure of small businesses, a golf resort and lots of congestion-related headaches.
Originally expected to complete by winter 2014, the project hit a couple snags that should have probably been caught in the PD&E and planning phases, such as questionable soil condition, confliction with power lines, a high water table and roadway base failure. Parts of the project had to be redesigned on the fly to deal with the new challenges, and Paulk admitted that the FDOT may have been a bit eager to use funding on the project.
"We had a lot in the pipeline at that time," said Paulk. "We were so excited for Avalon to improve."
Robinson agreed that when funding is awarded, departments can become over-eager.
Construction mishaps like Avalon highlight the need for patience and prudence in the early stages of transportation planning. While long-lasting projects are a frequent complaint of travelers and a stereotype of the industry, it is important to remember all the roadways we travel everyday were built and maintained without even our slightest notice.
"You have to plan your work and work your plan," said Williamson. "Transportation constantly teaches us that."
After the new project is complete, it is subject to ongoing need-based resurfacing, which falls outside of the TPO's recommendation purview. The FDOT handles other maintenance needs, as well, based on necessity like bridge repair and replacement.
Some projects that will reach the construction phase in the next few years in Escambia County include replacement of the Pritchett Mill Bridge ($1 million), Penasula Creek Bridge ($1.2 million), Boggy Creek Bridge ($3.2 million), and Pine Barren Creek Bridge ($4.34 million). Also important to Escambia County is the ferry boat landing at Quietwater Beach, expected to start in either late 2016 or early 2017 and cost $862,000.
Most upcoming Santa Rosa and Okaloosa County construction projects are road resurfacing and school area sidewalk construction.
Some exciting projects included on the TPO's adopted cost feasible plan are:
Widen Nine Mile Road to four lanes from Mobile Highway to Beulah Road (construction cost: $11.3 million)
Widen US 98 to six lanes from Bayshore Drive to Portside Drive (construction cost: $22.4 million)
New bus route and service to Navy Federal via I-110 and US 90 from Pensacola and Milton, respectively (combined construction cost: $10.8 million)
Major intersection improvement at I-10 and US 29 (construction cost: $77.76 million)
Widen I-10 to six lanes from Nine Mile Road interchange to US 29 (construction cost: $38.7 million)
The most notable yet unfunded project is an improvement to the 17th Avenue/Bayfront Parkway intersection. The concept's PD&E is scheduled, and $5.2 million for design and $6 million for right-of-way acquisition has been funded, yet the endeavor boasts $40.3 million shortage in construction funding.
It is not unusual for projects to only proceed as funding allows. In fact, 25 projects on the adopted cost feasible plan have scheduled or completed PD&E and design phases with right-of-way and/or construction funding shortages.
Transportation is a vital part of our larger national economy and is routinely one of the most underfunded aspects of our infrastructure as a country. The system is necessary, however, to our way of life, the way we do business, and the way we get away from it all. It takes a village to keep the state's cars and trucks moving smoothly. A village, and a whole lot of money.