By Hana Frenette
Brightly colored beads. Hand-painted signs. Streets glittering with sequins, feathers and velvet.
Mobile, Ala. becomes a southern carnival as thousands of people gather in the streets to take part in the unique mix of family-friendly parties, rambunctious parades and neighborhood gatherings that make up the traditional Alabama Mardi Gras celebration.
Photographer Warren Thompson has faithfully traveled the 45 miles from Pensacola to Mobile for more than 33 years to document the things he sees on those colorful Alabama streets. He's captured it all—the diversity of the crowds, the excitement of the children, the coins and cups soaring from floats to crowds. His 30-year collection of black and white photographs, appropriately titled Moonpies, will be on display at the Pensacola Museum of Art from Jan. 13 to March 18.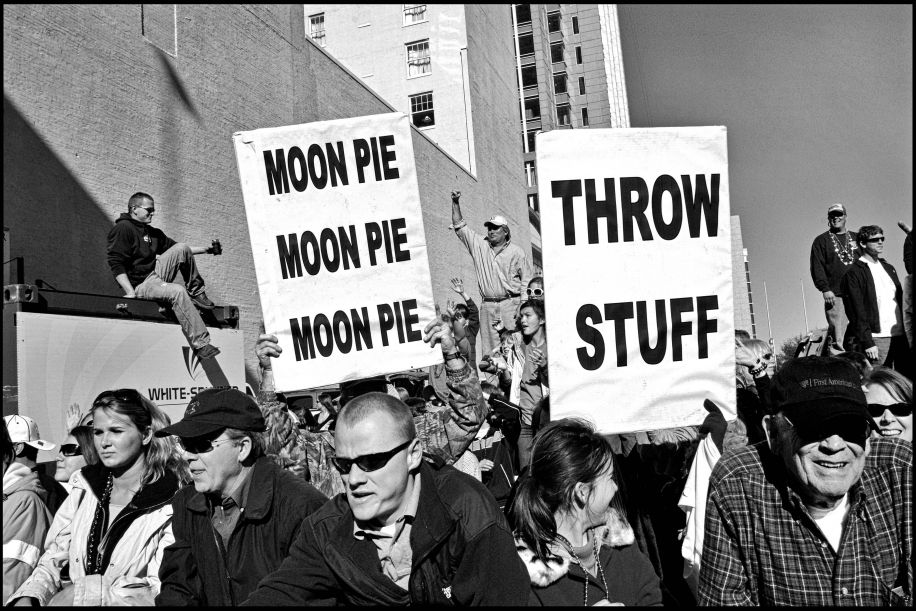 While the Florida native has been a photographer for most of his life, hosted dozens of exhibitions, contributed to magazine articles and been featured on NPR, Thompson originally planned to pursue a career in biology education. Eventually, his curiosity lured him toward a darkroom.
"I had my degree as a biology major and was teaching as a student," Warren said. "I went back to college for one more semester and I got a job in the science lab where they also had a darkroom. I had the keys to the building, and a guy told me how to mix the chemicals, and from then on I just played around with it. "
He returned to Pensacola to teach biology and science at Pensacola State (then Junior) College—but he kept pursuing photography until it became his main focus.
"I still enjoy natural science and all, but the photography just took over," he said.
Thompson went back to school at the Rochester Institute for Technology for a few semesters and then came back to Florida State University, where he earned an MFA in photography. From then on, the deal was sealed.
"I taught science for a little while but then when the photography opening became available, I just jumped on it," he said. "I retired after 40 years of teaching at PSC, and I guess about 33 to 34 were teaching photography."
Pensacola State College's photography program is renowned for producing talented and passionate photographers, and according to Thompson, the school has a few advantages many junior colleges don't.
"The art department is really strong and they have commercial division that will give you working skills and employment potential," he noted. "A lot of students can go there and they can get those fine art skills, but they can also get practical art skills that will help them in finding a job."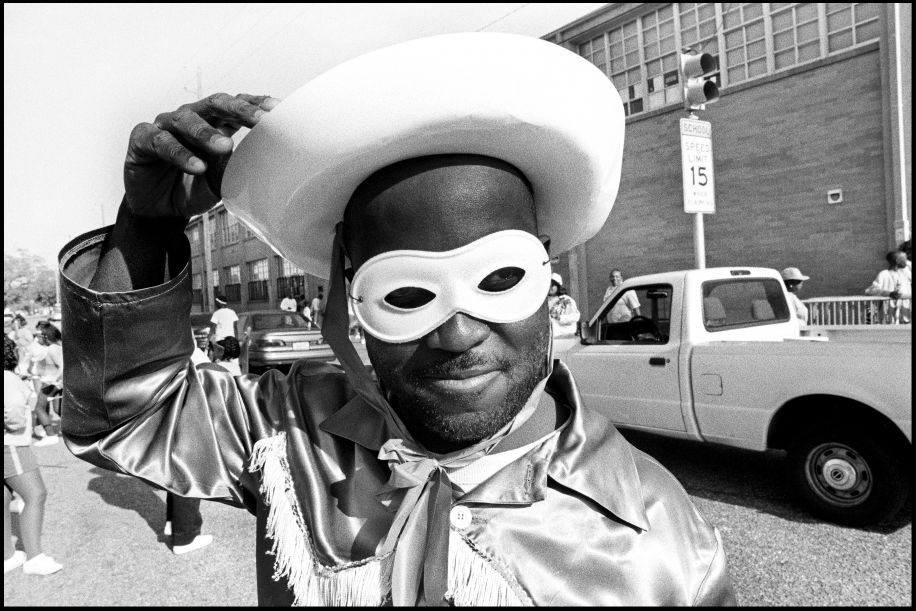 Thompson is largely credited with expanding and growing the PSC photography program. When asked about it, he muses he simply must have been there at the right time.
"I saw the need for the commercial studio class—that was very immediate, because that gave the students a skill they could market, especially with portraits," he said. "And then of course, when digital photography started becoming available, I jumped right on that, and then we also had a photojournalism course."
Thompson really enjoys photojournalism and photo stories, and said that's sort of what Moonpies is—an elongated photo story. He likes to go back every year to watch the evolution of the communities, of the parades, of the costumes, but he also likes to keep an eye out for the constants.
"This one lady and her family bring the same couch every year and they set up in Bienvelle Square and they decorate it," he said. "They get there early so they grab a spot for the whole day on this embroidered couch—and if that doesn't show up I'm real disappointed."
Thompson started going over to Mobile in the late 80s for the colors of the parades, costumes, beads, and the floats. At the time, he was using the kind of color film that has a high contrast and is very vivid—it was called kodachrome and the printing process accented the colors even more.
Thompson began shooting the parades and realized he needed to be closer to the action to capture he idiosyncrasies of the celebration. He worked his way into the parades and walked along with them, shooting from inside the metal barricades and documenting the intimacy of the crowd and float interactions. He shoots from the hip often, using a preset focus and wide-angle lens.
"Luckily I've never been shy, and I've always loved people," he said. "When I went over there for the first time, I thought, I can't stand on the corner­—I can't see anything! So I started walking with the parade. Now­ they didn't really encourage it, but I always act really professional so they just sort of assumed I was working for one of the papers over there or something. "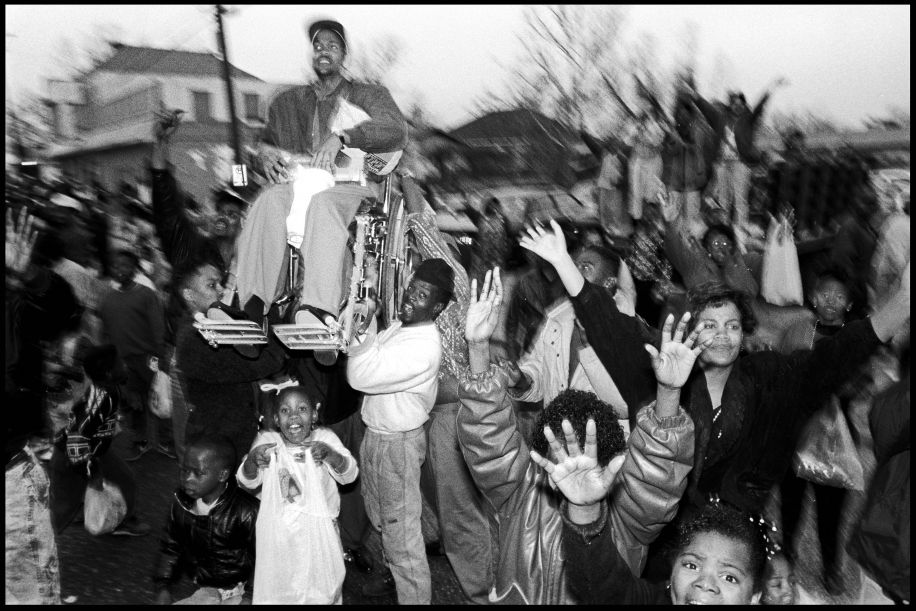 The first picture in the upcoming exhibition was taken in 1992. That was the year Thompson decided to do two major things differently with his Mardi Gras series.
"I wanted to limit the series to black and white only, and I wanted to concentrate more on the people instead of the motions and the color," he said.
Thompson selected several pictures from his first black and white year, and then chose what he refers to as the "highlights" from his 30-year collection up until last year. He's only missed two years of shooting the parade: once when his daughter was born, and a few years ago when he had heart surgery. With an overwhelming amount of photographs to choose from, Thompson tried to select the images he felt were most memorable.
"These are pictures I've looked at for 10 to 20 years, and if you can keep looking at them and you still like them, then they must be ok," he said.
The photos range in subject matter but most focus on real people, in a real and unplanned moment. One photograph features a crowd waiting for the parade to come­—they're holding signs, asking for moonpies, or fancy beads. Others show children in joyous moments as they catch candy or see a beautiful float pass by or a juxtaposed scene of people and floats, interacting and contrasting against the diversity of the other.
Many of the images in the show were shot on black and white Tmaxx film, but a fair amount of the more recent photographs were shot on a digital camera.
"I felt like I was missing so much with film, and the thing about Mardi Gras is that it's constantly changing as you're walking–you see new people and new floats and new background and constant action," Thompson said. "And I just didn't have to worry about that with digital."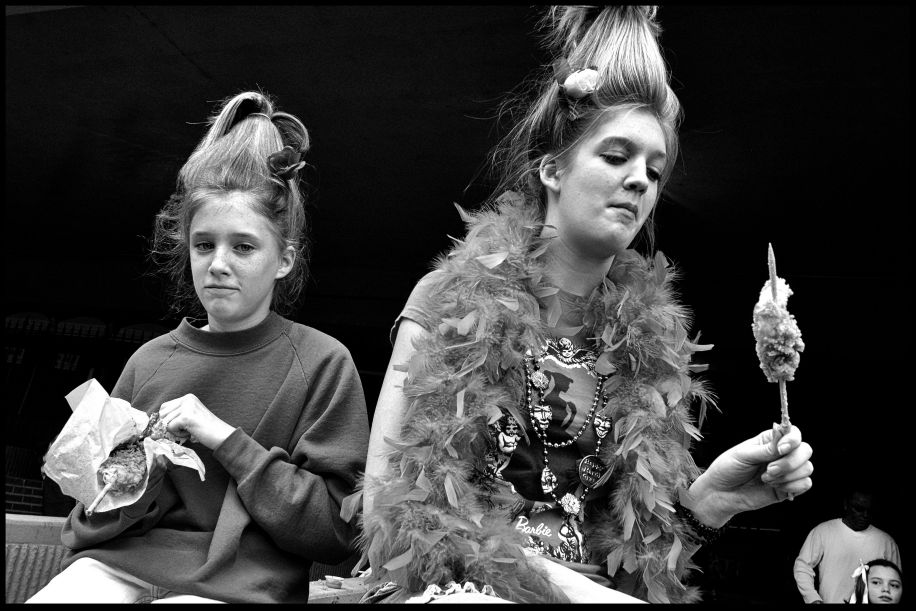 Five years ago, Thompson bought the biggest SD card he could find to accompany his digital camera, and now he is able to shoot for an hour or so without switching the card—quite the change compared to loading and rewinding a roll of film after 36 shots.
He's used Sony and Nikon cameras, but changes each year or so along with the technology.
"I don't have any affection for digital­—I'd still be using the Olympus OM-2 if it wasn't for the speed and convenience of digital," he said.
Film or digital aside, Thompson likes to go out to shoot as often as he can.
He likes to drive through sleepy southern towns, along old highways past abandoned houses, or just through a city he hasn't seen before. Sometimes, just a stop through the flea market is enough time to take a few pictures before heading home for the day.
"I just lost my mom two weeks ago­­, she was 97, but for the last 12 to 15 years of her life, she lived near us, and that was one thing she loved to do—ride shotgun for the photo trips," Thompson said.
Thompson said his family would pile into the car for a trip somewhere across the country­—the Grand Canyon or a national park of some sort­—and he'd stop the car to take pictures every now and then or whenever he saw something he liked. He affectionately noted the family never complained about the stopping, and were very tolerant of his need to take pictures often, even while on the interstate.
While his photography archive continues to grow and evolve with every trip, every Mardi Gras parade, each road side stand he comes across, his work maintains a sense consistency.
"It keeps coming back to what I enjoy and what I think is worth sharing," he said. "Being a teacher and an exhibition photographer, I shoot what I want to shoot. I don't go out and shoot something popular­—my stuff isn't very marketable."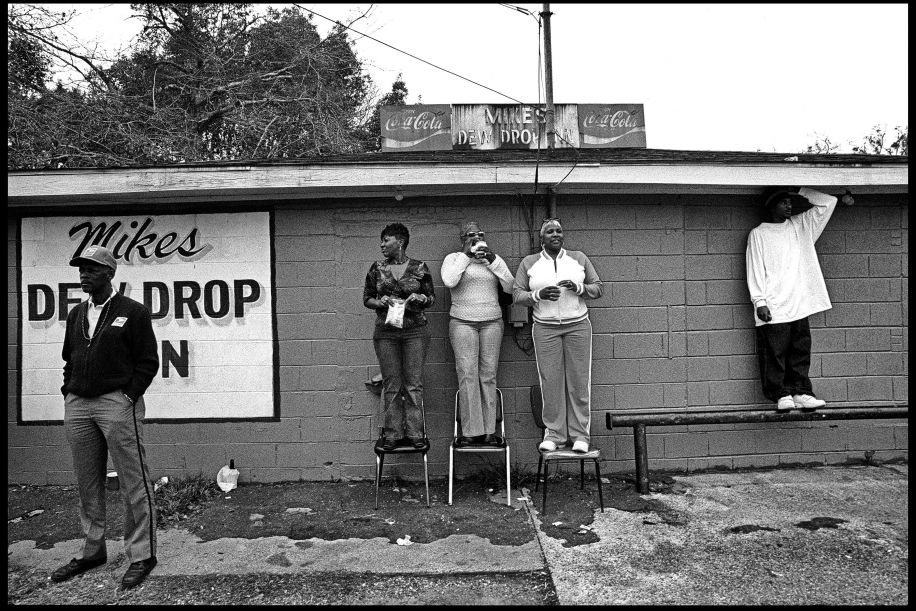 Thompson shoots the subject matter he enjoys. He used to take pictures of things he could show his classes, something that would make for an interesting discussion or a lesson plan. He experimented with different film, different colors, different processes, but found himself returning to one type of subject matter most often.
"I still come back to people—people and road signs," he said.
Thompson said if he were to offer advice to any young photographer, he would tell them one of the most important things he's learned over the years. Just be true. Shoot what you think is fun, or significant or worthwhile and don't worry about whether it's going to be popular or going to sell.
"Just shoot it because you see it and you just cannot resist shooting it," he said. "And keep shooting—you never know when you're going to see that craziest moonpie sign in the middle of a parade."
Thompson's Moonpies show opens at the Pensacola Museum of Art on Jan. 13 and runs through March 18.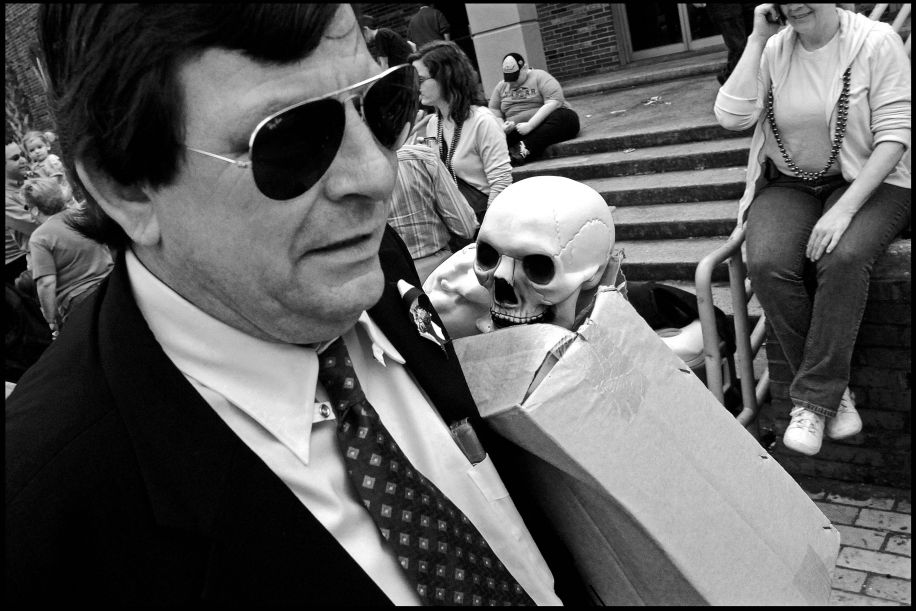 Additional photography series by Thompson
 Florida—2007
Color photographs encompassing the grassy, humid world of hotel pools, campers, grassy fields and tacky beach towel emporiums.
Flea Markets—2012
Stacks of five-cent comic books, embellished mannequin heads, industrial furnishings, flea market vendors and hagglers alike make appearances throughout this colorful series.
Festivals—2012
Children stare in awe at carnival rides, men carry large plastic deer toward their trucks, friends linger beneath gigantic America flags blowing in the wind and families lean against the trunk of their car as they tailgate in this black and white collection.
Journey—2014
Crisp, clear and highly contrasted black and white images showcase cars, home interiors, and uniformed men in a timeless and extraordinary light.