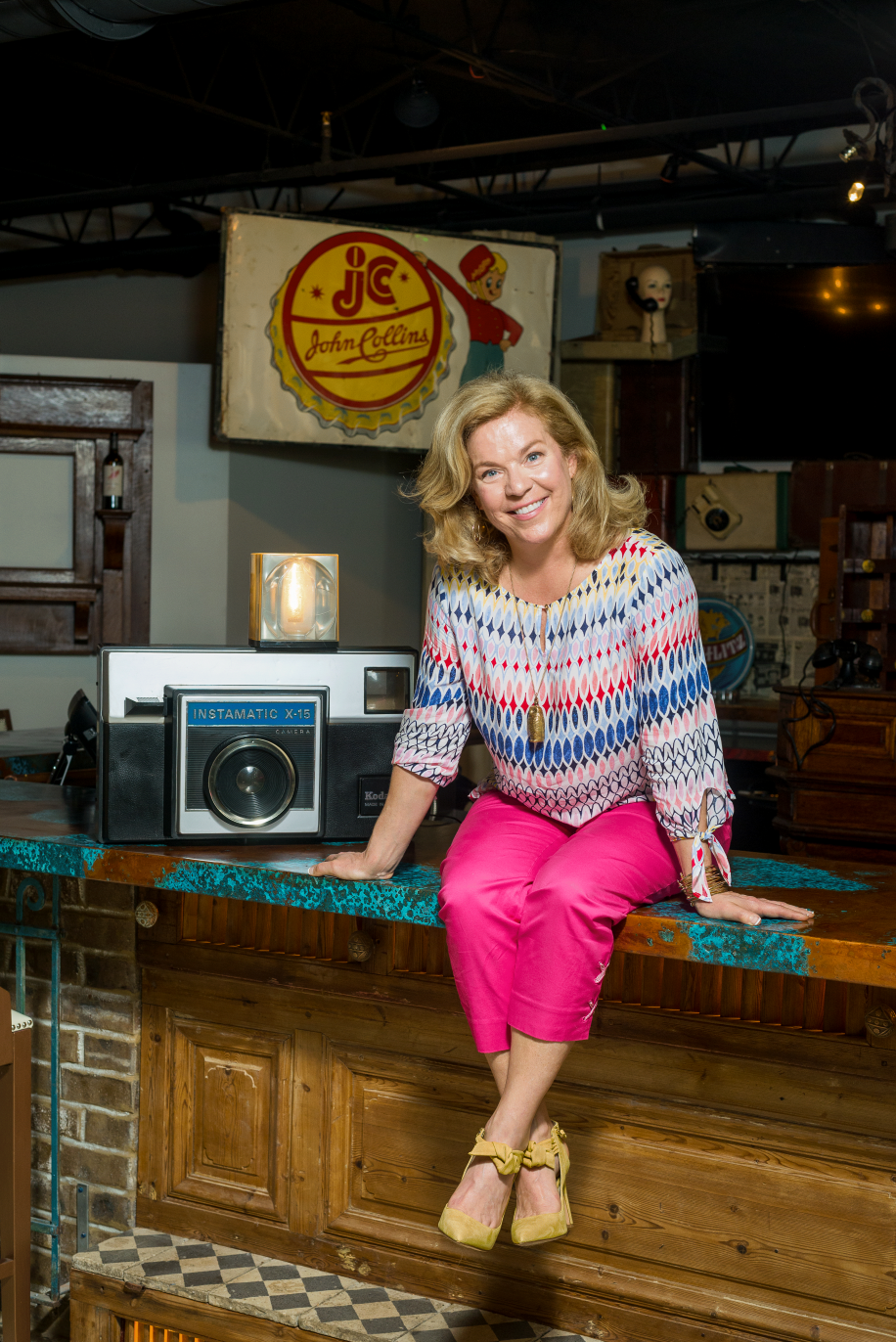 They say the waiting is the hardest part, but for Pensacolians watching the transformation of the former Galleria Lamp building at 2435 12th Avenue over the last year, the wait is finally over. Brew Ha Ha, the neighborhood restaurant celebrating Pensacola history, has arrived. The brainchild and labor of love of Angela Walker has already become an iconic destination thanks to the giant 1940s Pensacola postcard painted on the side of the building. Painted by local artist Patti Gillespie, the postcard has become the go-to photo op for tourists and locals alike.
"It never occurred to me that it would become such a landmark when I asked her to paint it," says Walker. "I truly had her paint it on the side of the building because it's my favorite vintage Pensacola postcard. Lo and behold, people started coming and taking their pictures and people started saying, 'You're a marketing genius.' I said, 'Don't give me so much credit. I really just did it because I love to collect old postcards from Pensacola and it happened to be one of my favorites.' Every time I see families, friends, sororities, or visitors taking a picture out there, I try to step out and have a conversation with them. It brings me a lot of joy to know that I had a part in them enjoying themselves for the day. And that's just the tip of the iceberg. We have a lot of things inside that I think people will enjoy just as much."
A natural born storyteller and a lifelong history buff, Walker is a local girl from Santa Rosa County—leaving just long enough to earn her bachelor's degree in journalism at the University of Florida. She returned to earn a masters and doctorate in education from the University of West Florida where she taught social studies methods and reading education. After developing, and eventually selling, an educational company that used entertaining stories to help children build reading skills, Walker did some soul searching to figure out her next step.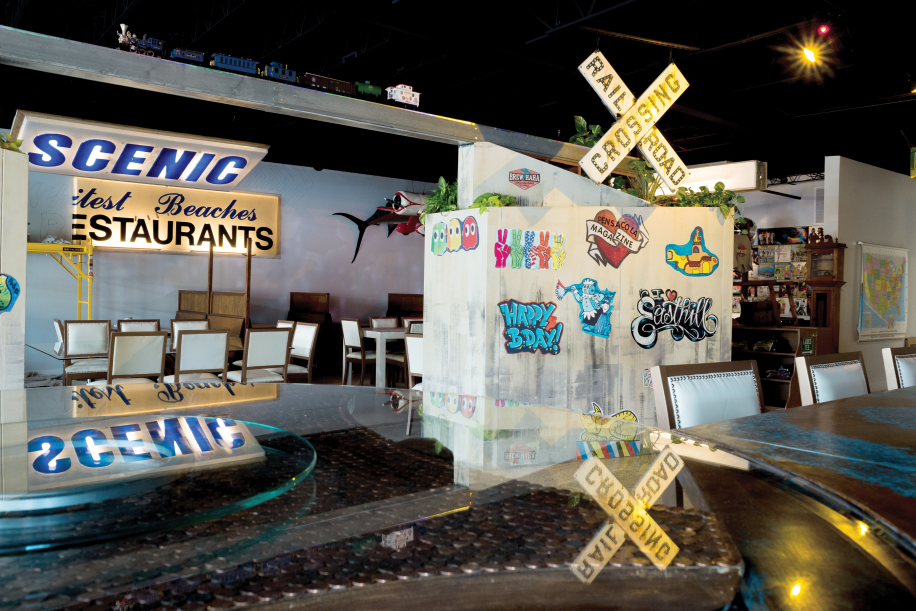 "When I saw this building, I was excited by the idea that we could create something where people are engaged in the memorabilia and through that, are able to share their personal connections to Pensacola's past, which I think is so interesting versus reading it in an academic format. People will poke their head in and see the San Carlos Hotel themed bar and they'll say, 'Oh, my god. My mom and dad went to prom there.' And all of a sudden, you see the joy in their face—the recollections and that personal connection with the fascinating history of Pensacola and what makes us a special place. That brings me a lot of joy. I always wanted to open a venue where people could come together and enjoy each other but also connect with each other. We started with the idea of it being a venue for those connections to happen and then we said what else helps people connect? The dinner table—breaking bread with each other—is a wonderful way of not only connecting with each other, but also with the nostalgia of dishes and things gone by. You think, 'oh, my gosh, that's just like my grandmother used to make.' Even with our menu, we tried to reflect the theme of things that help us connect—with the people we love, the past, and our own personal histories."
There's no doubt Walker has accomplished her goal. The roughly 5,000 square foot building is brimming with unique Pensacola memorabilia and ephemera. An original arch from the San Carlos hotel greets customers at the door and as does the original sign for Sam's Shoe Shine Stand, which was located in the hotel. The San Carlos theme continues through the bar area, which features rich copper and tobacco colors and memorabilia from the iconic hotel and other vintage bar decor.  In an interesting
design twist, the bar also features round, vintage penny covered tables that are connected to the bar, but also separate enough for small parties to have space to themselves. The centerpiece of the main dining area is the large replica of the Graffiti Bridge that separates the bar from the dining room. Walker created the model and local graffiti artist Nate Lyle completed the base.  "Over the last year and a half, I have been photographing real graffiti art on the Graffiti Bridge and turning them into magnets," says Walker. "So we have all this real graffiti art and we have a library of magnetic letters that you can customize for your photos."
Another interesting dining room piece is the huge vintage sign that reads 'World's Whitest Beaches." The sign was found by Brent Maddox who went out after Hurricane Ivan and saw the clean-up crew throwing the vintage 1960s sign in a dumpster. He saved it and it sat in his garage for almost 25 years. Walker and her team cleaned and restored the sign and artist Lindsey Gray is recreating a missing center portion in a unique way. Walker thrives on finding old things and either bringing them back to life or repurposing them in an interesting way.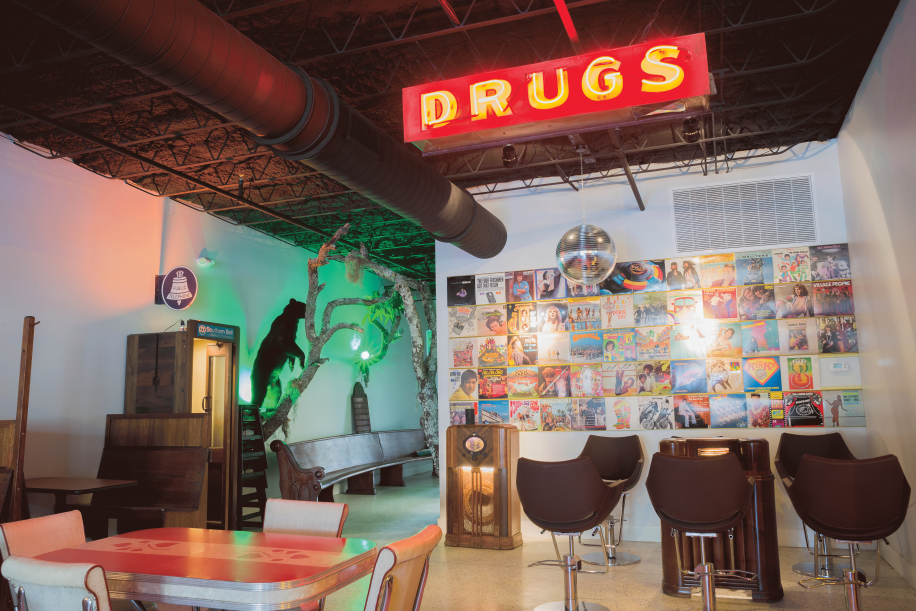 "Some of this came from my own private collection of Pensacola memorabilia," she explains. "I thought, why just hoard it for my own little world to enjoy? How much more fun to be able to share it with a larger audience. What's been so heartwarming is that as I've been building, I've had people approach me and say, 'You know what? This has been sitting in my garage or this has been on my wall and I would love for others to enjoy it as well.' So many items have been donated or loaned to us. We are thrilled that people want to share what they have of Pensacola's past."
One such person is Robin Rowan, a neighbor and fellow Pensacola history lover who created a seven foot tabletop using over 150 vintage postcards from her own collection–some dating back to the 1800s. "There are no duplicates on the table," she says, "and you'll notice that no matter where you sit, the postcards are oriented toward you." Rowan and Walker both hope the table inspires people to discuss history and tell their own stories of bygone Pensacola days.
Even the restrooms at Brew Ha Ha are a reflection of Walker's creative take on history and heritage.  "One of my favorite things that we've done is that I've been collecting old Pensacola yearbooks from all different schools and eras," says Walker. "I've got some as early as the 1930s. We've used those pages to create wallpaper in the restrooms. I can't wait to see people's reactions. It's so fun to see how styles and cultures have changed over the years. From cat-eye glasses and bouffant hairdos to the very relaxed feel and look of the 70s and then my era of the 80s.
As for the menu, customers certainly seem in for a treat. While the menu as a whole will largely reflect southern culture, Walker and Chef Travis Wilson have added a few interesting twists along the way.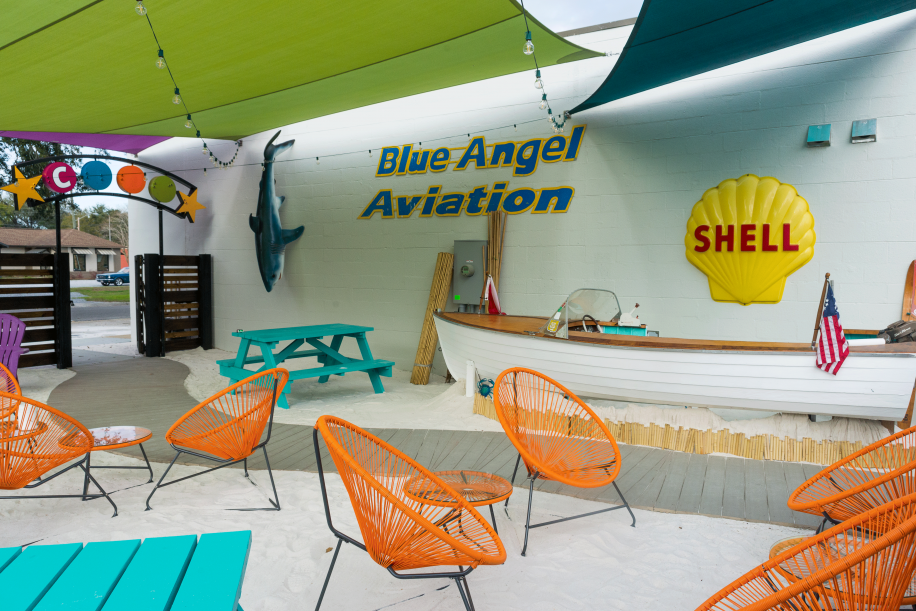 "During the day we will be doing a lot of Blue Plate Specials–dishes that are tried and true," says Walker.  "At night we turn into more signature menu items that really bring you back to days gone by. An example would be Chef Travis' original Cracker Jack Chicken—it's one of those things that just puts a smile on your face. I feel like what we are doing is unique, so I tried to come up with a way of explaining it succinctly and I came up with 'Pensaculinary.' What I mean by that is part of what makes Pensacola special is that we are the city of five flags and we have heritage that goes back centuries. Our menu will reflect that heritage."
The five flags of Pensacola will be represented in a variety of salads and other dishes, some with a playful southern twist. A 12th Avenue Cruise will be served with a 12th Avenue street sign and will offer four appetizers that pay homage to different businesses along the avenue. Truly historical local dishes will be included as well.
"We also are going to be featuring some things that reflect true Pensacola history," explains Walker. "For example, one of our salads is Gaspachee salad. The first time it was ever made was in Pensacola. The reason it was made was that it used hardtack, which was an item that sailors had ready-made. It was hard bread that traveled well and didn't spoil. They would come in to port and use what was growing here, so by necessity, they put together this salad. It was actually served at a restaurant on 12th Avenue almost 75 years ago and was very well loved. But, when they went out of business, nobody else picked it up so we are going to pick up that historical recipe. It was really important to me to try to have one or two items that were truly historical dishes."
Another unique menu item in Walker and Wilson's plan to feature Pensacola's five flags is their take on the American flag. Each month, Brew Ha Ha will invite a local East Hill resident to share a recipe that reflects their unique heritage.
"So, our March neighborhood special will be from East Hill resident Patty Freeman. She has an Irish heritage, so she is going to be sharing with us her recipe for corn beef and cabbage and it will be a special that we serve for the whole month. The next month, it may be a Mexican dish from someone in the neighborhood, because as we all know, all of America is a melting pot, or some say a salad bowl. That gives us the opportunity to step outside of southern culture and feature at least one item a month that truly reflects the diversity of not only America, but the Pensacola community as well."
While Walker and Wilson are keeping the full menu under wraps until the grand opening, Wilson, a native Pensacolian and former chef for the Blue Wahoos, describes his style as southern inspired fare with panache. He's particularly proud of his crab cakes and is excited to serve them in a way he says is unique and fun. Additionally, Wilson says they plan to have a vegan dish that will change monthly.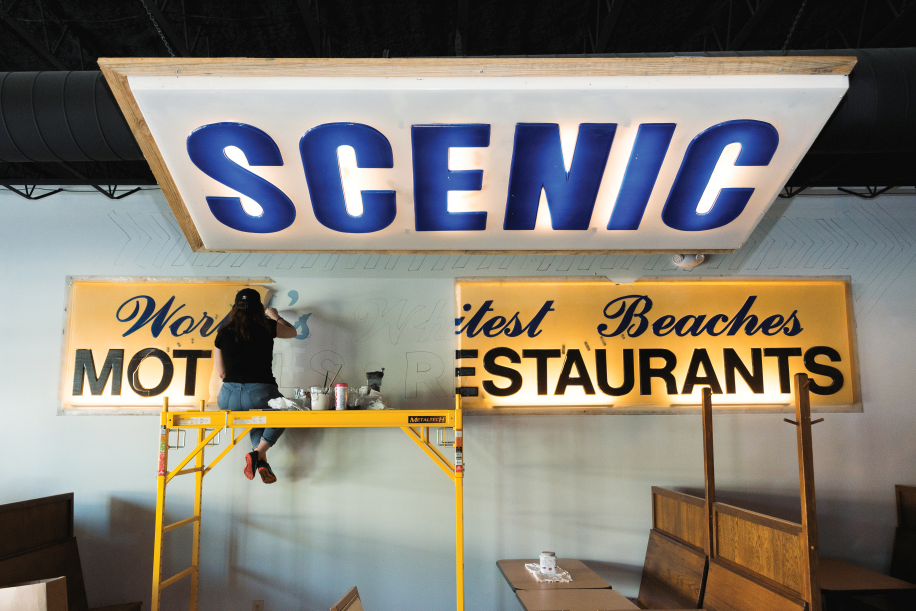 And, Walker hasn't forgotten how much East Hillians love their dogs—the outdoor patio not only welcomes dogs to dine with their people, it was named for that very purpose. Brew Wow Wow is an outdoor space that feels like a scene from a vintage campsite at Fort Pickens. Brightly colored tables and chairs, a bar made from a vintage speedboat, a giant hanging shark, and a vintage Blue Angels hangar sign all combine to give the patio a hip, retro, laid back feel. An adorable 1960s camper also offers couples or small groups the chance to share a private meal in the midst of the beachy vibe.
In tribute to Ruby's Beauty salon, which was in business for over 30 years at the site, the event room is called Ruby's Rumpus Room and each tabletop will feature different Pensacola businesses. When not being used for private events, Walker envisions Ruby's as a man cave of sorts—a place where guests can enjoy sports and T.V. viewing.
Ultimately, it's all about connection and a good time for Walker and the Brew Ha Ha crew. In particular, she hopes the venue will help generations connect and have fun together. "When they can hear family members share personal stories, I think it will help kids develop an appreciation for history–when it's connected to a real item and a story from their family."
Brew Ha Ha is open Tuesday through Saturday from 11 am until.