By: Dakota Parks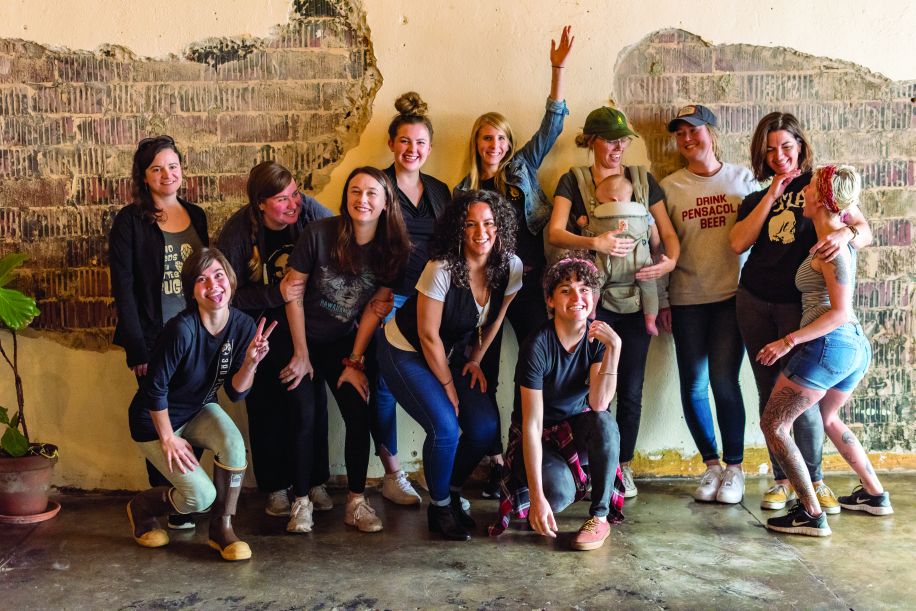 Beer has often been credited as a catalyst for human civilization and technological invention from the creation of refrigeration to origins in math, commerce and Capitalism. While today, brewing remains a male-dominated profession, men didn't join the business of brewing until the Industrial Revolution. Historically, women were responsible for brewing beer—they were called brewsters. However, a 2014 Auburn University study found that women make up a mere 29 percent of the brewery workforce. Odd Colony Brewing Co. is highlighting this workforce gap with a philanthropic brewing collaboration designed to unite women across the local brewery scene. On Feb. 11, nearly 15 women from nine different breweries came together for a women's collaboration brew to launch on the March 8 V-Day celebration at Odd Colony.
To celebrate International Women's Day on March 8, Odd Colony is releasing their specialty collaboration beer, a dry-hopped wheat ale with chamomile and Pensacola-grown tangerine peel. Along with the beer release is a performance of Eve Ensler's The Vagina Monologues. Ensler's play explores sexual experiences, body image, reproduction, vaginal care, menstruation, sex work and other women's issues through diverse story-telling. All funds raised by the beer and event are being donated to Lakeview Victim Services & Trauma Recovery. In addition to raising funds for Lakeview, Odd Colony purchased the Pink Boots Blend of hops from Yakima Chief Hops, who donate $3 per pound to the Pink Boots Society Scholarship Fund. The Pink Boots Society is a nonprofit organization that supports women working in the brewing industry.
While two breweries couldn't make it to the brew, the eight breweries in attendance were 3rd Planet Brewing, Idyll Hounds Brewing Company, Emerald Republic Brewing, Big Top Brewery, Alga Beer Co., Perfect Plain Brewing Company, The 5 Barrel and A Little Madness Brewing Company.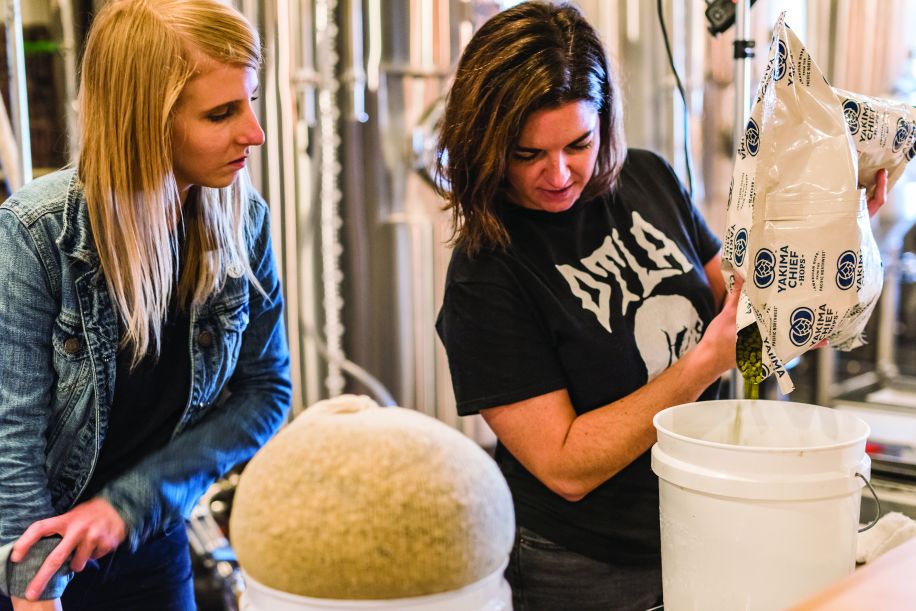 As women took turns lugging 300lb barrels of wet spent grain, others shoveled grain out, measured the hops and tied off the cotton muslin bag for brewing. One woman even shoveled grain out with her baby strapped to her chest in a baby carrier. Along the way, the women asked each other questions and learned steps of the brewing process that many of them had never been a part of before. While all of the women present were involved in the brewing industry, their specialties ranged from bartenders, managers, owners and even marketing. Of the 15 women present, only one was a full-time brewer, which demonstrates how much can be learned through collaborations.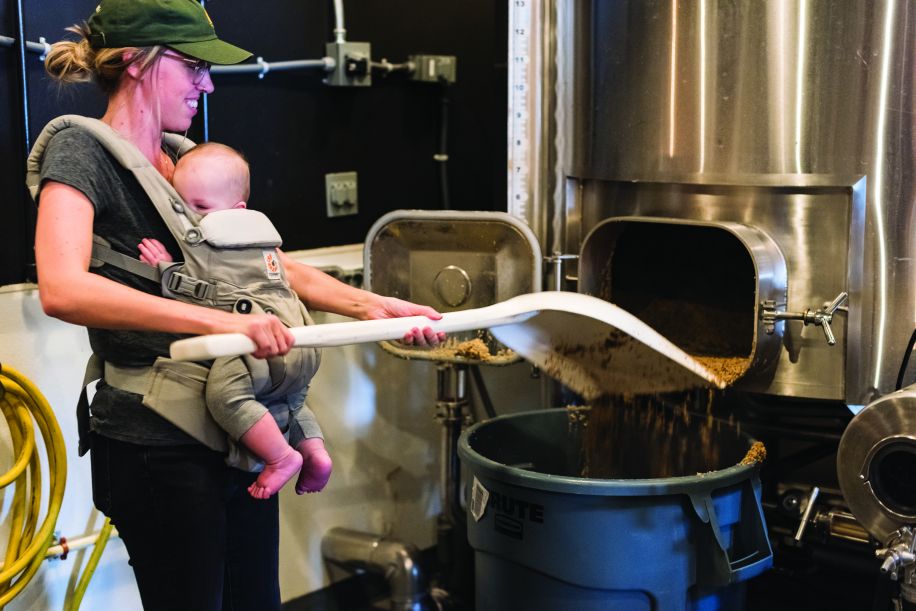 Rachel Breite, brewer for 3rd Planet Brewing, explained the importance of bringing women together and why brewing is such a dynamic learning experience.
"It's been nice to see just how many women are involved in the local brewing community. When I first started in the area about three years ago, it seemed like every beer event I went to would just be me and a bunch of men," said Breite. "I think that you're starting to see more and more women in the industry in various positions. My background is actually in marine biology. I went from water chemistry and fish into beer. I really like that it's a kind of a mix between science and art. If you can really understand the science behind it, you can really manipulate it and create the flavor and art that you want out of it."
Katie DeSantis, taproom manager for Idyll Hounds Brewing Company, clad in her Rosie the Riveter-esque outfit with bandana, curly hair and rubber brewing boots described herself as a "brewery mother."
"I would say that we're all definitely overrun by men in our companies. I call myself the 'brewery mother,' because it's just me and a bunch of boys. In the brewing industry, everyone is kind of forced to wear a lot of hats and learn a wide variety of jobs within your own brewery," said DeSantis. "I think that's where women really succeed in this industry because we're able to take on many roles. I think that's also what's cool about this brew because this is one of the few times that we can all get involved and learn the process. Even if you don't know much about brewing, you can still help clean and maintain the tap room."
Eniko Ujj, taproom manager for Odd Colony, also emphasized the passing of knowledge and constant learning.
"There hasn't been that many collaborations between breweries in our area, so it's really neat to see one of the first collaborations brought about by women. Bringing people together, sharing information, encouraging possibilities for future collaborations," said Ujj. "Brewing is a field that keeps you constantly learning, because there are so many dimensions that can go into brewing. Like, introducing local agriculture into brewing. So, I'm very interested in growing plants and learning about local agriculture and foraging. It's this wonderful web of learning."
When asked about the societal gendering of beer and the tendency for beer to be labeled a "man's drink," participants in the brew described how breweries can actually break down barriers and allow both men and women the opportunities to try new flavor profiles.
"I don't think that anything should be gendered—there should be no gender involved with choosing what you like—especially what you like to drink. It's funny because we have two pink beers on tap and men are sometimes speculative of them until they taste them. I love pushing those boundaries and making people rethink gender—not just with alcohol, but with everything," said Ujj.
The International Women's Day collaboration beer is breaking down those gender stereotypes by highlighting the diversity of women within the local brewing community, bridging the gender gap in the male-dominated profession—all while raising money for Lakeview Center and the programs that support victims of domestic and sexual violence. The V-Day event featuring beer and The Vagina Monologues will be held at Odd Colony on March 8 starting at 7:00 pm. Suggested admission is $5.