The men and women who serve as members of our military and first responders deserve our admiration, support and gratitude. They are often the first on the scene of a tragedy and provide security, comfort and medical attention to those affected. Their jobs are often dangerous, but ultimately rewarding. And, while we love and respect all people who choose to serve, this month we'd like to profile a few amazing women who have achieved distinction in their individual careers, all of which involve service to the community. Luckily for us, the traditional gender stereotypes and cultural norms of the past no longer apply and women who have the will and the desire to serve their communities now have ample opportunities to do so. Thank you for your service, ladies.
---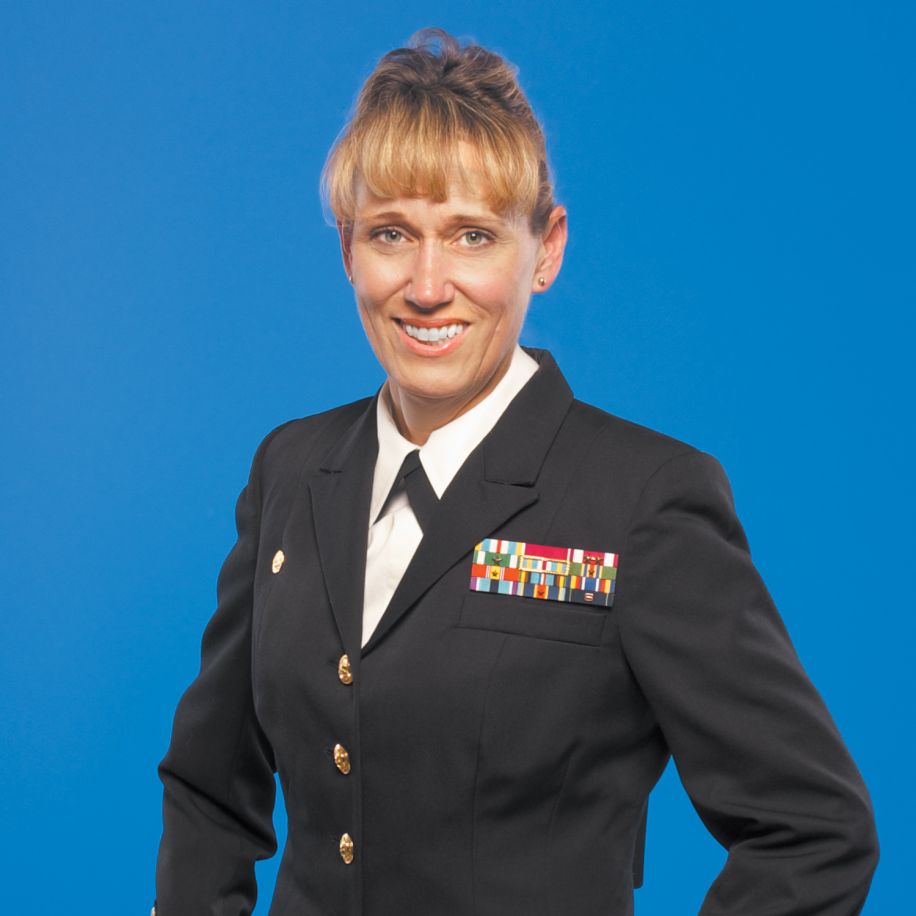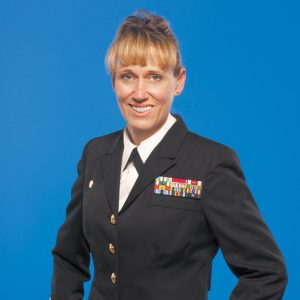 Capt. Sarah L. Martin, NC, USN
Commanding Officer, Naval Hospital Pensacola
Captain Sarah L. Martin currently serves as the Commanding Officer for Naval Hospital Pensacola. She was commissioned as an ensign in the Navy in 1987 after obtaining a bachelor of arts degree in nursing from Gustavus Adolphus College, St. Peter, Minn. During her 29 years as a Navy nurse, she has served in such locations as Yokosuka, Japan; Camp Lejeune, N.C.; and Twentynine Palms, Calif. Martin was also assigned to Walter Reed National Military Medical Center, Bethesda, Md., where she held the positions of senior nurse executive in the Surgical Inpatient/Wounded Warrior Ward and chief of staff before being assigned to Naval Hospital Pensacola. Martin has a master's in nursing from the University of Washington and is married to Marshall Martin, a retired Navy pilot. 
What motivated you to join the Navy?
I was getting ready to graduate from nursing school and wanted an opportunity to experience something different. I wanted to move out of Minnesota for a period of time, but knew I didn't have the money to make a move with school loans and other expenses I had like most college graduates. My brothers were at West Point at the time and suggested I look into the military. Based on their recommendation, I applied to join the Navy Nurse Corps and was accepted.  I only intended to do a  three-year tour to obtain nursing experience, but, instead it has been the journey of a lifetime over the past 29 years.
What do you see as the pros and cons of being a woman in the Navy?
The Navy is a great opportunity no matter what your gender. You are recognized and provided the opportunity for increased responsibility based on the effort and performance you put forward in your daily roles, not because you are a male or female. As a nurse, we typically have the same opportunities in a variety of settings that any male nurse has in the Navy. That said, I see no cons to being a woman in the Navy.
How did you prepare for the physical requirements of the job?
It is important to keep the mind and body healthy so you can be prepared for the challenges of the day. Staying healthy and active keeps the mind sharp and enables you to address the challenges that may come your way no matter the job. 
How do you handle the psychological and emotional taxation of the job?
Everyone needs to have work-life balance. I have had jobs that have made having a life outside of work challenging. What I have realized  is that I am not in this alone. I have a wonderful husband who is retired from the military and is very supportive. I also have many mentors and friends, whom either have been in the military or are still serving in the military, who are also great to rely on for sound advice and counsel. It's important to ensure that there is time built into our daily routine to enjoy our family, friends and activities–that allows the mind to rejuvenate. 
What professional accomplishment are you most proud of?
I have had so many opportunities that it is hard to pick out just one.  But in all honesty, I think my greatest accomplishment was becoming a nurse and then deciding to start my career as a nurse in the Navy.  Nursing, and especially nursing in the Navy, has provided me so many opportunities in the clinical areas as well as positions in leadership and management. I've also worked manpower jobs within the Nurse Corps that have provided me a different perspective on how I want to organize health care delivery. Through my jobs in health care and in the Navy, I have met some of the best people in the world to work with – they've become my family. 
Who inspires you?
It may sound cliché, but my father and mother inspired me. They provided such a great foundation for my brothers and me. They were educators and were not afraid to speak up on behalf of the importance of education and other beliefs  that were important to them. Granted, I think they were bolder than me, but they inspired me to look at things from various angles.
What do you love about living and working in the Pensacola Community?
Pensacola is like no other duty station I have been before. I have enjoyed every duty station that I have been assigned, but the way the Pensacola community embraces our military is phenomenal. Plus, everyone here is so kind and approaches you with a smile. 
What advice do you have for young women considering a career in the Navy?
For young women considering a career in the Navy, I say the opportunities are endless. I have found that hard work, dedication, sacrifice and humility, and maintaining your sense of humor are important to success in the military.  It is also important to have mentors in your life. Seek their advice and wisdom. With hard work and wise counsel the sky is the limit. Never in my wildest dreams did I think I would serve in the Navy for 30 years and have an opportunity to run a hospital. It has been truly an amazing ride and I wouldn't change a thing! I say go for it!
---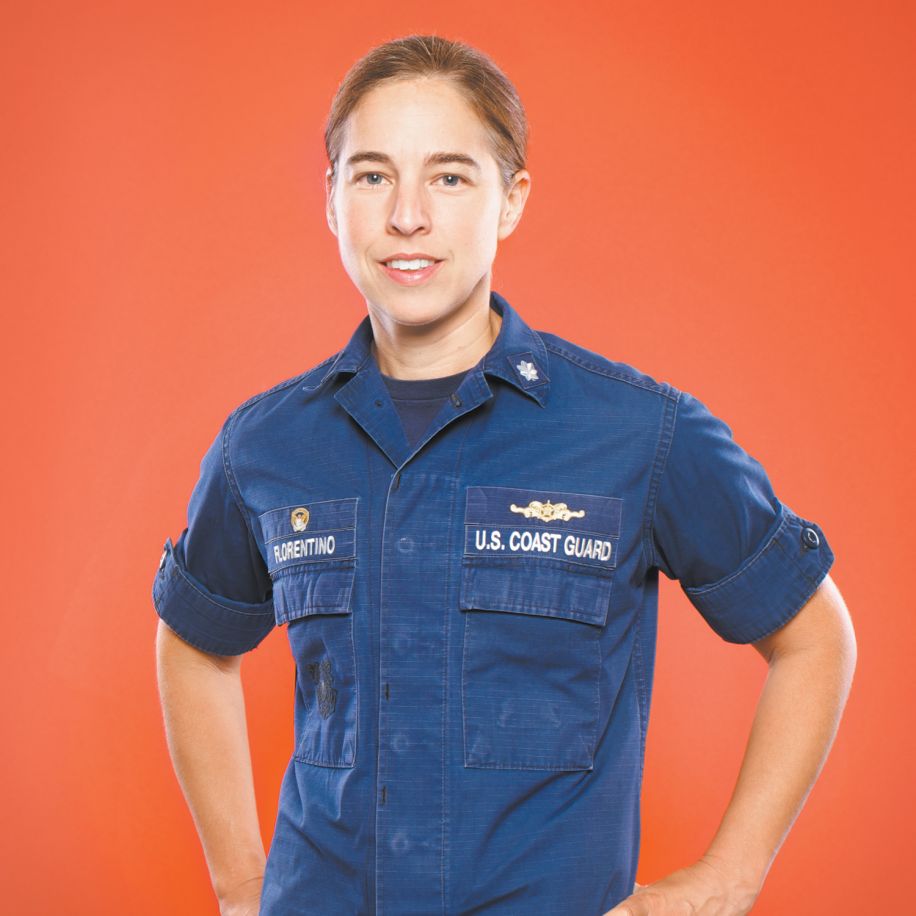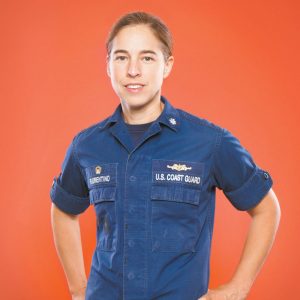 CDR Amy Florentino
United States Coast Guard Commanding Officer, USCGC CYPRESS 
CDR Amy Florentino is from Norwich, Conn., and graduated from the Coast Guard Academy in 1999. She has been stationed aboard five Coast Guard cutters: USCGC EAGLE, USCGC BUTTONWOOD, USCGC JUNIPER, USCGC KATHERINE WALKER and USCGC CYPRESS. Her staff tours included: Instructor – Coast Guard Officer Candidate School and the Office of Financial Transformation and Compliance at Coast Guard Headquarters. She has a Masters in Business Administration from Dartmouth College and a Bachelor of Science in Operations Research from the Coast Guard Academy. She is currently the Commanding Officer aboard USCGC CYPRESS (WLB 210) in Pensacola, Fla. CDR Florentino was selected as the Coast Guard Officer Candidate School Chief and will transfer in July 2016.
What motivated you to join the Coast Guard?
During high school, I knew I wanted to go to one of the service academies and join the military. When I joined in 1995, the Coast Guard was the only branch where all jobs and specialties were open to women. That point of differentiation coupled with the Coast Guard's peacetime missions were really appealing to me.
What do you see as the pros and cons of being a woman in the Coast Guard?
Personally, I don't see any cons of being a woman in the Coast Guard. The hardships I face in balancing my work and my family would be found in any career. I am definitely home a lot less than I would be in another career, but many years ago, I told myself that I would get out if I stopped having fun. The Coast Guard has taken me all over the world, given me a tremendous amount of responsibility at a young age and been a great atmosphere for my family. I won't say that it isn't sometimes difficult, but after over 17 years since commissioning, I am still having fun.
How did you prepare for the physical requirements of the job?
I was an athlete in high school and at the Coast Guard Academy. I have kept running throughout my career, and that helps keep me in good shape. I loved running the Double Bridge Run and Blue Angels Half Marathon while stationed here in Pensacola.
How do you handle the psychological and emotional taxation of the job? 
I take a lot of pride in knowing that the Coast Guard is completing an honorable mission each and every day. I think about that when I am having a tough day. I also lean on my family for support. My husband is really supportive of my career goals, so that is huge motivating factor for me. Lastly, I aim to stay positive and upbeat at work. A sense of humor and fun goes a long way in handling stress. Life is too short to dwell on the negative, especially working on a 225' ship with 50 other Coasties living in tight quarters. 
What professional accomplishment are you most proud of?
That is a tough question. I think the operation that I am most proud of is my involvement in port security operations aboard USCGC JUNIPER in the aftermath of 9-11. I was the Operations Officer aboard the cutter and we were immediately recalled following the terrorist attacks. We arrived in the harbor the night of the attacks with New York City still ablaze. We stayed for over a month conducting law enforcement and port security operations. It was a stressful and emotional time, but it was rewarding to be doing something positive for our country after such a negative event. My personal professional accomplishment that I am most proud of is serving in Command at sea twice. First aboard the 175' cutter KATHERINE WALKER in Bayonne, NJ and second aboard the 225' cutter CYPRESS in Pensacola, Fla. The experience of Command is so rewarding because it is such as time honored position and one of ultimate responsibility. As the Commanding Officer, the entire mission performance of the cutter, whether a success or a failure, fell squarely on my shoulders. However, you can't run a ship alone, so you have to pick a good course of action, make good decisions and then trust your crew to get the job done.
Who inspires you?
My father. He has always encouraged me and been a source of inspiration. He never put a limit on what he thought I could accomplish and pushed me to do my best. My mother passed away after a long battle with cancer when I was in high school. My dad took care of her while she was sick and then took care of my brothers and me, all holding down his job and providing for the family. I am always thankful for the sacrifices he made so that I would have opportunities.
What do you love about living and working in the Pensacola Community?
I love the small town atmosphere, community activities and access to beautiful beaches. My family and I live in East Hill and love our neighborhood. There is always something to do, whether Gallery Night, Blues on the Bay or a baseball game. It has been a great three years for us.
What advice do you have for young women considering a career in the Coast Guard?
The Coast Guard is a great career option. It will push you to your limits, but will also reward you if you work hard. There are all kinds of career paths both officer or enlisted, that include conducting search and rescue, fixing navigational buoys and lights, inspecting commercial vessels, and responding to pollution cases. There is so much the Coast Guard is responsible for that doesn't make the front page news.
---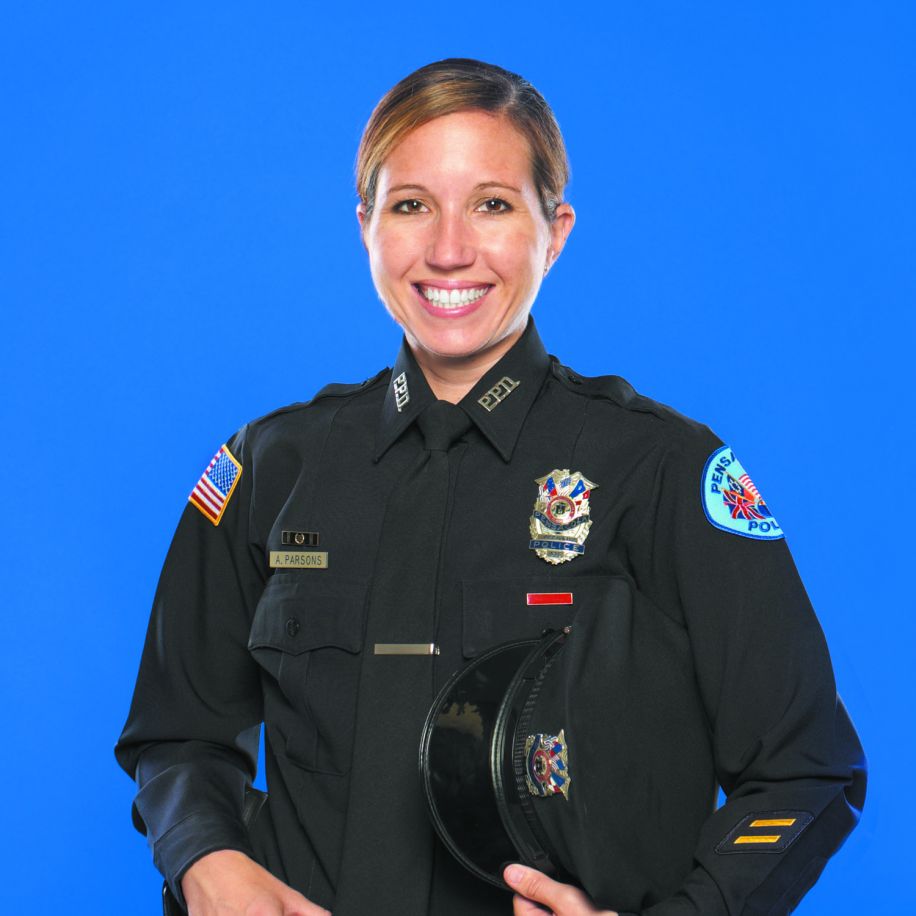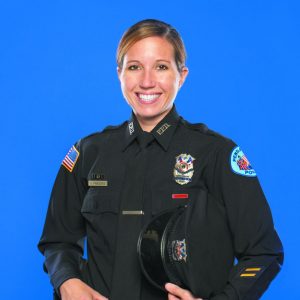 Amy Parsons
Detective, Pensacola Police Department
Amy graduated from Tate High School and UWF with a bachelor in business management. At 23 years old, she became a police officer at the Pensacola Police Department. Her assignments at the police department have included Uniform Patrol Division, Neighborhood Services Division and being a school resource officer at Pensacola High School.  She is currently a detective in the Criminal Investigations Division and assigned to the ATF Gun Crimes Task Force. She is married to a PPD K9 handler and they have two daughters. When not working, she enjoys spending time with the family outdoors, cooking out, boating, church, attending concerts, and watching NASCAR and FSU football.
What motivated you to become a police officer?
I had a desire to get involved with our community and to help people. I wanted a rewarding career in which I could make an impact in someone's life. I believe in our justice system and wanted to help take the real bad guys off of the street.
What do you see as the pros and cons of being a woman in law enforcement?
I think women often appear less threatening and tend to be good at calming people with verbal techniques. There is something about female officers, a 'mother-type' officer, that makes it comfortable for people to talk to, which leads to better cooperation from suspects and people we interview. 
Honestly, I have not experienced any cons of being a female officer. I work hard and give it my all. I don't try any harder just because I am female and no one at my agency has treated me any different because I am a female. I think times have changed and we must support our fellow officers regardless of gender.
How did you prepare for the physical requirements of the job?
I competed in Marital Arts until I was about 19 years old.  After the police academy, I got involved in long distance running.  I participated in many local running events.  Over the years, I've kept in shape by getting into the gym a couple times each week.
How do you handle the psychological and emotional taxation of the job? You often see people at their worst. That must being difficult.
We often see people in the worst moments of their lives. It's different for all people. Sometimes being involved in a minor traffic crash could be the worst for one person, while losing a loved one may be the worst for another. An important aspect is being able to empathize with people in each individual situation. All the while, each situation resonates within you. We cannot allow ourselves to become desensitized to events. Once we display that we cannot sympathize or empathize with the citizens of our community, we have lost our ability to successfully provide them the best service possible.
At the end of the work day, it can be difficult to go home and not think about the pain and suffering we witnessed. It's not something you can turn off. I handle the emotion and psychological taxation by having a good support system at home.
What professional accomplishment are you most proud of?
I am proud of the major cases that I've solved over my past 2 ½ years as a detective. I've cleared several violent crimes and helped bring justice to our victims. Within the past year, I've received a few awards for my work productivity. I received the Meritorious Service Award for apprehending four career criminals who burglarized several banks and businesses (targeting safes and ATMs) in Escambia County and Santa Rosa County. In March, Chief Alexander awarded me the 2016 Officer of the Year for Pensacola Police Department. Sons of American Revolution also awarded me a Commendation Medal of the year for 2016.
Who inspires you?
I am most inspired by my mother.  She is an oncology nurse at Sacred Heart Cancer Center. She has inspired me in my professional life as well as my personal life. I would give her a hard time growing up. Now that I'm in my 30s, I've come to realize that moms do know it all.
What do you love about living and working in the Pensacola Community?
Pensacola has a lot of good stuff going on. From events downtown to sporting events and the Blue Angels, there is always something to do.  I absolutely love our beautiful beaches. I have a lot of respect for the Pensacola community. I think the city police department stands out with its professionalism and integrity. We are held to a high standard and we have a lot of great officers and new administration. I enjoy working with everyone at the police department and interacting with our community.
What advice do you have for young women considering a career in law enforcement?
Be prepared and expect irregular shift work. It is not a Monday through Friday 8 am to 5 pm kind of job. It can be difficult for a "civilian" spouse to understand and is certainly difficult on family life. Be open-minded and expect to see things that you could never imagine. Get a mentor and make sure they have a good reputation and a good attitude. Surround yourself with positive people. Train hard and give everything your best. Get the job done and do not make excuses.
---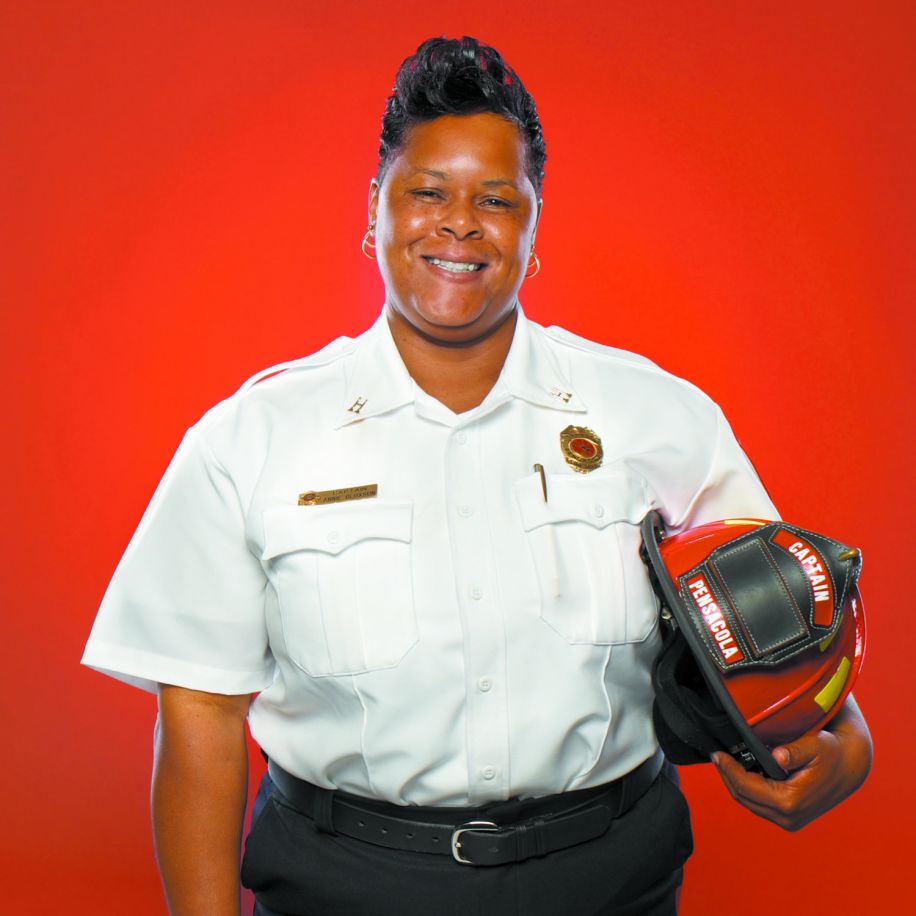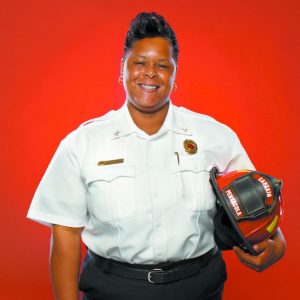 Annie Bloxson
Captain, Pensacola Fire Department
Annie Bloxson was born and raised in Pensacola by her late parents, James and Josephine Bloxson. She graduated from Woodham High School and Northwestern State University of Louisana with a BS degree in business administration. She has been a firefighter for 23 years and has achieved several certifications including Instructor III and Fire Inspector. She grew up in a large family with nine sisters and two brothers and she is the proud mother to one son, Gilbert Galloway, Jr.
What motivated you to become a fire fighter?
I actually applied for an administrative position in the office. During my drug screening for that position the recruiter at the time—Marsha Underwood—approached me about a position as a firefighter if I did not get the administrative position. I agreed so I could provide a better life for my son Gilbert. He was my motivation. Being a single parent, my focus was being the best mother to my son. Being a firefighter, I am able to help save lives and protect the property of the citizens here in Pensacola. This is something I am proud and honored to do.
What do you see as the pros and cons of being a woman in law enforcement?
The pros are being a positive role model to my son and showing young girls that they can accomplish anything they put their minds to. Another pro is protecting lives and property.
The cons are being in an environment where some men aren't as accepting of women in the male dominated field. Another con for me was earlier in my career when my son was younger and I was working 24 hour shifts. That was hard on both of us with me not being there all day and even more difficult on the holidays. My mother was my rock. She helped watch him while I was working.
How did you prepare for the physical requirements of the job?
I was very athletic when I started with the department. I played sports in high school and college. I continued recreational sports after college and was in pretty good shape. I walk and play softball to try to remain physically fit, but I don't work out regularly as I should.
How do you handle the psychological and emotional taxation of the job? You often see people at their worst. That must being difficult.
God is good all the time! I pray often and I have family and a few co-workers whom I can talk to through the challenging times. I also schedule time just for myself. I enjoy spending time with my family during Sunday dinner. This is something we continued doing after our parents passed. I enjoy being home watching a good movie or a good game. I enjoy playing sports and taking my nieces and grand godson to the movies.
What professional accomplishment are you most proud of?
Being the first African-American female promoted to captain in the history of the department.
What do you love about living and working in the Pensacola Community?
Who wouldn't love working in a community with beautiful beaches and quick access to major cities in the South? The cost of living isn't bad either.
What advice do you have for young women considering a career in law enforcement?
To the young women considering a career in the fire service, don't let anyone tell you that you can't do something because you are a woman.  Carolyn Watkins and Robyn Sibley paved the way for me. Ginny Cranor, Angela Rockstad and I are paving the way for the women who follow. Get your education, stay drug and tobacco free. You can accomplish anything thing you put your mind to.
---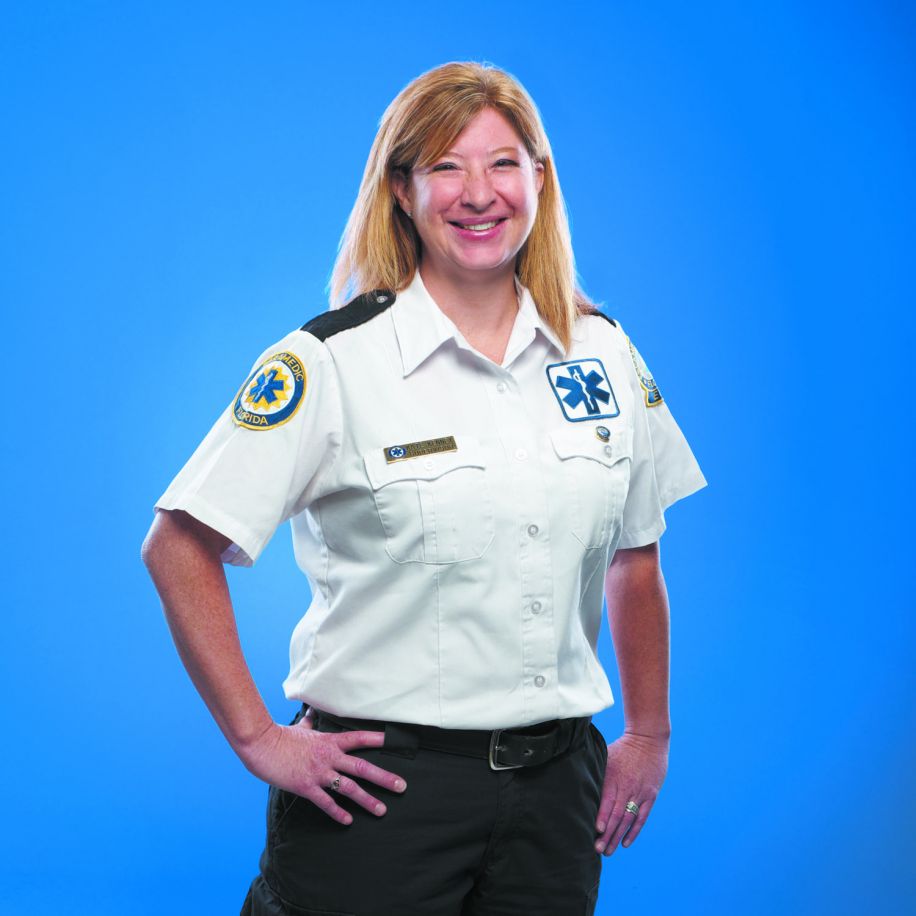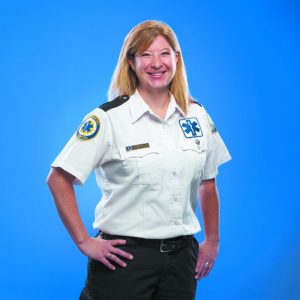 Kate Kenney
Paramedic Shift Supervisor, Escambia County Emergency Medical Services, EMS
Kate was born and raised in Western Massachusetts and she attended paramedic school in Springfield, Mass.  Kate has worked in EMS for 13 years and for Escambia County EMS for six years. Kate moved to Florida in 2008. She lives in Navarre with her husband Steven. They have five children and two grandchildren.
What motivated you to become an EMT?
I applied to nursing school between 2000 and 2001 when we were experiencing the nursing shortages.  Nursing programs were very competitive at the time and I was not accepted into the program. I saw an EMT course at the college and thought EMT would be a good opportunity to get some field experience to add to a future college application. Once I started working as an EMT, I was hooked and haven't considered another career.
What do you see as the pros and cons of being a woman in public safety/emergency medicine?
I haven't experienced any specific pros or cons of being a woman in public safety. I believe it's more of a "mindset" thing rather than a gender thing.  Whether you're a man or a woman, having the right mindset and the ability to adapt to constant change will help you be successful in public safety.
How did you prepare for the physical requirements of the job?
EMS can definitely be a physically demanding job. Maintaining a healthy lifestyle, eating properly and routine exercise helps. At our office, we have a full gym. We also have an employee health clinic, staffed by physicians and nurses, and we can make either sick or wellness check appointments.
How do you handle the psychological and emotional taxation of the job? ? You often see people in tragic situations. That must be difficult.
There is definitely a psychological and emotional component to working in EMS.  EMS is a family. Whether it's the loss of a patient or one of our own, we tend to rely on each other during difficult situations. If you come into our office during shift change, you will often see the crews discussing various calls. This is how we decompress. I also have the luxury of having a husband who worked in law enforcement. I come home after difficult calls and talk about them with him. If I have a call involving a child, I will come home and have extra cuddle time with my kids. We also have critical incident stress management resources through the County, as well as the opportunity to seek professional counseling if needed.
What professional accomplishment are you most proud of?
I am proud of becoming a supervisor within a very diverse organization. We are a fast-paced service and come in contact with very sick people. My job is not only about being able to help the sick or injured, which is rewarding in itself.  It is also about being able to help the crews who are out on the streets day in and day out serving the public.
Who inspires you?
I would say my biggest inspirations are my parents. They instilled positive values, a strong work ethic and provided my brother and I everything that they could. We always did things together as a family—from soccer games to baseball games to family vacations. They gave my brother and I the guidance, encouragement and support to be successful in whatever we did.
What do you love about living and working in the Pensacola Community?
I love the Southern culture. I also love living in a beach community and in a tropical environment.We can pretty much wear flip flops and shorts wherever we go. I grew up in Western Massachusetts where we had plenty of snow and not much exposure to beaches. The cold days always outnumbered the warm days.