By Kelly Oden, Hana Frenette, and Tanner Yea
For many women in the workforce, the decision to trade a steady paycheck as an employee for the uncertain payoff of being a business owner can be terrifying. However, more and more women are choosing to face this fear by turning their passions into companies—and many of them are succeeding beyond their wildest dreams. Whether they are looking for the freedom of being their own boss, a way to sidestep the glass ceiling, or simply crafting a life in which they can do what they love all day, women business owners are on the rise both nationally and locally. This month, we've profiled six incredible local women who have made the switch from employee to owner. Their interests run the gamut, but they all have one thing in common—they followed their passions and created successful companies. We spoke to these wonder women to find out how they did it and why they love what they do.
ROBIN RESHARD, OWNER & CREATIVE DIRECTOR, ROBERT ROBINO PRODUCTIONS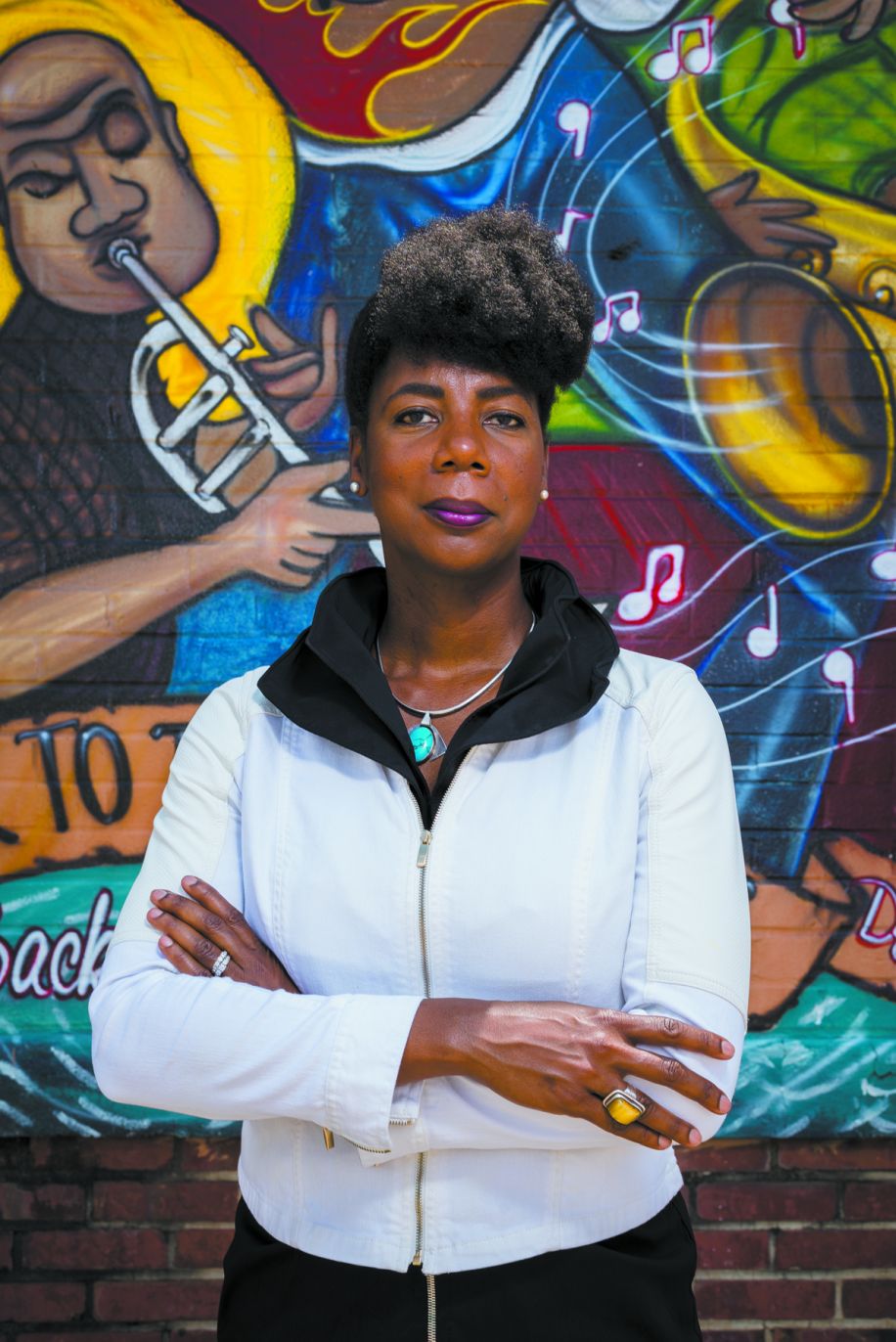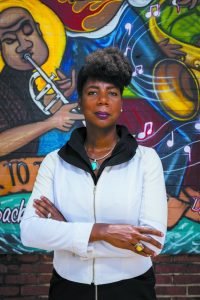 Robin Reshard is an entrepreneur, writer, and documentary filmmaker. She's worked in the television and broadcast field for more than 20 years and recently launched her own company, Robert Robino Productions, in 2009. Since the creation of her company, Reshard has sought to strengthen the local African American community through storytelling, exhibitions, and motivational speaking. She is the creator of the documentary titled, "Belmont- DeVilliers: The Making of a Neighborhood."
Tell me about your business and what you do.
Robert Robino Productions is a production and multi-media company with a vision to communicate relevant issues, encourage thought-provoking dialogue and make a difference. We do this through motivational speaking, training, interviews and writing. For the past five years, our focus has been on storytelling about the African American experience to strengthen this area's community and economic development.
How did you get involved in this field? What pulled you in?
I have a passion for reading, writing and talking.  Following graduate school to pursue a degree in community economic development, I had a proverbial mid-life crisis of conscience and confidence that led to better control and ownership of my creative processes and outcomes. I also noted that the stories and images that were being shared about the African American experiences could use a boost in diversity, inclusiveness and depth.
When did you first start your business?
Although I have been in this work for almost three decades and in television since 2005, I formally began my company in 2009.
How did you make it happen?
After seeing a show that I pitched was being broadcast on television without me, I quickly drew up a plan and filed my company's paperwork that same day. That experience was a jarring trigger and a fierce wake-up call to do something different.
What are some of the challenges and rewards you've encountered?
Three projects come to mind that have been rewarding in terms of telling and sharing stories:  writing and producing the film documentary on Belmont DeVilliers; creating the exhibition "Words and Deeds: Conveying the Stories of Early African American Land Deals;" and developing and producing the new interview television show "Inside Voices." Those same projects show the challenges in narrowing the focus on the vast number of stories awaiting to be discovered and shared.    
How have you grown as a business, and as a business owner?
As a business owner, I have narrowed my focus on stories about which I'm passionately curious and that will be impactful to the audience. At this stage, I'm definitely focusing on quality instead of quantity.
How has the Belmont-DeVilliers neighborhood changed since you started your business?
In eight years, we've seen tremendous growth in the number of new businesses opened and homes built. This growth has brought great diversity in terms of the people, products and services. To me this growth means an opportunity to learn new stories, share existing stories, and celebrate the historic stories.
How important is networking to your business?
Networking is super-duper important. It's how I get resources, whether it's a story idea or a contract. I might not need that idea or contract now, but if I don't network, it might not be there later.
Advice for women looking to start their own business or organization?
Conduct informational interviews with women already in your field.  Ask them about their journey, including those unspoken rules of the game that they had to learn while in the game. Listen. Write your vision and mission statements, then write your business and marketing plans. Let a trusted, brutally honest friend read it, and then listen to the feedback.
Finally, I once heard a speaker say when you get to the edge of a cliff, you must jump to fly, not to fall. Starting your own business is, in some regards, an exercise in faith. And yet, faith requires us to walk – or in this case, fly – in the confidence that it will work out for the good. So, my advice is to exercise your faith and jump and fly, sisters!
Veronique Zayas, OWNER, HATCHMARK STUDIO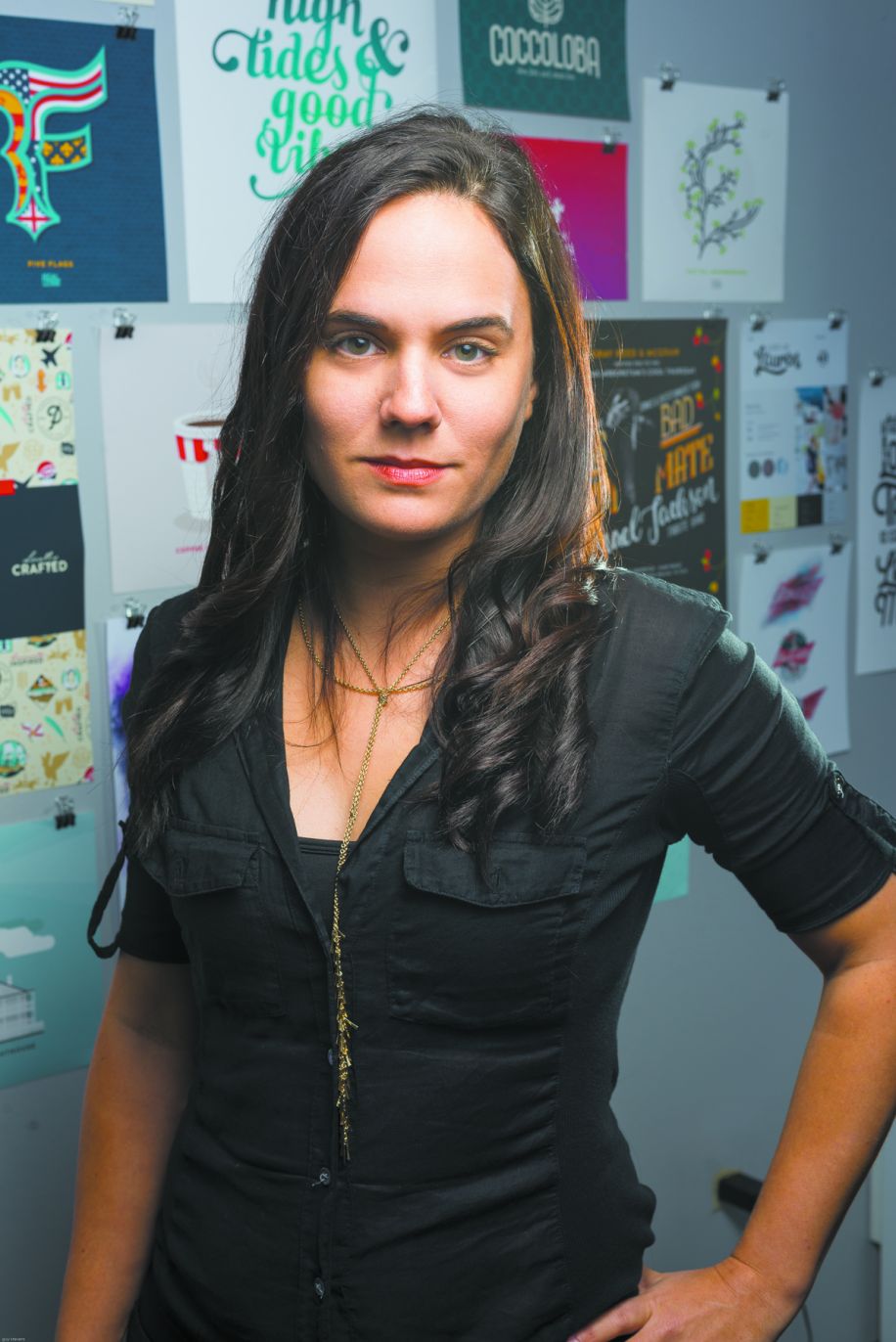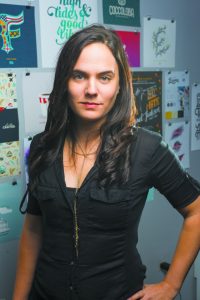 Veronique Zayas is the owner of local branding company, HatchMark. Zayas started the company roughly two years ago as a way to create a more cohesive strategy and brand for her growing freelance work. The boutique design and branding agency specializes in brand development, hand lettering, and creative design and marketing services.
Tell me about your business and what you do.
HatchMark Studio is a design studio focused on branding and brand development. We work with clients to discover where their business is going and how to communicate that to their customers – as well as their own team. And of course, to visually get that across that in a unique, authentic way. I believe the way things are going with design is a focus on high customization for each client. I like to pull hand lettering or elements of illustration into brands when it makes sense to get their story across in the most 'them' way possible.
What pulled you into design? Why this field?
My career has always been in the design field. My education is in it – it was an obvious choice for me. I was always the 'artsy' kid – and as I grew and developed as a creative I fell more into the idea of design thinking and using design plus messaging to solve a problem.
When did you start the company?
HatchMark has officially been "HatchMark" for two years now. It grew out of the need to expand and build a more solid brand when freelance was getting out of control and I needed to enlist some help and really hone in on what I wanted the focus of my work to be.
How did you make it happen?
Mainly, I've learned to let go of the things that I should be letting go of – to bring on help to handle the things that were taking up energy that I didn't need to be focused on. I think this is something that every small business owner learns one way or another. You're so used to doing everything – and you worry that if you're not the one executing every aspect of the work or process, everything will fall apart. Bringing on extra hands to handle those things that someone else can get done – and often in a more efficient way – is the key to really being able to focus on the big picture things, the work you want to be putting your energy into, and produce work that you're proud of and gives clients the best possible result.
What are the challenges and rewards?
Work-life balance has definitely been the biggest challenge for me. I absolutely love what I do, and it becomes very easy to fall into a pattern where work consumes most hours of the day – then bleeds into nights and weekends. The ability to take on projects and clients that I'm excited about is probably one of the biggest rewards. One of my favorite things to do is work with small businesses that have a brand that may have been piecemealed together over the years, or may not even exist – and help them figure out what the real goals and vision they want to project to the outside world is. And in the end, they walk away as a business that, even though they may be young, can hold their ground and compete against ones that have been in the market for a decade.
How have you grown as a business, and as a business owner?
I've spent the last year really defining what I wanted HatchMark to be known for–and have learned how to share that specifically with the public. And it works. It gets so easy to become distracted and lose track of your mission and messaging when you've got a dozen balls in the air, but keeping that end goal in mind has really allowed me to do what I do for my clients for my own business. I've also learned to identify and surround myself with people who may have a specialty that I don't have. I know exactly who to go to for a specific ask if they can partner on a project to build a better outcome in the end.
How has the design field in Pensacola changed since you started your business?
I can't speak much to the history since I'm fairly new to this market, but I'm really excited about what I currently see going on in the creative industry as a whole. There's been a massive rise in the boutique studios with a specialized niche – and that's really where I believe you get a high-quality product. There's a relationship there between the client and creator that's unique. I see this happening quite a bit in Pensacola – where these partnerships are growing between creatives to service a client's need – and it's producing some top-notch work. 
What are some of your favorite projects and/or clients you've worked with?
Honestly we work on a lot of projects I'm proud of on a regular basis so it's hard to call out just a few! On a local level though, I'm really excited about the Perfect Plain Brewing Co. branding that's recently rolled out – as the space finishes out over the next few months and they prepare for opening it'll be exciting to see it all come together in the real world. We're also in the beginning phases of re-branding a group that focuses on creating content and communities to help patients in the rare disease space. They've organically grown over the past few years and are doing some incredible things – they're one of those that makes you feel really good about the type of work you do.
How important is networking to your business?
I think networking is always important, but it doesn't need to be done in a formal setting. Talk to people. Let them know what you do but don't be pushy – be a familiar face and know who is around you in your community. People work with people they like and trust, and I believe that's more effective than any business card dropped by after a 2-minute interaction. When they need you or know someone who does, they'll be in touch. One honest relationship with some history is often more powerful than a referral by someone who may not know you beyond the fact that you do what you do.
Advice for women looking to start their own business?
My advice for anyone – women or men – would be do what you do best, what you know and go all in. The businesses that I see that are most effective have a clear service or product, and they do that one thing better than anyone else, and then they branch out if that's something they really want to do. Quality over quantity – in service, in the number of clients you have… if you're creating a quality product, people will come.
Justine Gudmunson McCain, OWNER, BLUEJAY'S BAKERY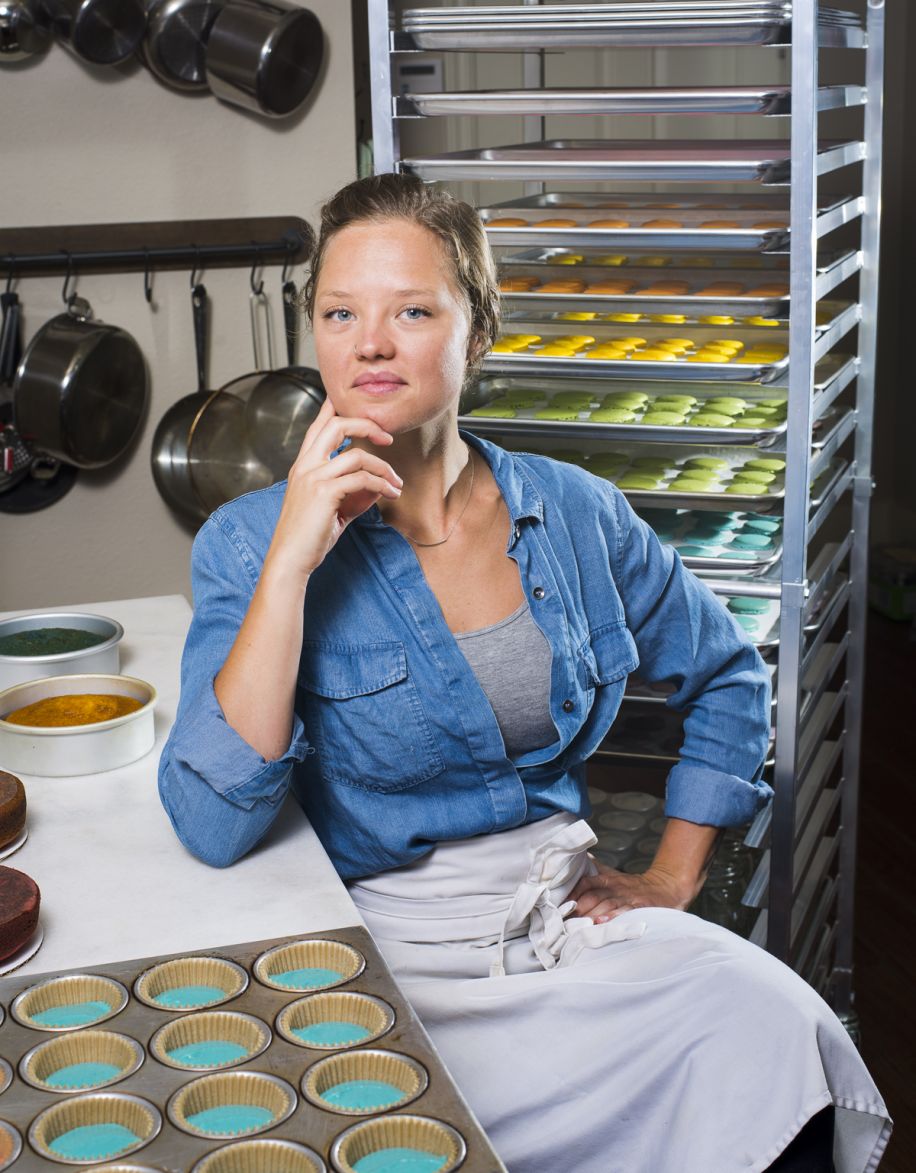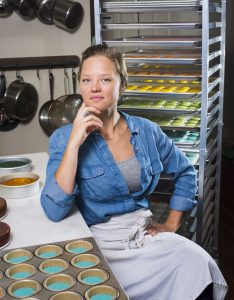 Originally from the Pensacola area, Justine left five years ago to attend culinary school in the San Francisco Bay Area. There, she was able to indulge in the delicious food scene and learn new skills in some amazing kitchens. When she knew it was time to start her own business, she came back to Pensacola so she could share her knowledge with her home town and add to the growing food scene. Justine has been selling her goods at Palafox Market and through custom orders, but she will soon open a storefront inside the newly renovated Blount Building in downtown Pensacola.
Tell me about your business—what do you offer and how are you unique?
We are a boutique bakery specializing in gourmet desserts. This includes cupcakes, cakes, tarts, macarons, cake pops, truffles, and marshmallows. What really sets us apart, though, are our design standards and our ability to accommodate specialty diets.
When did you open?
I began Bluejay's Bakery at the very beginning of 2016. I had just moved back to Pensacola with the intention of starting my own business and launched it immediately with our first event being at the First City Art Center's Hot Glass Cold Brew. From there we started at the Palafox Market and have grown ever since.
How did you get started at the Palafox Market?
When I first decided to start this business I knew I would need another avenue of sales besides custom orders and pick-ups from our kitchen. The Palafox Market allowed us to have a weekly retail space and interact with more customers. Through our exposure there we have been able to build a regular customer base and provide easy access to our products
Tell me about your upcoming storefront—how did that become a reality and when will it open?
Our upcoming storefront is due to open sometime late summer or early fall. This became a reality through a partnership with the owner of Fiore, Shannon Pallin. She suggested that we create a space that provided both sweets and flowers and we found the perfect home for that storefront in the new One Palafox Place building.
Why this field? How did you develop a love for baking and why did you decide to make it a career/business?
I actually did not go to pastry school. I went to culinary school, so most of my pastry knowledge has come from job experience. I realized I was a much better fit for the pastry world after my kitchen experience showed me I was more apt for the early morning hours as opposed to the late night hours. My first pastry job was for a well-renowned wedding cake maker in the Bay Area and from there I was able to grow my knowledge and skills.
How did you make it happen?
Culinary school definitely taught me a lot of what I needed to know about running a kitchen and the long hours one would need to be prepared to put in. But my true business experience came from the opportunity to work with a variety of bakery types while in the Bay Area. I was able to see how a cupcake food truck, a grocery bakery, a boutique cupcakery, and a custom cake shop were run and use that information to create my own bakery style.
What are the challenges and rewards of running your business?
Running your own business definitely has its challenges, most of which revolve around the hours and devotion required to make it successful. But while those can be draining they are the same things that make it rewarding—knowing that you have created something from nothing and watching your hard work pay off.
What is your best product?
My favorite product is our macarons. I could eat them every day! But I think our best products are our cakes. Our attention to detail and design will always ensure we create gorgeous custom cakes.
How important is networking to your business?
While networking is not key in creating products or running a kitchen, it is essential to business growth. Networking with other local business owners has led to our opportunity to move into our first storefront. It has also led to wedding and corporate partnerships where we can ensure that our products are being properly showcased to potential clients.
Do you have any advice for women looking to start their own business?
My best advice to women looking to start their own business always revolves around hustle. You have to work hard to put yourself out there, make your product available, and market your business. You can't expect people to just find you, instead you must make yourself known and that involves a lot of hustle and long hours.
ERICA FLOYD, PRESIDENT, GULF CIVIL ENGINEERING, LLC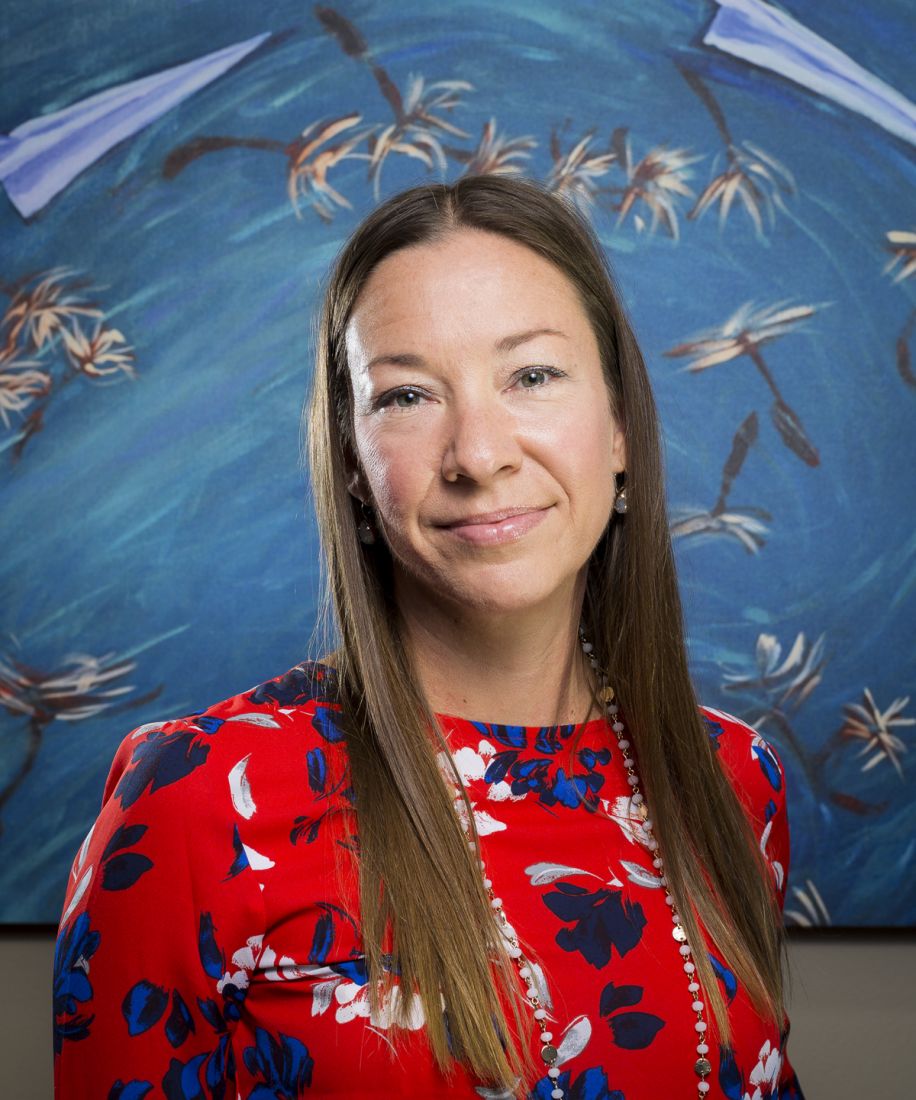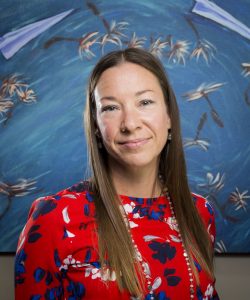 Erica Floyd is the president of Gulf Civil Engineering, an engineering firm with 15 years combined experience in infrastructure, site design and numerous other design services. Since its founding in October of 2012, Gulf Civil Engineering has received certifications such as Disadvantaged Business Enterprise and Woman Owned Small Business. Erica is a Pensacola native who returned to her hometown to create a diverse and growing engineering firm.
Tell me a little about your business.
Gulf Civil Engineering (GCE) is a woman-owned and operated business that provides site-civil design and engineering services for clients in the northwest Florida and lower Alabama region. We basically design everything from the roadway down. This includes parking lots, utility services (water-sewer) and stormwater management systems. 
Why did you choose this field?
I always had an interest in art and was a good math student. The field of engineering is a good combination of the two. I first studied computer aided drafting and design at a technical school and went to work at a civil engineering firm. After a short while, and some encouragement from my employer, I decided to continue my education in Civil Engineering at the University of South Alabama in Mobile.
How did you make it happen or first get the business set up?
It wasn't my plan to start a business. After giving birth to my second child in 2011, I decided to resign my position from a local civil engineering firm to stay at home for a while and enjoy some quality time with my children. After a few months of time off, I received a call from a colleague asking if I would assist with a small design. I said yes and proceeded to work out of a small garage at our house. It helped that my husband was savvy in the IT field. He created an office space for me and I completed the project from home. One project led to another and before long I realized that I was building a business. A year later I had hired my first employee and moved into an office space on Navy Boulevard. 
What are the challenges and rewards of the business?
All experiences in life can come with its share of challenges. As my business has grown and time has passed, I have discovered that a situation, which I may have felt was stressful and worrisome, actually turned out to be an amazing opportunity to learn something new that would help me grow as a business owner and engineer. I strongly feel that challenges and, sometimes, people are placed in your life for a reason. Some may be tough to handle, but if you pray about it, you can overcome anything.
The engineering field is very competitive. There are many good firms in our area and sometimes not enough projects to go around. Being a fairly new engineering company, it can be a struggle to compete for projects due to our company's youth. However, with each year that passes, we are building our resumé with some very exciting and successful projects. For me, the most rewarding part of owning my business is being my own boss. I have the flexibility to spend time with my family which is extremely important. I still work hard to perform well and provide excellent service to my customers, but my family will always come first.
Other rewards of our business are being able to see our designs come to life. For example, it is exciting to see stormwater runoff successfully being conveyed through the double 60-inch diameter pipes you designed or the five-story building site be constructed.
What are some of the current projects you are working on or excited for?
Currently we have some exciting projects under construction. These include the 78,000 SF Cape Horn Boats Manufacturing Plant in the East Milton Industrial Park, the Children's Hospital at Sacred Heart in Pensacola and the Garden Street Gateway Building located just west of Alcaniz Street in Downtown Pensacola. We also have some large subdivisions being constructed near Navy Federal Credit Union off Nine Mile Road, one off Chumuckla Highway in Pace and another near Avalon Middle School in Milton, which is in design.
How important is networking to your business?
I would say building relationships is more important than networking. I don't go out looking for opportunities to network with people, however I do try to get to know the people I am working with whether it be my client, the contractor, the permitting authority or other engineers. Chances are we will work together and be faced with a project obstacle. Knowing a bit about that person on a friendly level always help to make those situations easier to work through. 
Do you have any advice for women looking to start their own business?
Be brave and don't give up! If a light is shining on a path to start your own business, do it. There will be tough moments but if you pray for strength and guidance, you will overcome. Again, every day is a lesson learned. Also, have a good group of people in your life that you can turn to for encouragement and wisdom. I have some wonderful people in my life who are there to pick me up, root for me and are excited about my success. 
How would you encourage more women to go into STEM fields?
We have actually participated in some Educational Outreach opportunities in our area recently. Hannah Smith, my assisting project engineer, visited several local elementary schools and spoke about our field to groups of 1st through 5th graders. I think it helps to show how engineering can be exciting!
Jess Laws & Daisy Doyle, CO-OWNERS, CHIZUKO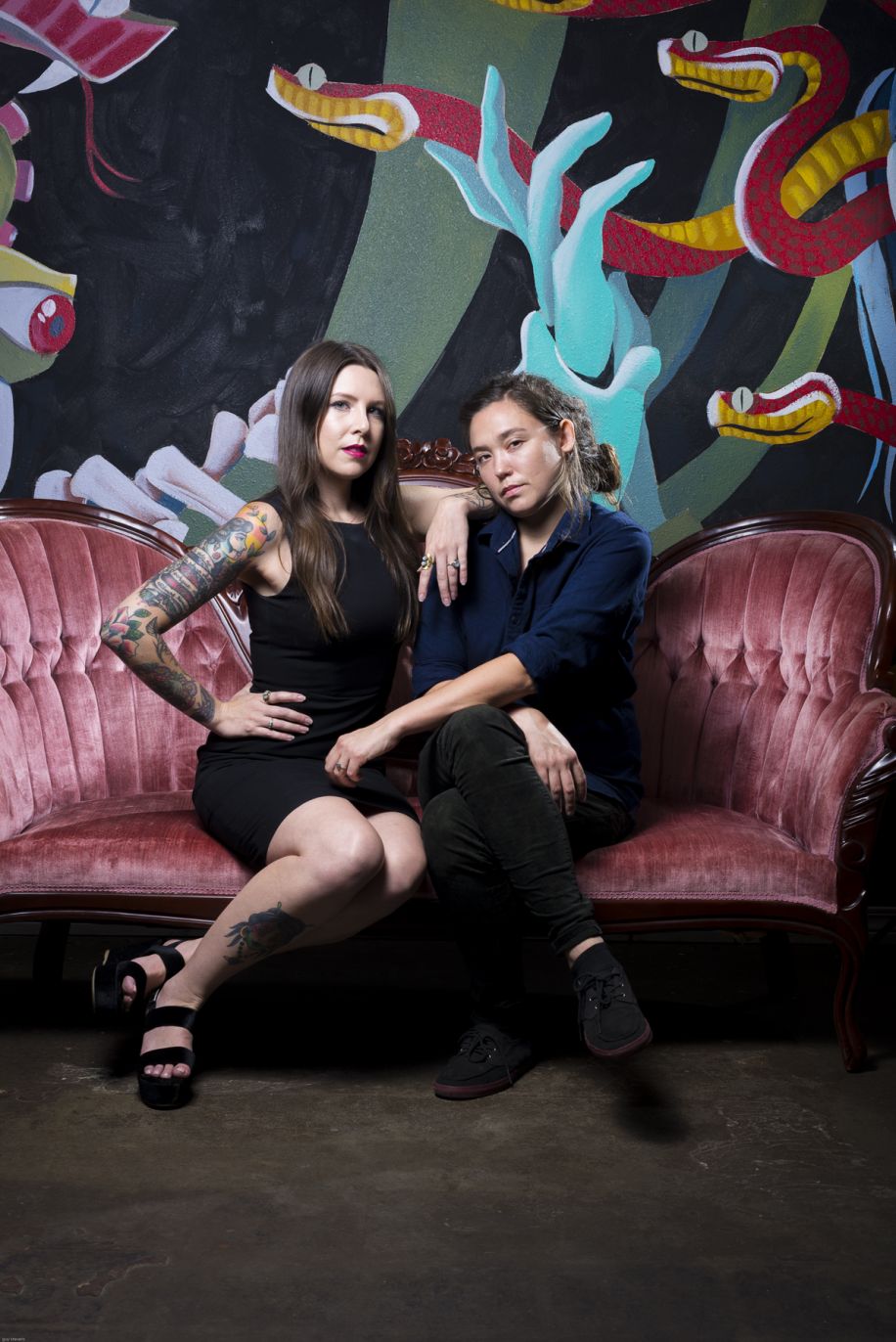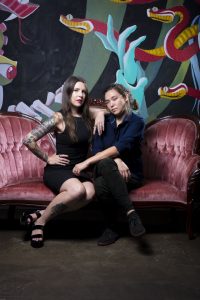 Daisy Doyle and Jess Laws are the co-owners of chizuko, a bar and vegan eatery located in the Belmont-DeVilliers neighborhood. After opening in late January, their unique brand of music, atmosphere and libations has proved them to be a popular nightspot no matter the day. Daisy and Jess's experience in the industry along with a supportive community behind them, has helped them build a thriving business that is also helping the effort to revitalize the historical neighborhood.
Tell me a little about your business.
We own chizuko; it's a cozy and casual bar in Belmont DeVilliers. We serve beer, wine and sake, late night vegan snacks and host events from live music to comedy.
Why did you choose this field?
We've both been in the industry since we started working and when you are in the industry for so long you are always thinking about what you would do with a place of your own. Last winter, we decided to just go for it and make all of our ideas a reality.
When did you first open?
We signed our lease on December 10, 2016 and opened on January 13, 2017.
How did you make it happen or first get the business set up?
With a lot of help. We had to be very resourceful. We bought everything second hand, enlisted the help of friends and family and went balls to the wall for a month straight.
What are the challenges and rewards of the business?
The biggest challenge is just keeping up with every day tasks. It's a ton of work and it's just the two of us and our chef, Kevin, in the kitchen. However, it's extremely rewarding. We love getting to meet a variety of interesting people and when we're open, it really just feels like hanging out with our friends. It's a party every night.
Is chizuko more a business or a passion project?
Definitely both. Being passionate about chizuko is what gives us the motivation to work so hard every day.
What do you hope makes chizuko stand apart from other bars in the area?
Our vision for chizuko is to make it the most comfortable place to be. Chill people, good vibes and no judgment.
How important is networking to your business?
Networking is important because being new business owners, we need help in areas that aren't familiar to us, like building maintenance, paper work, etc. Luckily, we have made so many talented friends who have graciously extended a hand to help us with these things.
Do you have any advice for women looking to start their own business?
Our advice to anyone who wants to open a business is to just go for it. If you wait until you feel like you're "ready," it won't happen. Don't be afraid to ask for help. Don't be afraid to make mistakes; it's going to happen.
Don't listen to the people who doubt you. Surround yourself with friends who support your vision.